Interior doors are as important as exterior doors. Within a home or a building, interior doors are used to separate one room from another. When you consider installing interior doors for your new home or want to refurbish your home by replacing the old doors with new ones, you need to keep in mind that uniformity is not a necessity that you have to obey. Replacing the old doors does not mean you have to stick with only one particular design or color. Indeed, you can experiment by choosing different designs or styles to create an eclectic home interior.
As mentioned previously, Modern Interior Doors are available in many different designs and materials. You can find simple, plain doors made from one particular type of wood, or fancy ones that use a combination of two types of wood or more, combination of wood and metal, combination of wood and glass, or combination of the three materials. There are also those which are entirely constructed out of glass or metal. Although wood, glass, and metal are the most commonly used materials for modern door designs, other materials such as stone and bamboo can also be used.
Modern interior doors made from wood or metal still generally use neutral colors such as white, black and brown. You can also use variations of those three colors such as off-white, gray, or light brown. Vibrant colors such as yellow, electric blue, light green, or bright red are rarely used in modern interior design. However, doors made from fabric glass do not follow this color rule as they often feature vibrant colors such as yellow and red with intricate flowery patterns.
How to Improve the Look of Your Home With Custom Interior Doors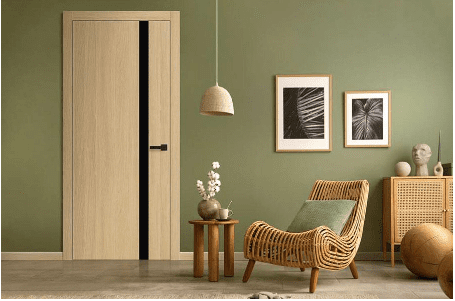 If your house is beginning to appear drab and boring it may be ready for a home makeover. No matter how many dollars are spent constructing a home, they will all begin to look dated and in need of some modern improvements over time. Usually home owners will depend upon new furniture, paint or window treatments to give their home a new look. There is another simple home transformation that is extraordinarily effective but often neglected. This is replacing the interior doors throughout your house.
While many of the homes that have been designed and constructed since have visually appealing features on the interior and exterior, the interior doors are usually generic. This makes many homes resemble each other, at least from an interior perspective. This can be changed by replacing those hum-drum interior doors with custom designed interior doors that bring new life to any home.
Most of the interior doors that are installed in a new home are standard, inexpensive models that are not even solid. This is cost efficient and practical but it does not provide you with a stylish, modern interior living space. These types of doors are flimsy and incapable of blocking sounds. After just a few years these hollow doors have begun to show premature aging and wear and tear has taken a massive toll. They just cannot provide homeowners with the look and feel that accompanies well-made, custom designed interior doors. In the search for a new chic look to your home it is the designer quality and tailored millwork of custom doors that is needed.