By Aaron Franko, Saritasa 
Augmented reality (AR) and virtual reality (VR) are the latest technology tools for training, engineering, manufacturing, product design, and more. Both AR and VR provide an immersive experience, but the question remains of when to use AR versus VR for specific applications. The choice depends on your objectives.
AR and VR are just two of the acronyms that are being lumped together under the category of immersive technology. There is a lot of confusion about immersive technology, and many concepts tend to overlap. To clarify, I will use the definition of the Reality-Virtuality Continuum offered by Milgram and Kishino in 1994.

The concepts of augmented and virtual realities are not distinct and separate. They are parts of mixed reality (MR) and exist between real and virtual environments. Software and hardware devices such as Head Mounted Devices (HMDs) blur the lines even more. The distinctions matter, especially when you have to choose the right technology, so here are some detailed definitions to provide some guidance:
Augmented Reality Defined
AR is the overlaying of computer-generated objects in a real-world environment. The technology recognizes real-world elements and then places objects in relation to those elements with differing levels of interactivity. 
The most basic types of AR use two-dimensional filters that move with an object, similar to the filters in Snapchat and Instagram. Three-dimensional filters allow interaction and manipulation of the object in space.
AR is more readily accessible than ever from smartphones and other mobile devices, and it feels more natural since you place AR objects in the world around you. AR also has limitations in how it emulates a real-world experience since it is restricted by screen size, field of view, and resolution. HMDs for AR are still very expensive, although Apple, Google, and other companies are working on consumer AR hardware. Current AR HMDs are available for hands-free viewing but have limited resolution and field of view. 
Virtual Reality Defined
Unlike AR, VR is an entirely computer-generated experience, although it may include movement, temperature, sound, and elements of the outside world. With VR, there is no visual interaction with the real world, which means a sense of place and motion are more immersive. 
The user experience can be anything imaginable. The software presents the environment and can create any customized experience. The limitations of VR relate to the fact that every facet of the virtual world must be programmed. For example, without careful attention to motion and physics, a user can become disoriented, lost, or even ill in a virtual environment.
The hardware required for VR also has become more affordable. VR headsets are relatively inexpensive – less than the cost of an iPhone or AR headset. You can also get more powerful and more expensive VR hardware for more robust applications.
Publishing Content and Complexity
Creating and publishing an AR app can be easier than it is for VR, but it is still by no means simple. AR applications can be made using data visualization (i.e., overlaying data on an object), interactivity, and manipulation of real-world objects. The applications must accommodate the real world, which means addressing challenges such as bright or dim lighting.
Developer kits, such as ARKit/ARCore give a starting point for AR app development. You can integrate AR into an existing application or build a browser-based app with WebAR. Distribution is straightforward since it's a matter of submitting apps to the Apple iTunes Store or Google Play or distributing via WebAR. 
For VR applications, the publishing process is more complex. VR content is usually designed for a specific device. Enterprise devices typically leverage a platform like SteamVR. There is no standard for publishing and distributing VR apps, but brands like Oculus have their own VR app store for Oculus hardware.
Even though you have to create an entire virtual world for VR, there are pre-built environments and objects to make the job easier. Simple VR environments can be reasonably priced to develop. The only limits are your imagination and the available budget. Developers must also understand navigation, physics, and presence to create an environment comfortable for users.
Different AR/VR Use Cases
With this rudimentary explanation of the differences between AR and VR, you can now make some decisions about using the right technology for the application. Keep in mind that developing successful mixed reality apps requires balancing costs, productivity, and practicality. 
There are three basic levels of mixed reality development:
Passive

AR: Imposing static images in the real world, such as using a smartphone to find hidden messages as part of a scavenger hunt or on posters for a promotion.

VR: Watching a 360 video, such as a concert or property viewing

Active 

AR: Manipulating images in the AR environment, such as using an app to see how furniture might look in a specific room.

VR: Moving around a VR environment, such as exploring a building or undergoing a simulation

Interactive 

AR: An interactive AR app lets you change objects in the environment, allowing you to manipulate interactions with objects as if they were in the real world. For example, you can model materials or chemical processes such as pharmaceutical development.

VR: This is where VR shines – allowing users to interact with elements in a 3D space, such as pulling levels, picking up and moving objects, and more. 
AR has seen great success as a marketing and branding tool, from lens to more robust experiences. Take Living Wine Labels, for example; the AR-enabled wine bottles act as a unique differentiator in a crowded wine market to grow their customer base. "Try-before-you-buy" AR experiences help customers visualize big ticket items like furniture and reduce the chances of returns. As HMDs for AR become more accessible, we're certain to see training and data visualization use cases as well.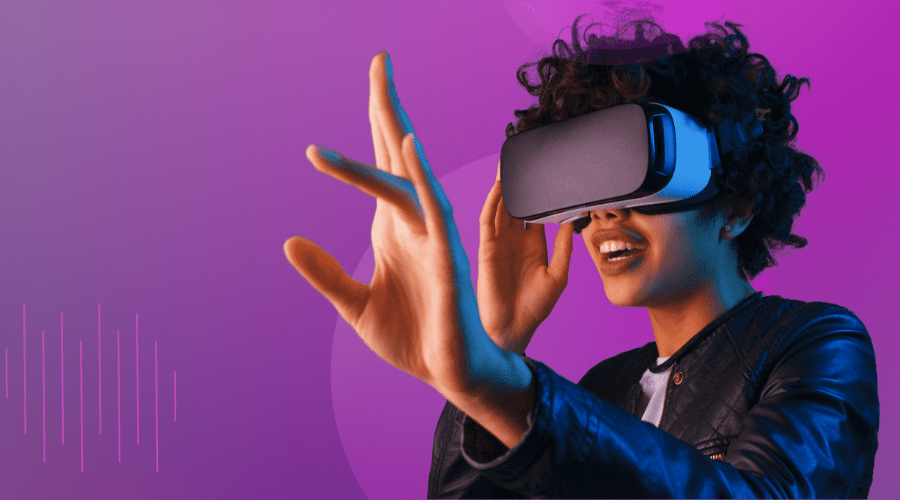 VR is being used for training, allowing you to immerse the trainee in a virtual environment to learn anything from running factory equipment to driving a tank. Engineering and product development are using VR to create 3D models to explore design possibilities, which can be faster and less expensive than creating prototypes. VR is also used by marketing and sales to show products more impactfully.
Like most technologies, AR and VR have been gaining momentum, and businesses of all sizes and across industries have started to explore the possibilities. The hardware cost is dropping, and software development is becoming more efficient and cost-effective. It pays to consider how immersive technology can help build your business and who can help you plan for an AR/VR future.
Aaron Franko is Vice President of Immersive Technology at Saritasa (www.saritasa.com). He has spent over 20 years working in several areas of technology and has achieved many technical certifications as well as an MBA from the New York Institute of Technology.