In the heart of the crypto rainforest, where blockchain and conservation meet, Chimpzee is leading the way towards a brighter and greener future for all. 
Foreword
Amidst the dense foliage of the cryptocurrency world, a remarkable project is emerging, creating waves of positive change. Chimpzee, a budding digital force for good, has taken the crypto community by storm with its recent presale success, raising over $1.6 million. Though, Chimpzee is not just about profits, but more about creating a greener future for our planet.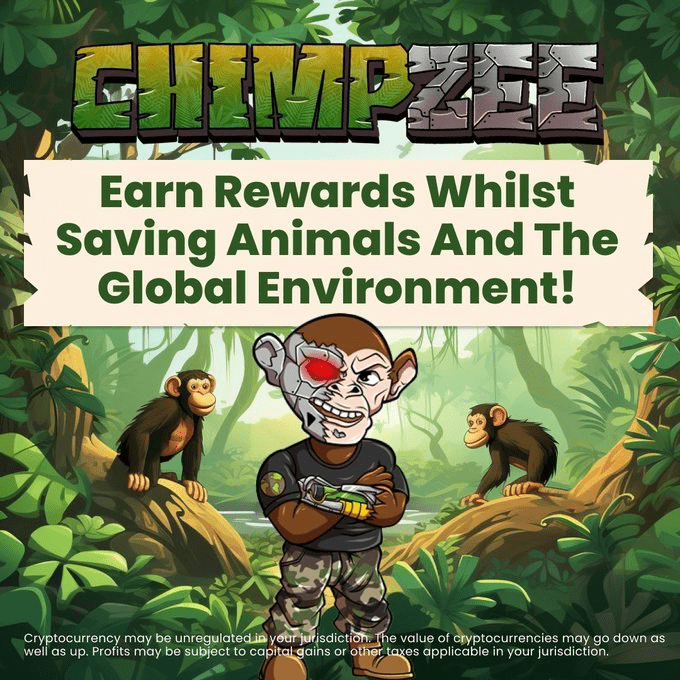 Charitable Crypto Wonderland
With the world's attention turning toward environmental conservation, Chimpzee has become the focal point for environmentally-conscious investors. This unique crypto project has already made substantial charitable contributions, exceeding $50,000. Their mission? To plant trees, protect desert-adapted elephants, and preserve the dwindling population of black jaguars. And they are not stopping there. Chimpzee's just reached another raise goal to save the Australian rainforest, and is more than halfway to reaching its current raise goal to help save forgotten animals from war-torn Ukraine.
Transforming the World
After the $1.6 million milestone in its presale, Chimpzee's vision extends far beyond monetary gains. It is a testament to how Web 3.0 technology can transform our world for the better while providing three avenues for passive income. It is a clarion call against the devastating effects of climate change and the problems of endangered species. 
Little Less Conversation, Little More Action
Chimpzee's unique selling point lies in its unwavering commitment to charity, backed by verified donations. Some crypto projects make grand promises but often fail to deliver. On the contrary, the Chimpzee team has already made substantial contributions during the presale phase, facilitated through The Giving Block, a platform that facilitates cryptocurrency donations to nonprofits and charities. 
So far, Chimpzee has: 
Donated $15,000 to the

WILD Foundation

to support rangers protecting desert-adapted elephants. 
Committed $20,000 to aid the Yawanawa tribe in safeguarding the last few thousand black jaguars. 
Funded the planting of 20,000 trees in Guatemala's rainforest through

One Tree Planted

.
Made a donation to help protect 1,000 square meters of the Australian rainforest.
Chimpzee created a page where you can see some of the thank-you videos from the organizations they have helped. The videos can be found here: https://chimpzee.io/donations. 
You too can be part of this noble cause by investing in $CHMPZ today and reaping passive income rewards. 
Earning with Chimpzee
Chimpzee's ecosystem thrives on three pillars: shop-to-earn, trade-to-earn, and play-to-earn. 
At the heart of this component is the Chimp Shop, a bustling commerce center. Shoppers can purchase merchandise while earning free CHMPZ tokens and contributing to charitable causes. Chimpzee is way ahead of its roadmap as it has already launched Part 1 of the Shop. You can browse items and create an account now, but cannot buy yet. Chimpzee is still undergoing quality control tests and finalizing with their payment provider. You can view the Shop here: https://chimpzee.shop/
The NFT Marketplace is the trade-to-earn segment, offering environmentally-focused NFTs. What sets this marketplace apart is its commitment to sharing a portion of its profits with all active users, with NFT holders receiving a larger share, creating a robust stream of passive income. 
Venture into the dense undergrowth of Chimpzee's jungle and discover the Zero Tolerance Game. Gamers accumulate tokens as they conquer challenges and reach milestones, injecting an element of adventure and excitement into the crypto space. 
Connecting these components are Chimpzee's NFT Passports. Investors holding these passports can unlock maximum passive income potential, with four tiers available: Diamond, Gold, Silver, and Bronze. 
Business Plan for Tomorrow
Chimpzee ($CHMPZ) stands as one of the most ethical and promising projects in the cryptocurrency realm, and it has only just begun to make its impact felt. By investing in $CHMPZ today, you can actively contribute to positive change in the world while enjoying the opportunities for passive income that this significant project offers. 
The green project is rapidly approaching the token's official exchange launch. Furthermore, the investments will aid in protecting hundreds of forgotten animals from war-torn Ukraine when we hit our next raise goal.
Chimpzee ($CHMPZ) represents an advanced endeavor poised for exponential growth, offering not just passive income but also the chance to make a substantial impact through charitable donations. Do not miss out on this unique opportunity to be part of a movement that is changing the crypto environment for good, and take advantage of the current 4X bonus to bring your token cost down to $0.0009 or less. Join Chimpzee's mission today in order to invest in a greener future.