Many SMEs in Singapore are working to set up their firms in 2023 and beyond because of the strategic location the country provides. Businesses are embracing digital transformation in Singapore because of the augmentation and use of technologies like AI, ML, Big Data, Cloud Computing, etc. Technological innovations empower many sectors, from healthcare to IT, retail, supply chain, etc. Digital solutions are becoming integral to the island country because of the future-ready companies. 
One of the biggest examples of innovation in Singapore is the Singaporean Bank, DBS. Experts see it as a blueprint for digital transformation in the financial sector. DBS, the largest Southeast Asian bank, is known for value creation through digital transformation. It has earned the bank the titles of 'World's Best Bank' and 'World's Best Digital Bank'.
The impact of technology in Singapore is quite substantial as there is a massive cultural and operational shift in the banking functions. Customer expectations are already evolving because of the disruption brought by the FinTech revolution. Digital Transformation can be challenging in the region because of the regulatory and compliance requirements imposed by the government. The best part of including digital solutions in the DBS Bank is that the senior executives successfully contribute to this change. 
With the assistance of a reputed software development company in Singapore, the bank is embracing new technologies like AI, 5G, Digital Twins, etc. The bank targets personalized banking programs for its customers. Moreover, the bank handles all its in-house technological demands instead of outsourcing them. It has helped the bank set up a successful mainframe core for further digital solutions.
Source: Forbes
Analytical Approach Towards Digital Transformation In Singapore
Nearly 91% of global businesses are engaged in some or other form of digital evolution. Digital transformation plans have taken the forefront, with huge investments being made in this sector. Global digital transformation investment will reach $2.8 trillion by 2025. 
According to Smart Insights, over 35% of businesses have a digital transformation program in place, with 31% of companies about to launch a digital transformation program imminently. 25% of the companies are looking forward to embracing digital transformation in the coming years. 55% of the startups are already working on a digital transformation plan.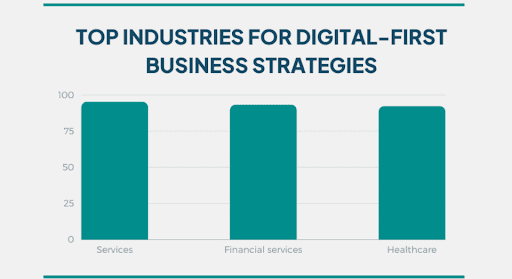 Source: apty.io
According to CIO reports, medium businesses make S$10 million to S$100 million in revenue yearly. Small businesses make nearly S$10 million yearly. Almost 39% of the businesses stated that their digital solutions implementation is successful, with 28% showing small improvement after digital transformation consulting.
The global digital transformation market will reach $4339.82 billion by 2030. Many of the latest technologies are used by industries such as IoT, 3D Printing, Robotics, Big Data Analytics, ML, AI, etc. The sectors in which digital transformation is penetrating widely are healthcare, IT, telecommunication, retail, media and entertainment, government, etc.
Various Challenges and Solutions of Digital Transformation for Singaporean Businesses
Lack of Expertise Is A Major Issue
Whenever a business applies software product engineering solutions, they need more experts in an organization. Digital transformation requires the right skill set and knowledge to implement technological innovations. Most Singaporean businesses need more human resources, as there are too few policies to provide fair pay to the employees. However, the government is sorting things out by bringing awareness among the masses. 
Change Makes Organizations Uncomfortable
Change is the law of nature, but a few companies, especially SMEs, are not ready to accept it because of a shortage of funds or workforce. To make a mark in business, you must accept the change wholeheartedly. Therefore, the digital transformation in the Singapore Government and other sectors has become the vision and focus of the island country. Many smart and innovative programs are applied to provide full-fledged support to companies and the government.
Risk-Averse Culture is Still in the Loop
Businesses resisting technological advancement cannot grow. Many traditional Singaporean businesses are not ready for the digital transformation culture because of high costs and more workforce deployment. You can resolve this challenge by creating awareness about the topic and helping companies adopt new-age Singapore technology innovation practices. Executives must train themselves to handle the employees' uncertainties at the core level.
Singapore already has high living and buying costs because of the inflation measures in the market. Most of the compliances and regulations are old, too. Businesses are afraid to increase their product costs, as they may lose their clients. However, the right software product engineering solutions from reputed agencies can help companies control costs and apply digital transformation methodologies. 
It will assist in controlling cost issues, and businesses can work on customer requirements to provide the right products/services. It will help in increasing productivity and profitability, too.
Get Connected with the Right Digital Transformation Solutions Provider
When we talk about the modern world, we see Singapore at the top of the list. The government and private sectors have joined hands to adopt digital transformation policies. There are still a few challenges like labor shortage, no-to-less knowledge of regulatory requirements, problems of strategic locations, etc. 
But, the country is working to provide for businesses to enhance productivity. Business owners must connect with a professionally expert software product engineering company, Tantra. Their experts help with new technologies and innovations and assist you in adopting them full throttle. 
Call experts at Tntra today to get an insight into how digital transformation can bring in respective changes!