According to a study conducted by Pew Research Center, most Americans believe that fake news has an adverse impact on the people and the political or geographical landscape. Almost, every two of three United States adults, i.e., 64% of the entire population, state that fabricated news stories and information tend to cause a great deal of confusion pertaining to the basic facts of national and global affairs.
Although Americans sense that fake news is sowing the seeds of discontent in society, they demonstrate a fair amount of confidence in their ability to detect false information. Approximately 39% of Americans claim to feel incredibly confident that they can recognize fabricated news. However, it is also interesting to note that some Americans, nearly 23%, have also shared fake news on social media channels, either knowingly or unknowingly.  
Even though many Americans feel confident in detecting fake news, a survey published in January 2022 by Statista unveils that only 26% of them were able to distinguish between real and fake news. Preventing the spread of fake news is critical to maintaining social order and ensuring transparency in public affairs. Certidox has a solution for this pertinent issue.
Certidox, An Effective Solution Against Fakes
Certidox (https://certidox.com) is an emerging platform based on QR Code and NFT (Non-Fungible Token) technologies consisting of a back-office platform accessible at https://certidox.com to certify documents, and an App for Smartphones and Tablets that can be downloaded free of charge from App Store®, Google Play® and Amazon® to detect in a few seconds, thanks to a QR code, whether the document checked is authentic or fake.
A Back-office To Certifying Documents
After the issuer has uploaded his document in secure mode on the back-office platform, Certidox takes the following steps to ensure its authentication. First, it scans the document to ensure it does not contain any virus. After this initial step, it creates a SHA256 hash of the document and generates a unique QR code.
It then pastes the QR code in a Certidox-label on the document. Next, it saves the document in a database with the SHA256 of the document before and after attaching the Certidox label with the QR code and mints an NFT on the Polygon blockchain. Once the process is complete, the user can download the document secured.
It is important to note that SHA256 is the fingerprint of a document. Therefore, the algorithm will generate a different hash value even if a single character is changed. This makes Certidox a highly credible platform for verifying the integrity of the user's data. It is nearly impossible to reconstruct a document from its SHA256. Moreover, the NFT, which only contains the SHA256, has no readable data on the certified authentic document. This guarantees the document's confidentiality.

An App to Check The Authenticity Of Documents
Certidox offers a user-friendly App to check the authenticity of documents, e.g., press releases, diplomas, purchase orders and proxies you receive. The users are not required to read any manual to use the software. They need to tap the icon of the Certidox App and scan the QR code of the document they wish to verify. The users can scan a document at any given point with their cellular device.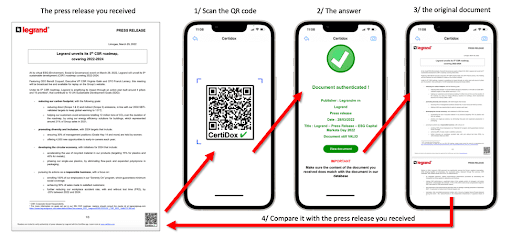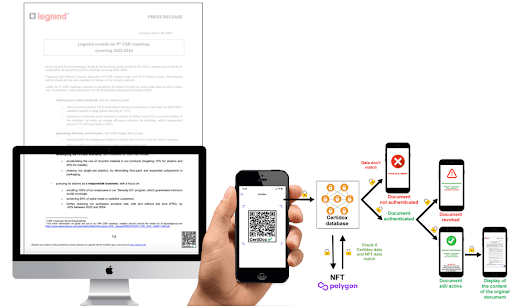 The Growing Social Impact of Fakes
When hackers have unlimited tools to create counterfeit documents and disseminate false information through various channels, it is pertinent to ensure the credibility of essential documents. For instance, this might sound shocking to people, but these days one can buy a diploma with a credit card on certain websites accessible from nearly every search engine. A report on Fox News estimated the value of this fake diploma business at $1 billion.
In addition, fake news also significantly impacts the political arena. For instance, during the United States presidential elections of 2016, several digital media channels propagated false information that led to a rift between the Democrats and Republicans. Similarly, certain foreign factors were also suspected of peddling disinformation campaigns via social media to influence the results.
Owing to these incidents of fake news and document spread, it has become more critical than ever to verify documents and information. Certidox is instrumental in countering disinformation's menace by offering document authentication services to users worldwide.