Although the crypto market is down, NFTs are still thriving. Giant companies turning their attention to the industry. Tiffany recently launched its NFTiff token allowing CryptoPunk holders to mint customized pendants. LG Electronics launches NFT platform. We talked to the CEO of MNNT Michael D. Christine, Esq. about the industry and his plans.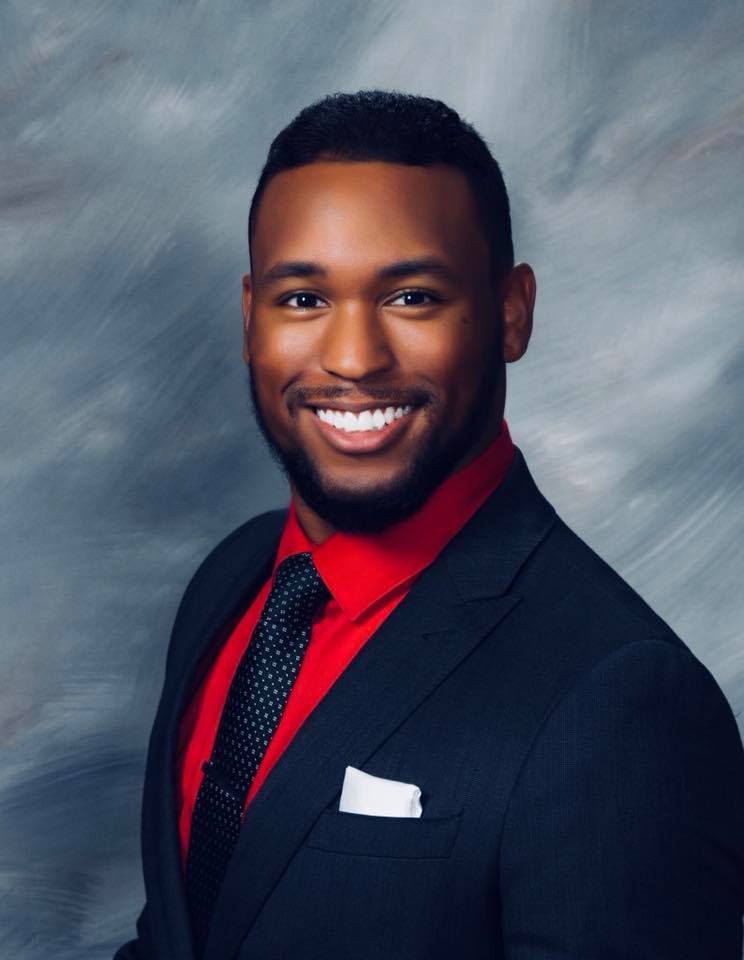 TechBullion: Hi Michael, can you tell us more about the ecosystem you run?
Michael D. Christine:  MNNT's Andrometa ecosystem is designed to disrupt legacy gaming by providing a platform that enables true digital asset ownership, customization, and interoperability for gamers and developers alike. Andrometa facilitates a scalable digital economy by intertwining its games with a monetizable metaverse experience.
Imagine using a sword in one of Andrometa's games that degrades and breaks overtime from excessive use. The player must bring that sword to a blacksmith in the metaverse to repair. Paying for the services in $SHRDS the Andrometa ecosystem's cryptocurrency.  This type of protocol is built into all the assets and avatars within our ecosystem creating a new dynamic to gaming and digital interaction.
This type of innovation catalyzes an organic player owned and operated economy separate from the real world and autonomously run without interference from a centralized organization. With this type of immersive ecosystem, a plethora of businesses, social and entertainment opportunities become possible within Andrometa. A metaverse where people can open taverns, night clubs, E-Sports stadiums etc. or become land designers, armor smiths, banks, guild masters, monster hunters, and more. Selling both digital goods and services in exchange for Andrometa $SHRDS.
TechBullion: And why the name is MNNT? As of Mint?
Michael D. Christine: Yes, exactly we thought it was a great play on words that actually has meaning to us. In the Web3 world, people tend to be known by their online personas rather than their real-life names. So MNNT pronounced like Mint is the combined first letter of our Co-founding team's online nicknames. Mx, Night, Noble, Tatted. Mx – John Manuntag (Chief Creative Officer) John " Mx" Manuntang, MNNT's Chief Creative Officer, is a Philippines-based architect, artist, and software developer. John is the chief architect for metaverse creation as he applies real-world architectural concepts and strategies toward the construction of metaverse cities and landscapes. As well as designing the digital asset items sold within our interoperable marketplace.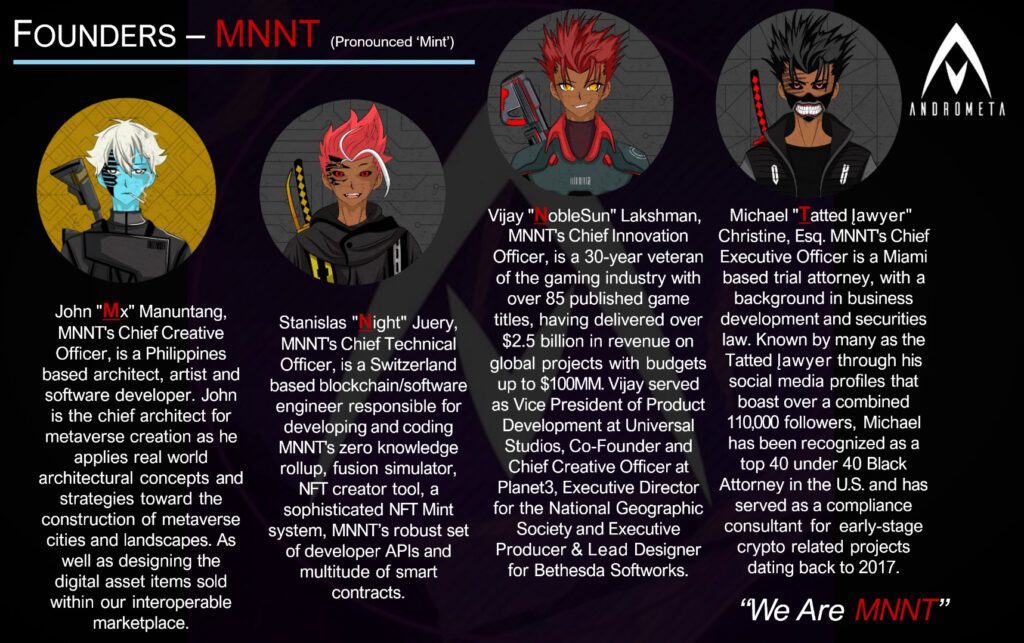 Night – Stanislas Jeury (Chief Technical Officer)
Bio: Stanislas "Night" Juer MNNT's Chief Technical Officer, is a Switzerland based
blockchain/software engineer responsible for developing and coding MNNT's zero knowledge rollup, fusion simulator, NFT creator tool, a sophisticated NFT Mint system, MNNT's robust set of developer APIs, and a multitude of smart contracts.
Noble – Vijay Lakshman (Chief Strategic Officer)
Bio: Vijay "NobleSun"; Lakshman, MNNT&'s Chief Innovation Officer, is a 30-year veteran of the gaming industry with over 85 published game titles, having delivered over $2 billion in revenue on global projects with budgets up to $100MM. Vijay served as Vice President of Product Development at Universal Studios, Co-Founder and Chief Creative Officer at Planet3, Executive Director for the National Geographic Society and Executive Producer Lead Designer for Bethesda Softworks.
Tatted Lawyer – Michael Christine, Esq. (Chief Executive Officer)
Bio: Michael "Tatted Lawyer" Christine, Esq. MNNT&'s Chief Executive Officer is a Miami based trial attorney, with a background in business development and securities law. Known by many as the Tatted Lawyer through his social media profiles that boast over a combined 110,000 followers, Michael has been recognized as a top 40 under 40 Black Attorney in the U.S. and has served as a compliance consultant for early-stage crypto-related projects
dating back to 2017.
TechBullion: What separates you from your competition?
Michael D. Christine:  Many things. For example, MNNT has developed a state-of-the-art protocol for NFTs and blockchain gaming which allows projects to build upon a quantum-resistant, scalable layer 2 Ethereum protocol with a seamless developer and user experience. Our platform is lightning fast, has diminutive gas fees, and is anchored by the security of the Ethereum blockchain. Having our own internally developed platform, MNNT has an advantage when it comes to governance votes, system changes/upgrades, and tailored customer support. With so much uncertainty in the space, MNNT did not want to have to rely on another company in order for us to
deliver on our vision and goals.
 MNNT is developing AAA-quality next-generation games and titles unlike the pixel and voxel-styled games currently dominating the blockchain gaming industry. We believe in making games that are direct competitors to games produced by legacy game studios in both quality and photorealistic graphics.
To make building blockchain and NFT applications easy, MNNT enables this scaling engine with a set of REST APIs. On our Decentralized Interoperable Protocol, every interaction done on-chain like minting, transacting, trading, buying, selling etc., is as easy a simple API call. Converting complex asynchronous blockchain interactions, which can take minutes or hours, into synchronous REST API calls, is an enormous upgrade to the existing blockchain solutions. Without the need to interact directly with smart contracts, new entrants in the space, from startups to established gaming or content companies can launch projects faster offering their users a new and unique user experience.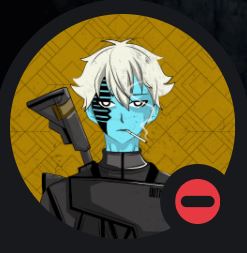 TechBullion: How you managed to remain successful during the Bear Market?
Michael D. Christine:  I believe it is due to two things, we have an amazing, engaged community that have come together over the past year to form real relationships with each other and we as a company have curated a lot of gamification opportunities into our collections. We have been doing things differently than most NFT projects from the beginning. Allowing holders to customize and upgrade and level up their NFTs all of these have kept our community engaged, hunting for the perfect trait to create their ultimate NFT avatar.
TechBullion: Many big brands now turn their attention to NFTs. Nike, Gucci, Dolce & Gabbana, Adidas, and Tiffany have amassed a combined $260 M worth of sales from NFTs. Do you think that this trend will continue?
Michael D. Christinee:  Absolutely, I think by 2025 just like we saw brands in 2012 rushing to make a social media strategy, we will see brands again shuffling to develop a sound NFT strategy. MNNT envisions a future where a person's digital persona becomes more valuable than their real life selves. Where digital assets begin to replace tangible assets in terms of flexing ones status or for clout. Such a paradigm shift would equally benefit these companies. Imagine Gucci launching a digital asset brand with little to no overhead cost, no shipping logistics, royalty payments on secondary sales. It's an entirely new line of revenue for these companies if done correctly.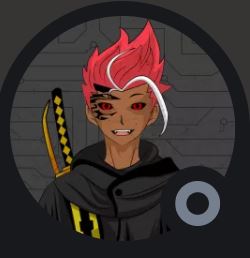 TechBullion: How do you see NFT in gaming and GameFi changing in the following
months?
Michael D. Christine:  In the coming months I believe we will start to see a major shift in the industry as blockchain gaming and gamefi matures. With earning being the major focus of early stage NFT based games, we will start to see real game developers entering the space and releasing games that focus on the fun of the game rather than simply the fact
that you may earn as you play.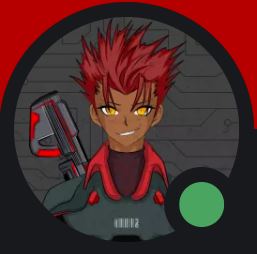 TechBullion: What are MNNT and Andrometa plans for the future?
Michael D. Christine:  This is an answer that we could talk about all day long. But to keep things short, we plan to continue to innovate this space. Right now our focus is on mobile as that'll allow us to reach the biggest audience around the world. However, our next step is web-based platforms
and eventually virtual reality. When I say virtual reality I am not referring to simply a virtual
meeting in a cyber world. We want to create something truly revolutionary in the entertainment space. All of us at MNNT are die-hard anime fans and we find a lot of inspiration from anime such as Sword Art Online which has a fully immersive gaming experience in the show that truly feels like real life. We want to create an immersive experience in a digital universe that truly makes the individual user feel like they are a part of something incredible.