Oleh Humeniuk is the CEO at WePlay Esports, an esports media holding company offering quality Esports products and services. The CEO shares more details with us in an exclusive interview with TechBullion.
Who are you? Please tell us more about yourself.
Hello, I'm Oleh Humeniuk, CEO of esports media holding company WePlay Esports, which I joined in 2019 as general manager. I've been managing IT infrastructure projects both in public and private companies for over 11 years. I also have experience in putting together work teams.
Previously, I worked as a Senior Project Manager at Hyuna International. 
I have a BSc in computer-integrated technological processes and production from
National Technical University of Ukraine 'Kyiv Polytechnic Institute'. In 2013, I obtained a Project Management Professional certificate from the Project Management Institute. I am studying an MBA at City Business School, starting in 2019.
As to video games and competitive gaming — I am a long-time fan! When I was at school, I had a Sony PlayStation 1 and enjoyed games such as football, boxing, or kickboxing. Me, my classmates, and friends even held a small competition. It was a great time!
My motto is "Only forward! Never look back!"
What is WePlay Esports, and what are the unique services you market?
WePlay Esports is an esports media holding company with offices in the U.S. and Ukraine. The company focuses on several activities: it organizes and hosts offline and online events famous for their high-quality production, develops an ecosystem of products, services, and media for the esports community, integrates brands into esports, and markets media rights.
An aftermovie about OMEGA League, WePlay Esports' recent Dota 2 online event. Video credit: WePlay Esports   
But there is more. This year, WePlay Esports expanded its scope of activities and started building esports arenas around the world. This fall, we opened WePlay Esports Arena Kyiv, our first venue where the best Mortal Kombat 11 players will soon compete during the WePlay Dragon Temple tournament. 
Announcing WePlay Dragon Temple. Video credit: WePlay Esports 
We are finishing another facility in Los Angeles and have plans to open more facilities in Brazil (São Paulo), China, and Australia.
Since recently, we have started investing in the gaming and entertainment industry. The first project we invested in is Organization.GG, a platform for sharing online experiences between gamers, streamers, and their fans. And there is more ahead!
What is the current global market size and future of the Esports market?
Esports has come a long way — from being a hobby for youngsters who enjoyed competing against each other from their college campuses, homes, or internet cafes to becoming an industry with yearly global revenue surpassing $1 billion. It's a massive and mainstream phenomenon now.
According to our business development department, there are currently 165 tournament operators who organize tournaments in 67 esports disciplines. From December 2019 to December 2020, operators hosted 402 tier-1 tournaments — events with enormous prize pools featuring the world's strongest teams. These prestigious competitions generated 24,952 hours of broadcast and 1,492,375,812 hours of views, which amounts to roughly 170,363 years!
I think esports will continue to grow, keep trending among the general public, and gradually become considered as a promising communication channel by an ever-increasing number of brands from unrelated industries.
Why is it that esports has not only survived but thrived during the COVID-19 pandemic?
Esports has a competitive advantage — it's digital by nature, so companies can adjust to current circumstances and continue working. That's why when everyone had to temporarily cease all sorts of activities (work and leisure alike) that require in-person interaction, esports organizations just suspended the offline ones. For instance, game developer and publisher Valve postponed The International, its Dota 2 championship, to 2021 without an exact date. Well, we all have learned that 2020 is not the best year for planning.
Another adjacent industry, the live streaming industry, has been on the rise as well since the pandemic began. For instance, in the first quarter of 2020, Twitch saw a 17% increase in hours watched compared to the previous quarter and topped 3 billion hours watched for the first time. That's a lot. As for the third quarter, the streaming industry grew 91.8% compared to the same quarter in 2019. These stats illustrate that watching esports streams is now a hobby for more people.
As the new CEO, how will you continue growing WePlay Esports, especially during a global pandemic, and how do you make sure the company growth is sustainable?
There are three pillars to our growth strategy. First, we care about the wellbeing of our employees, so most of them are working from home, except for specialists we need on-site, system administrators, or production team members.
Also, we host events that are either strictly online or kind of offline, when we gather players at a venue but leave the stands empty.
Since the lockdown began in March, we've organized and hosted five online events, among them one Dota 2 charity marathon (WeSave! Charity Play) to boost coronavirus response and two tournaments that lasted over three weeks (WePlay! Pushka League and OMEGA League).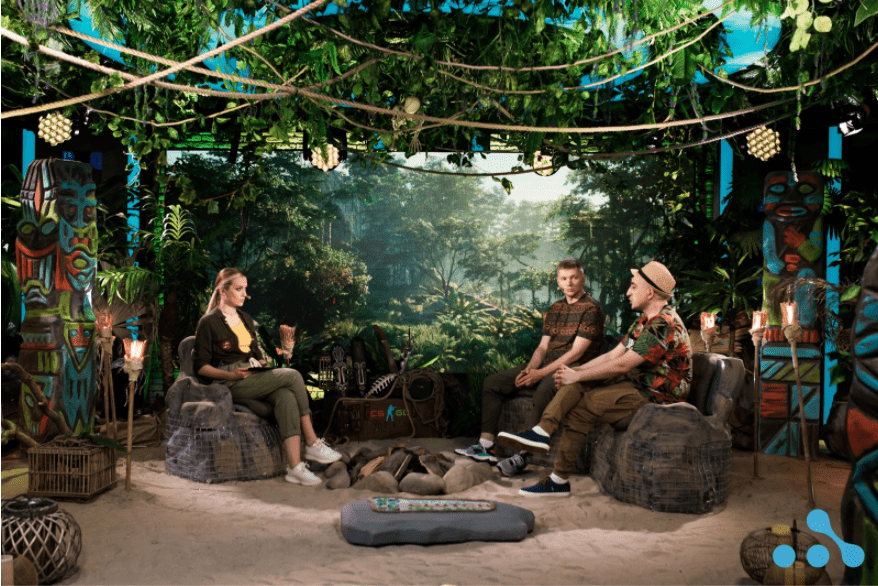 WePlay! Clutch Island takes viewers to the jungle. Photo credit: WePlay Esports
I am happy to announce that the sixth one is about to kick off very soon. What's more, it will be an offline event! WePlay Dragon Temple will take place on December 10–13. Only the teams, some hosts, and some of the WePlay Esports specialists needed to manage the broadcast will be present at our new arena.
The pandemic-related uncertainty complicated event planning, but it didn't stop us. In 2020, WePlay Esports grew more than four times internally. Today, WePlay Esports has a presence in Europe and CIS countries and is focused on expanding to the Americas and China, so as not to be dependent on its success in a single region.
Does a multi-cultural, multi-national team make for better results? Could you tell us how to manage a company with employees spread across the world?
The transition to remote work has allowed us to hire specialists regardless of where they live. What we noticed is that the strength of teams of people with various cultural and social backgrounds is their cognitive diversity. In other words, different ways of thinking, viewpoints on a specific task, and skills. Having an international team is crucial for us since we expand our presence globally.
What lessons have you learned in terms of both speed and flexibility at WePlay Esports?
We learned that an organization's stable growth depends on whether or not it promptly responds to changing economic and social conditions, has a plan B, plan C, etc., and generally considers the crisis as a catalyst for innovation. We have prepared by diversifying our businesses, recruiting regional leads, line specialists regardless of their location.
An example of how speed and flexibility can yield results is WeSave! Charity Play that we organized in as little as seven days. In particular, it took 10 hours for the team to create an event concept (a chemical laboratory).
Talents who agreed to participate in the marathon pro bono landed in Kyiv, Ukraine, 12 hours after we sent out the invitations. It was a challenging but incredibly inspiring experience. With the community's help, we increased the initial prize pool of $120,000 to $188,952.51 and allocated it to CEPI and GlobalGiving that are helping to combat the COVID-19 pandemic.
Could you tell us about your team: is it growing fast?
Yes, incredibly fast. For example, over the past two months, we hired as many people as we had at WePlay Esports in 2017! Back then, there were 30 team members. A year after, five times more people were working at the company.
As of December 2020, a total of 364 specialists contribute to WePlay Esports' development. It's one hundred and forty-five team members more than we had in December last year. You could come to the office and recognize no one (laughs).
Well, team growth is an indicator of business growth: we scale up, we engage in new activities, and we need professionals to keep going.
How safe is WePlay Esports for players? Would you like to talk about your legal and security measures?
If we're talking about health precautions at our events in 2020, we make sure that players, talents (esports event hosts), and our employees follow the rules we set.
Let me tell you briefly about these rules.
First and foremost, we ensure that our foreign guests and team members get PCR tests up to 48 hours before attending the venue. Only those who get negative test results are allowed to enter.
Second, temperature screening: Medical officers at the arena take employees', players', and invited talents' temperature at the entrance, and then again every three hours.
Of course, everyone has their 2020 accessories — masks they replace every three hours, and sanitizers. The arena gets cleaned several times a day, while all high-touch surfaces are disinfected once an hour. We also provide humidifiers at the tournament venue. These are some of the precautions we are taking. Anyway, I'm sure the circumstances we're hosting WePlay Dragon Temple in won't overshadow the excitement of those competing, working on the event, and those watching it on Twitch.