Due to the pandemic, fitness fanatics and beginners have had to become creative with ways to exercise seeing that gyms and public spaces have been closed for a long period. A study based on how the pandemic affected physical fitness and exercise, found that people had been experiencing unexplained laziness and mental fatigue. This was proven to be the cause of a lack of motivation to find alternate ways to continue fitness exercises throughout the pandemic. Tobias Oyeyinka, a bodybuilder and fitness coach, has created the solution to this issue. The ODM-FIT app, which is available worldwide, is the perfect app to use when working out at home.
Who is Tobias Oyeyinka?
Tobias Oyeyinka is a bodybuilder, a qualified fitness and nutritional coach, who is affectionately known personally and on social media as Tobias or TK. Tobias is based in Sydney, Australia.Tobias has been a fitness fanatic since he was 17 year old. Tobias is also an HR manager and has successfully obtained a Bachelor of Business, a Diploma of Human Resources Management, and Certificate IV in Frontline Management. Tobias has also successfully obtained a Master of Fitness and a Certificate in Strength and Anatomy.
In 2017, Tobias competed in the NABBA and WFF bodybuilding competition, and placed first in his division. The rigorous preparation for the competition allowed Tobias to learn about his body and the human body in general. Tobias also has his own company, named ODM-FIT, which stands for 'on the move'. Tobias brings fitness to the ever-busy corporate workplace and offers corporate fitness classes as well as yoga classes before, during or after work. At the end of each session Tobias provides a recovery smoothie for the employees so that they are energized and ready for work. Tobias has based this program on studies which have proven that training during work breaks has led increases in productivity, it boosts employees' sense of wellbeing and boosts morale in the workplace and their personal life.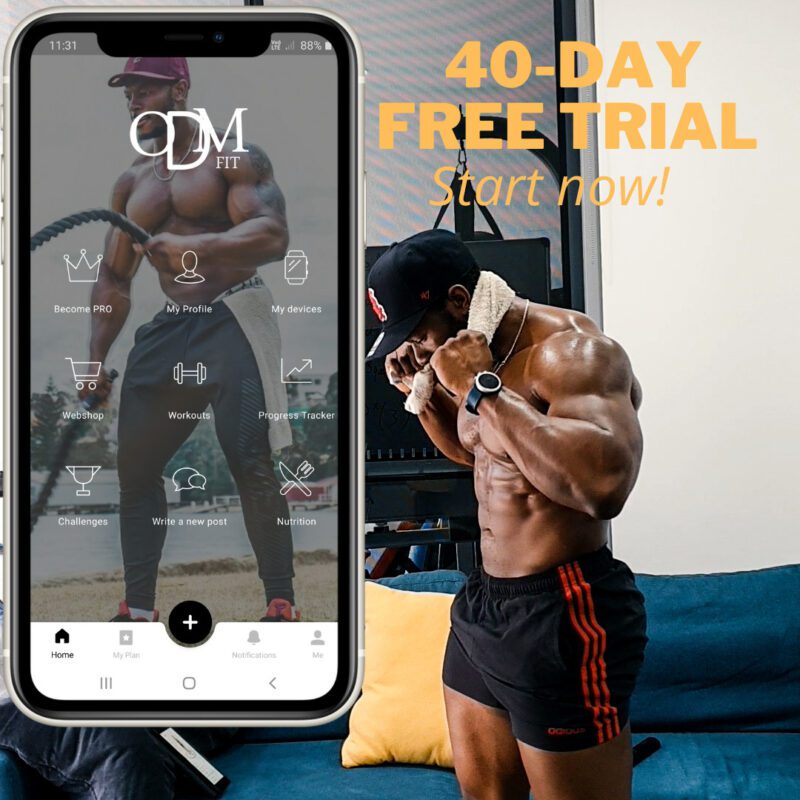 ODM-FIT App
The ODM fitness app is user-friendly and is able to be used anywhere, any time, all over the world. The app offers over 2,000 different exercises for its users, and these exercises are accompanied by a step-by-step guide on how to perform the exercise without injuries. The app also is customizable where it allows users to create their own workout routine, and it allows users to request a customized fitness program, suited to their body type and goals, curated by Tobias.
The app offers three packages, namely the Standard with Pro Access package, the Be My Trainer package, and the 8 Weeks – Goal Crusher package. The Standard with Pro Access package is free for the first 40 days, costing AUD$9.99 per month thereafter. This package, which offers cancellation at any time, it is suitable for all fitness levels The package offers:
Access to over 2,000 exercises and activities

Access to a nutritional app

The ability to track weight and other body metrics

Access to pre-set workouts and the options users are able to create on their own

Access to app support
The Be My Trainer package costs $100 per month and is best suited for users looking for an online trainer. The package offers:
All pro-access

Access to a personal trainer

Access to a tailored training program

Access to a guided meal plan

Access to support at all times

Guidance on Macros.

The ability to track weight and other body metrics
The 8 Weeks – Goal Crusher package costs $98 per week and is a 8 week program with a science-based approach which consists of three different phases. The phases are build strength/muscle, lose fat and tone. This package offers:
All pro-access

Access to a personal trainer

Access to a tailored training program to suit the users' goal

Access to a guided meal plan to suit the users' body type

Access to support at all times

Access to a check-in once bi-weekly

Access to a one-on-one session with Tobias, but this is limited to individuals in Australia. 
The Takeaway
The OMD-FIT app is the perfect solution for individuals who have and want to work out from home or at the gym. Tobias said that even though the pandemic has changed the environment of the gym and how people workout, the traditional gym is not a thing of the past. Tobias says "the environment of the gym, the equipment and the atmospheric motivation from the gym is just different. Some people enjoy working out from home, others prefer the gym. Regardless of what your preference may be, the App can be your personal trainer in your pocket guiding you every step of the way.