No trader trades to make loss, whereas few traders are aware of the different market trends, most enter the market blindly, while others enter  in the middle of an already moving trend or at end of an exhausted trend ( a trend that is about to reverse to the opposite side).
Trend identification is the first key step of making profit in any form of cryptocurrency trading, basically there are 3 types of market ;
Bullish Market(when the market is moving to the upside)
Bearish Market(when a market is moving to the downside)
Ranging Market (An indecisive market which can go either ways)
NB' This article will be based on catching up with a bullish crypto Market (A market with the price movement to the upside).
The question now is what is a Bullish trend?
Most crypto traders see a bullish trend as a market with many green candles, but actually a market can be said to be in a bullish trend if the market has in the past 24hrs reversed more than 45% upward or if a market has increased up to 35% from a previous bullish market/ ranging market. A bullish market ia generally characterized by High lows and Higher highs.
The trend of a market is the main determinate of the direction of the market.
Types of bullish market ;
We basically classified the Bullish Market with respect to its trend as the basis.
– Primary bullish trend with Less than 50% increase in the past 24hr trading volume;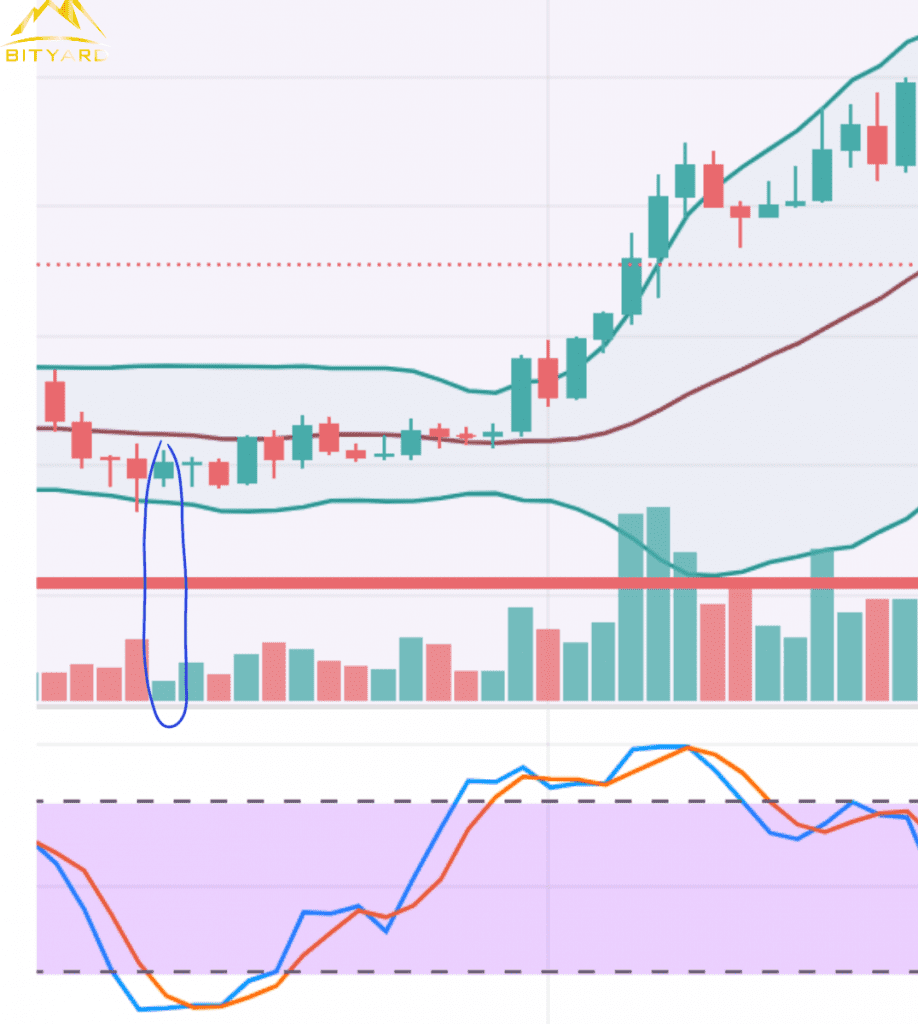 This is basically the type of a bullish market witnessed immediately after a trend reversal, or after 3 successive red candles, the Volume tends to increase but not up to 50% pervious 24hrs trading volume, this can be seen as the first candle after 3 consecutive red candles in a day chart, it indicates ppssible trend reversal to the upside.
This market is usually considered as a weak bullish market, therefore precautions should be taken when entering this market.
This is considered as the consolidation or confirmatory bullish trend, this is seen as the first  green candle after a previous red candle in a day chart, it is characterized by a very tall green candle.  This virtually indicates that more traders are entering the market and majority of this traders are Buyers. It also indicates a very strong trend reversal to the upside.
Most times the extent of this trend is determined by the percentage%   increase in the trading volume with respect with the past 24hr trading volume.
Secondary Bullish trend with a progressive increase in 24hr trading volume of upto or greater than 50% of the past 24hr trading volume;
This is referred to as  the middle of a bullish trend, it indicates that buyers are still buying aggressively, it is represented on the chart as that particular candle that breaks a former All-time high. Most times it is accompanied by very strong bullish pull towards the upside followed by a downward retracement below its highest attained height. 
Secondary bullish trend with progressive decrease in 24 Trading volume up to 40% with respect to the past 24hr trading volume;
This is indicative of a trend that is a reaching an overbought zone using the RSI, on a day chart this is most seen as a crucifix candle(Cross-like candle), Pinocchio candle ( a candle with a wick almost 3x of the candle body and the first Lower low.This type of trend is very important because it can indicate a possible trend reversal, especially when the 24hr trading volume is reducing drastically up to 55% with respect to the past 24hr trading volume. 
News induced bullish trend usually accompanied by a rapid spike in 24hrs trading up to more than 80% with respect to the past 24hrs trading volume.
This determines to large extent the overall trend of a cryptocurrency, the effect of this type of  bullish trend can last for days, weeks even months.
Activities, announcements, rumor, upcoming events and so on are the key players in this type of trend, therefore a crypto trader ought to be following up with the recent happenings around the cryptocurrency platform he/she tends to trade on.
For instance a trader who is not conversant with the latest news from Bitcoin will tend to jsell Bitcoin without knowing that Elon Musk (the world richest man) invested a whopping $1.5 million dollars into Bitcoin.
For latest crypto updates click here.
NB; there are other classifications of Bullish trends
Now having known the different types of Bullish trends in the crypto sphere, the next important asset that is meant to be in the arsenal of a every crypto trader is indicators.
TRADING INDICATORS;
These are useful mathematical pattern/trend determinants produced by analyzing historical data such as price, volume, accumulated interest of a security (Cryptocurrency). There are more than 50 indicators available traders on Bityard (The world leading trading platform), below is the list of various trading indicators that will beneficial to cryptocurrency traders.
Bollinger Band: This helps in determining the volatility of a market.
RSI and Stochastic: this shows the overall statistics of buyers and sellers alike.
Fibonacci retracement: This is very useful in price determination and also in speculating the next support/resistance zones.
Moving average: Shows the overall average of price with respect to a selected period of time.
MACD crossing over: this indicates possible change in price movement.
Trading volume: This is very useful especially when used in conjunction with other indicators.
NB: for better trading it has always been a general rule to combine more than 2 indicators but not too much so as to avoid jam parked chart. Confluence point is very crucial for traders because it serves as a confirmation to the prognosis of Trade analysis.
Confluence points virtually means when two or more indicators are pointing towards the same direction.
In our next article "CATCHING UP WITH A BULLISH CRYPTO TREND (PART 2 "Earning in Bullish trend")" we will explain in details the mechanism of action of these indicators, and how to use them.
Some trend reversal patterns;
At an overview glance of a chart some chart patterns are indicative of ttend reversal to the upside there include;
– Inversed Head and shoulder pattern
– Double buttom parttern
– Falling Wedge characterized by reduced stepness of fall.

Apart from determining the current trend of a market, another important determinant of the Profit/Loss ratio of every trader is the type of trading platform the trader trading on. As of now our best pick is "The Bityard trading platform", currently the world leading trading platform with more than 150+ countries at its reach.
Here is why we recommend and chose Bityard;
– When it comes to regulations, Bityard is a highly regulated globally renowned trading platform that offers a safe, simple, and very fast contract trading, spot exchange, and copy trade on both cryptocurrency and Derivatives.
– The Bityard platform is very easy to use (User friendly and concise), giving most novice traders access to the crypto contract world.
– Bityard integrated innovative technologies that make trading easy and very sweet.
– In terms of transactions, Bityard charges a transaction fee of 0.05%, this is far less compared to what is been charged by other platforms.
– 24/7 customer service always available for traders on Bityard.
Bityard has a customer review of 4.9/5 this indicates,  that the services rendered by Bityard trading platform is second to none. 
In conclusion, determining the general trend of a market will help traders to catch up with a bullish market early, whereas the type of trading platform a traders uses determines to greater extent  The profit ratio of traders.
Bityard is a global trading Platform hat offers well leverage trading for both cryptocurrencies and derivatives; they offer a simple, fast and secured cryptocurrency trading to more than 150+ countries around the globe. The trading interface on Bityard is second to none.
Click here to register and earn $258 USDT Registration bonus.
Most importantly it should be noted that Fundamentals always to greater extent overrides technical analysis,therefore its is paramount for traders to always be updated with the happenings in the cryptocurrency sphere, click here for more cryptocurrency updates.
Cryptonalyzed Education pack