Cryptocurrency is another way of how people around the globe can save time and money, comparable to the internet. At the same time, cash transfer and circulation is still widely prevalent, with a 42% growth of cash in circulation in the US between 2007 and 2012, with an expected annual growth of 5%.
In the UK, half consumer transactions in 2013 were still conducted in cash, which was predicted to drop below 50 % by now, however, it has not been predicted that cash will disappear.
For people in less advanced markets, cash is even more important, with billions of people without bank account, either without enough money to be able to keep a bank account, pay bank fees or a minimum deposit, or without access to a bank at all.
In the same time, migration numbers from developing to developed markets are breaking all records, leading to an increase of the cash remittance industry, which now is ca. $240bn and mostly controlled by established money transfer companies like Western Union and MoneyGram. Unfortunately, the poorer the country, the higher fees they charge. On average, 15% are lost in fees. According to the World Bank, the average cash sender sends $250, of which they lose 15-30 $.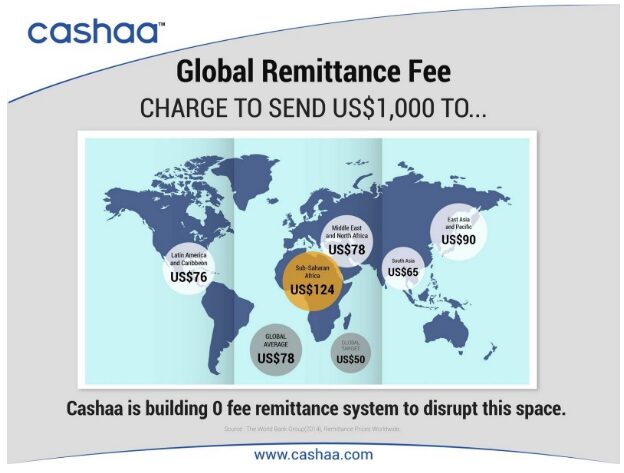 Migrants in the UK, for example, send money home using family and friends returning home or money transfer operators (MTOs) such as Western Union. This variety of channels including informal ones makes it difficult to collect exact data about remittance costs, however, the World Bank`s data shows that formal channels are very expensive, and the respective companies will profit even more from the ever-increasing migration and demands for cash transfer.
For the past 100s of years, the established money transmitters had enough time to make their network strong and for startups difficult to enter this industry. This has changed since cryptocurrency was introduced, which enables a very easy money transfer. The problem is that they have not reached the critical mass so far. Most cryptocurrency trading, which is now a $72m market per year, is used for speculation only, on average $100m in 24h.
Since the beginning of cryptocurrency in 2009, multiple innovations have made use of Cryptocurrencies. Its various advantages, such as fast and secure transactions, are useful for both individuals and business. IIT Bombay-based startup Auxesis Group has made use of these advantages and has built p2p marketplace Cashaa, which from 18 January on is contributing to the future of Finance.
Cashaa was founded in June 2016 by Auxesis Group`s Founding Director, Kumar Gaurav, and is based in Level39, London.
What is Cashaa?
Cashaa is combining these 2 markets by running a blockchain-based p2p marketplace enabling zero fee cash transfer. Blockchains are not controlled by a central party, are fully secured and reliable and enable the transfer of value around the globe without charges. Cashaa brings these advantages to individuals who want to send and receive money and matches them with cryptocurrency traders they can meet locally to give and receive cash from. There is no fee for the cash sender or receiver, they get a transparent, real time exchange rate, and we are also going to offer priority money transfer 24/7.
When Cashaa launches, it will first be based on the network of ca. 10000 Bitcoin traders who signed up during testing. However, we are cryptocurrency-neutral as we are using Inter Ledger which enables match-making if on side the trader is for example a Bitcoin trader and on the other side an altcoin trader.
In summary, the cash senders` benefits are 0 fees, fair market exchange rate and the ability to meet the trader in any public place, which means they do not have to queue any more to send cash. The benefits for the traders are the opportunity to trade on international markets while solving the issue of how to get paid. which gives them an increase in market size, higher profit margin, reduced cash trade time, a safe and secure escrow, a rating system and an import tool where we can import them from other platforms.
The traders get the unique opportunity to use trading to enable international cash transfer, which they can run like a business and on average make 2% profit.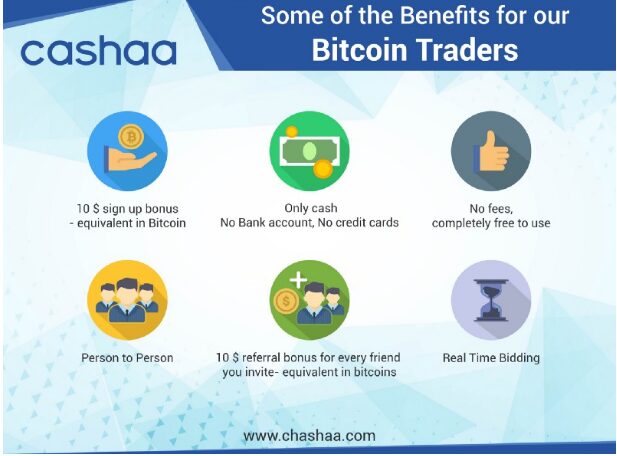 Cashaa is developed by Auxesis Group, India`s leading blockchain development company which Kumar Gaurav founded in 2014. If offers best-of-breed business solutions and partners with corporates, banks and startups which want to implement blockchain technology. It was one of the first companies in India to offer blockchain solutions globally and contributed to blockchain research and innovation in India.
Auxesis Group's partners include Blockchain Lab, London and MultiChain, which whom it is constantly exploring and innovating better blockchain use cases in different industries, including Banking, Insurance, Supply Chain and Capital Markets. Existing solutions include remittances, exchanges, insurance claim settlement, cryptocurrency wallets and blockchain explorers using different platforms, including Bitcoin Blockchain, Ethereum Smart Contracts, Hyperledger and MultiChain.