George Papagiannakis, Co-Founder and CEO of ORamaVR, introducing the unique benefits of Virtual Reality medical training and how ORamaVR is tackling a major health crisis
How did a Professor of Computer Science decide to set on a mission to enable global access to affordable surgical care?
Throughout my career I have been tackling challenging scientific visualization problems via computational science. After becoming tenured as a professor, I decided to focus on societal problems with high impact and contribute as much as I can in "making the world a better place through science". Thus, the focus on life sciences and the hard problem of how to improve education and training of medical professionals, a practice that has not been changed in the last 150 years, despite the immense technological advances.
How is Virtual Reality tackling the health crisis?
Currently almost 5B people globally lack access to affordable surgical care. This health crisis is the direct result of a lack of innovation in medical training over the last 150 years that has meant that the profession can't keep up with the demand. The WHO is projecting that by 2030, there will be a staggering deficit of 18 million medical professionals. Meanwhile, the number of fatal medical errors keeps rising due to the fact that medical training is highly intensive: a master/ educator operates on a patient and the trainee/ apprentice observes and learns on-the-job, often practicing on real patients.
Medical virtual reality (VR) training can change all that. Clinical studies have proven that medical VR training improves patient outcomes; however, current VR content creation cannot keep up with the demand, due to:
a) lengthy content creation times
b) high authoring costs and
c) a very large number of different medical operations that need to be simulated in VR.
How is ORamaVR changing the Medical Metaverse and how can institutions like hospitals benefit from your technology?

ORamaVR's mission is to accelerate the World's transition to medical VR training. We are committed to improving global health care and well-being by transforming how medical VR is being created (tools), not just how it is being experienced (content). What radically differentiates us is that we democratize medical VR content creation through our MAGES Software Development Kit platform, instead of designing 1 simulation at a time, significantly accelerating the word's transition to a new era of medical VR training. By providing affordable access to its MAGES SDK platform, ORamaVR directly empowers content creators and medical institutions to mass produce high fidelity medical VR training simulation content rapidly and for a fraction of the cost without having to outsource to specialized producers.
Through these state-of-the-art simulations, hospitals, medical device companies, medical schools and medical training centres can train and assess their medical professionals. The outstanding benefits of this award-winning platform (MAGES SDK) have been demonstrated in 4 published clinical trials. Aside from drastically reducing development costs and delays, the platform has been proven to provide effective skills transfer from the virtual to the real operating table.
How do you see the future of ORamaVR?

Our master plan at ORamaVR is to empower key medical institutions, med-device companies, and content creators to rapidly create medical VR training content by themselves using our SDK, using a SaaS B2B model. By using that revenue we are going to further evolve our existing low-code medical VR training SDK into an affordable no-code platform. Thus, allow the critical mass of MAGES SDK users to populate a carefully curated and scientifically validated marketplace of high-fidelity medical VR training simulations to facilitate mass adoption.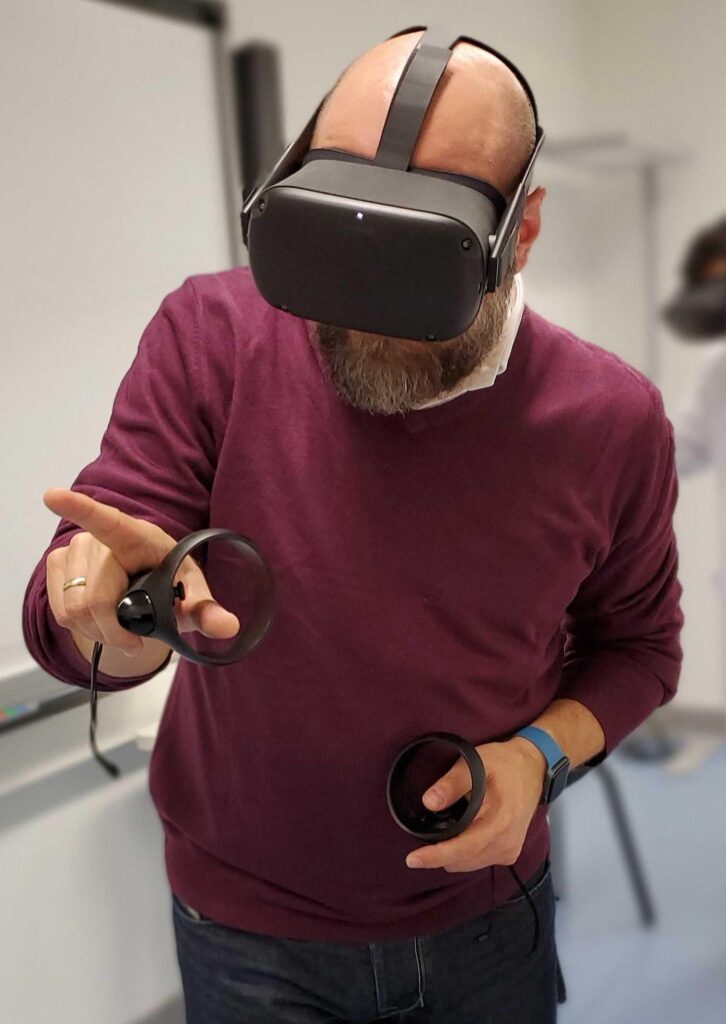 Dr. George Papagiannakis, Co-founder and CEO/CTO of ORamaVR is a computer scientist specialised in computer graphics systems, extended reality algorithms and geometric computational models. His academic credentials include serving as Professor of Computer Graphics at the Computer Science department of the University of Crete, Greece, as Affiliated  Research Fellow at the Human Computer Interaction Laboratory of the Institute of Computer Science in the Foundation for Research and Technology Hellas, Heraklion, Greece,  where he leads the CG Group and as visiting Prof of CS at the University of Geneva. He has more than 100 publications in the field, and he is a member of CGS (Board Member), IEEE, Eurographics, ACM and SIGGRAPH professional societies. In 2011 he was awarded a Marie-Curie Intra-European Fellowship for Career Development from the European Commission's Research Executive Agency.

He was conference chair of the Computer Graphics International 2016 Conference, in cooperation with CGS, ACM, ACM SIGGRAPH and Eurographics Associations. In 2017 he published a Springer-Nature book on Mixed Reality and Gamification which achieved more than 77.000 downloads so far. His pioneering research has attracted more than 2M EUR external funding at FORTH-ICS and more than 3.3M external R&D funding at ORamaVR.