If you've heard of ArtPro already, it's most likely for our adoption of blockchain technology in order to promote trust and transparency in the art market. Deciding that contemporary art was best placed to embrace the innovative changes necessary to bring reform to the art world, the marriage between blockchain technology and an online marketplace brought the birth of the ArtPro Platform.
With many of us choosing to adorn the walls of our homes and workspaces with posters, canvases and prints, the once elitist act of hanging art has adopted an air of ubiquity thanks to the blurring of class lines in our current digital age. In a generation of social media liking, Amazon Prime subscribing, library shunning Wikipedia devotees, turning our backs on galleries in favour of browsing art at our fingertips is a natural progression.
The ArtPro Platform had to be more than the home for authenticated art. It needed to be more than a marketplace.
It needed to be bigger than blockchain.
That's not to say these weren't integral factors to how we envisioned the platform, but more than anything else, we knew we wanted the ArtPro Platform to be a place users wanted to spend time; leisurely browsing, educating themselves, or sharing pieces with like-minded members of the community.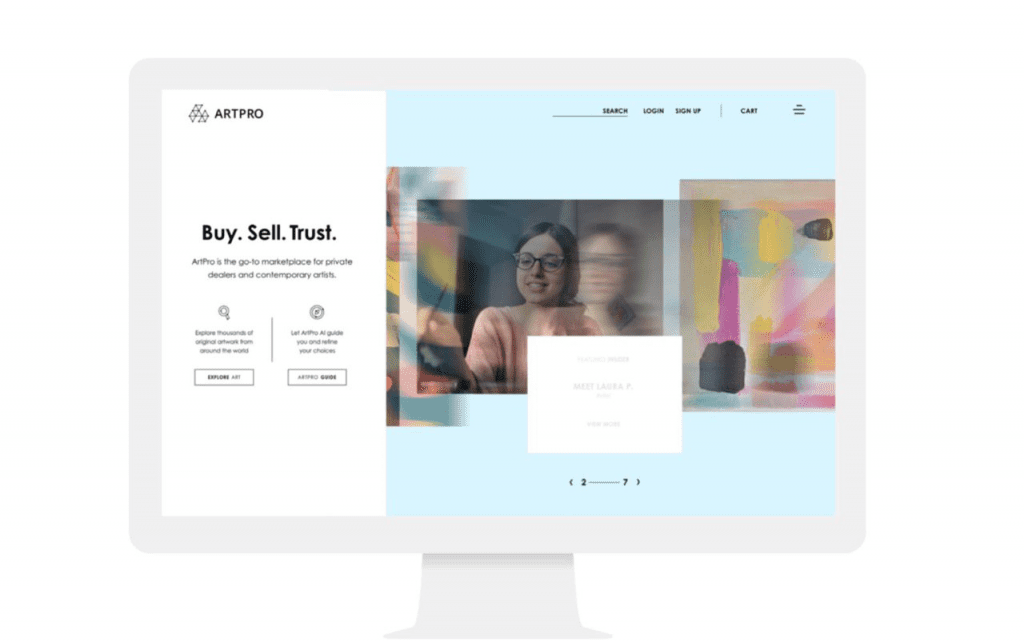 When we sat down with our design team back in 2018, we were all in agreement that our approach to the platform's development should be user-centric. Every creative decision has been made with the user's experience at the forefront of the design. From the development of the brand's current identity, to the clean yet colourful landing page. Our platform wide 'EXPLORE' facility allows users to navigate through the platform independently based on their own search criteria, whereas our 'ARTPRO GUIDE' uses artificial intelligence to produce targeted results through a series of algorithms, designed to uncover a range of suitable options with minimal effort.
Our Members' Area provides a sleek and secure place for users to monitor their APT, store their portfolios electronically and revisit the inspiration boards they created during their searches, all in the same clean and contemporary style consistent across the platform.
The ArtPro Platform isn't designed to be a visual experience, but a holistic step into the contemporary art market. ArtPro is about eyes being encapsulated, brains enlightened, reservations relieved and confidence restored. Ultimately, the ArtPro Platform is about you: the user.