Pressure ulcers, better known as decubitus or bedsores, come across as injuries to the skin as well as the underlying tissue that is an outcome of skin being subject to prolonged pressure. They generally occur on the bony parts like the buttocks, elbow, back, ankles, heels, and shoulder. Those not able to move are more prone to pressure ulcers. If identified at early stages, sepsis, cellulitis, joint and bone infections, or cancer could be prevented, as stated by Persistence Market research in its latest market study entitled "Pressure Ulcer Devices Market". This is where pressure ulcer devices play an active role.
How is the Pressure Ulcer Devices Market categorized?
The global Pressure Ulcer Devices Market, by product, spans mattress overlays, pressure relief mattresses (foam-based mattresses, gel-based mattresses, fiber-based mattresses, water-fluid-filled mattresses, and air-filled mattresses), specialty beds (kinetic beds and air-fluidized beds), pressure relief cushions, alternating pressure wheelchair's cushions, off-loading devices (total contact casting systems (casting system with boots and casting system without boot), off-loading shoes (post-operative offloading shoes, wedge-based shoes, all-purpose shoes, and off-loading shoes), pressure relief accessories, advanced wound dressings (alginate dressings, collagen dressings, films dressings, and foam dressings (anti-microbial foam dressings and non-antimicrobial foam dressing), hydrocolloids dressing, hydrofibers dressings, hydrogels dressings, superabsorbent dressing, and wound contact layers)). By stage, it's stage I, stage II, stage III, and stage IV. By end-user, it's hospitals, long-term care centers, skilled nursing facilities, and home care settings. Persistence Market Research has etched these findings with subsequent steps to be taken in its latest market study entitled "Pressure Ulcer Devices Market".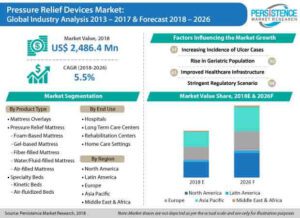 Region-wise Analysis
North America holds the largest market share due to growing incidences of pressure ulcers, enhanced healthcare facilities, and advanced technologies being launched. Europe stands second with a growing geriatric population with the U.K., France, and Germany leading from the front. The Asia-Pacific is expected to grow at the fastest rate in the pressure ulcer devices market in the forecast period due to the majority of the population moving towards the age group of 60 and above shortly. LATAM and MEA are also expected to adopt pressure ulcer devices due to increasing adoption in healthcare infrastructure. Persistence Market Research has scaled through these facts with insights in its latest market study entitled "Pressure Ulcer Devices Market".
Competitive Landscape
Persistence Market Research has profiled the key players in the pressure ulcer devices market as
Stryker Corp.
Smith & Nephew
Hill-Rom Services Inc.
Invacare Corporation
Medtronic PLC
Paramount Bed Holdings Co., Ltd.
ArjoHuntleigh
Talley Group Limited
Drive DeVilbiss Healthcare Ltd (Sidhil Limited)
Apex Medical Corp.
PROMA REHA, s. r. o.
Linet spol. s r.o.
Persistence Market Research has also mentioned the latest developments on this count. For instance – MBET Health, in June 2020, did announce the launching of a proactive solution termed the "Miracle Dressing Wound Care System (MDS)" to cater to pressure ulcers owing to enforced confinements during lockdowns. This product holds the distinction of being the one and the only 21-day stay-in-place dressing, thereby keeping pressure sores at bay. Axio Biosolutions, in April 2020, did announce tabling MaxioCel, which comes across as a next-generation wound care dressing made from chitosan for treating pressure ulcers. The product claims to provide 360-degree care with scar improvement and pain management properties. Smith + Nephew announced the launching of their new-fangled offering of PICO 14 Single Use Negative Pressure Wound Therapy System (sNPWT), whose pump duration is up to 14 days. Paramount Bed Holdings Co., Ltd., in October 2020, did introduce the low-weight medical electric bed known as "ALIUS Series ICU Bed" having the ability to support critically-ill patients in ICU during the early stages of recovery. It was also conferred upon the "2020 Good Design Award", which the Japan Institute of Design Promotion had sponsored.
What Next?
The global pressure ulcer devices market is bound to go the exclamatory ways in the next 10 years – Persistence Market Research