The price of valves has been increasing in the last few years. This could be credited to increasing tariffs in North America, especially the US. The cost factor is being brought into control by designing and research being carried out in the developed economies like the US and countries of Europe, whereas production of the rough castings for valve components and valves happens in the regions with lesser overheads – like India and China. This, in turn, helps in maintenance of quality, along with lower pricing.
Besides, offshore and onshore exploration of the oil & gas for catering to growing demand and supply regarding the same is another factor accelerating the pressure relief valve market. It has also been reported that there are close to 50 nuclear reactors that are being constructed. Pressure relief valves will play a vital role in safe and successful operations of these nuclear plants by rendering protection to boilers, super heaters, and turbines for helping stations run at the pre-determined pressures. Pressure relief valves also help in declination of accidental incidences (overpressure).
How is the Pressure Relief Valve Market categorized?
The global pressure relief valve market, by type of product, spans spring loaded, pilot operated, dead weight, and P&T actuated. By set pressure, it's low pressure, medium pressure, and high pressure. By end-user, it's oil & gas (downstream, midstream, and upstream), chemical processing, power generation, paper & pulp, food & beverages, pharmaceuticals, and likewise. Out of these, oil & gas sector holds the largest market share, followed by power generation.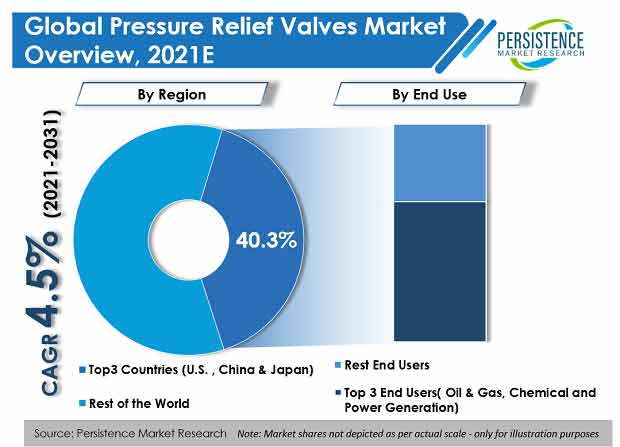 Region-wise Snapshot
North America holds the largest market share with the US being subject to growing industrialization along with enhancement in the urban waste management systems. Europe stands second on the similar grounds. However, the Asia-Pacific is expected to grow at the fastest rate in the pressure relief valve market due to lenient regulations in India resulting in flourishing of end-users like chemicals, oil & gas, textiles, pharmaceuticals, and likewise. Japan is another revenue generator.
Competitive Landscape
The key players in the pressure relief valve market include:
Emerson Electric Co., parker Hannifin Corp, Watts, Baker Hughes Company, Rexnord Corporation, Curtiss-Wright Corporation, The Weir Group plc, ALFA Laval AB, CIRCOR International, Inc., IMI plc, Mercer Valve Co., Inc., Flow Safe, Inc., AGF Manufacturing, Inc., and Yuanda Valve Group Co., Ltd.
On the developments' front, Curtiss-Wright Corp., in 2020, did complete acquisition of Dyna-Flo Control Valve Services Ltd. for US$ 62 Mn.
GAIN COMPLETE ACCESS TO THE REPORT – https://www.persistencemarketresearch.com/checkout/15517
Around the same time, Baker Hughes tabled 2900 Series Generation II Pilot-Operated Pressure Relief Valve (PRV). The purpose is replacement of existing misapplied or oversized API 526 Direct-Spring PRVs with Consolidated 2900 Series Pilot Valve. In the year 2017, a GE company called "Baker Hughes" inked a MOU with Saudi Aramco for delivering a plethora of projects pertaining to localization of oil field goods as well as services along with promotion of bilateral investment and trade between the US and Saudi Arabia.