How does the Americas Industrial Valve Market disperse itself?
Americas industrial valve market, by material, spans cast steel industrial valves, brass industrial valves, carbon steel industrial valves, stainless steel industrial valves, bronze industrial valves, and other alloys. By function, it's automatic and manual.
By valve type, it's gate industrial valves (parallel and wedge), globe industrial valves (tee, angle, and wye), ball industrial valves (trunnion, float, and threaded series), butterfly industrial valves (high performance, lined, and triple offset), plug industrial valves (lined, lubricated, and non—lubricated), check industrial valves (dual plate, piston lift, spring loaded disk, swing check, tilting check, Y pattern, and T pattern), safety relief industrial valves (spring loaded and pilot operated), and others.
By end-use, it's oil & gas, chemicals, water & wastewater treatment, power plants, paper & pulp, and other industries. By country, it's the US, Canada, Mexico, Brazil, Peru, Argentina, Chile, Columbia, and the rest of LATAM. Out of these, globe and valve industrial valves hold the largest market share. Persistence Market Research has etched these facts with future perspectives in its latest market study entitled "Americas Industrial Valve Market".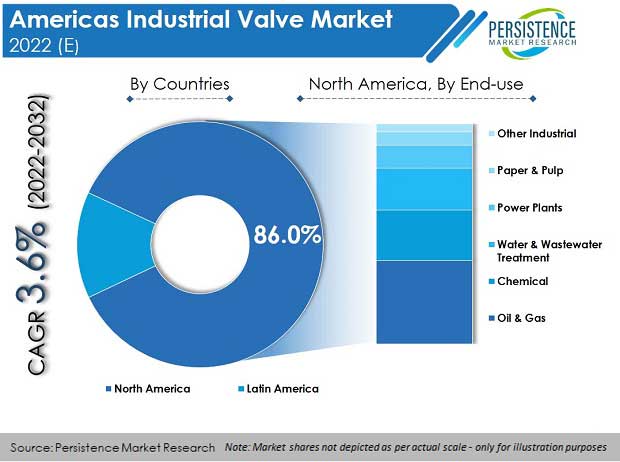 For Critical Insights on this Market, Get A Sample Report!
Country-wise Analysis
The government of the US is into diversifying the economy by bolstering the industrial sector. With a large number of projects in the pipeline (especially the ones with natural gas), the US would be drilling more wells of oil & gas in the upcoming period, which will, in turn, give a whale of opportunities to install industrial valves. Coming to Mexico, the flourishing industrial sector is bound to drive the demand for industrial valves.
Brazil stands third in the Americas industrial valve market due to notable investments in the oil & gas industry. Persistence Market Research has entailed these facts with insights in its latest market study entitled "Americas Industrial Valve Market".
Competitive Analysis
Persistence Market Research has profiled the key players in the Americas Industrial Valve Market as KSB SE & Co. KGaA, Emerson Electric, TechnipFMC Plc, Weir Group Plc, Flowserve Corporation, Watts Water Technologies, Inc., KITZ Corporation, Alfa Laval Corporate AB, Curtiss-Wright Corp., CIRCOR International, Inc., IMI plc, Mercer Valve Co., Inc., National Oilwell Varco, Inc., Neway Valves, AVK International A/S, and LESER GmbH & Co. KG. It has also mentioned the key developments on this count. For instance – Flowserve Corporation, in March 2021, did announce plans to provide seals, valves, and pumps to Pfizer, to help in manufacturing the Covid-19 vaccine.
Interested in Procure The Data? Inquire Here
What Next?
Americas industrial valve market is bound to grow exorbitantly in the next 10 years – Persistence Market Research