With growing urbanization in developing economies like India, Brazil, and Mexico, the construction industry is expected to grow by leaps and bounds in the forecast period. At the same time, it needs to be noted that environmental hazards caused due to highly vibrant piling operations have resulted in stern regulations being enforced in countries like New Zealand, the US, Germany, and the U.K. As such, the piling machines subject to lower vibrations are expected to witness an exorbitant demand in the upcoming period.
The installation of wind farms is expected to substantiate the European Commission working vigorously toward at least a 27% renewable energy target by the year 2030. Persistence Market Research has walked through these findings with subsequent steps to be taken in its latest market study entitled "Piling Machines Market".
How is the Piling Machines market dispersed?
The global piling machines market, by type of product, spans vertical travel lead systems, diesel hammers, hydraulic hammers, hydraulic press-in, vibratory pile drivers, and piling rigs. By piling method, it says impact-driven, drilled percussive, rotary bored, air-lift RCD rig, auger boring, continuous flight auger, and likewise. Persistence Market Research has etched these findings with probable calls to action in its latest market study entitled "Piling Machines Market".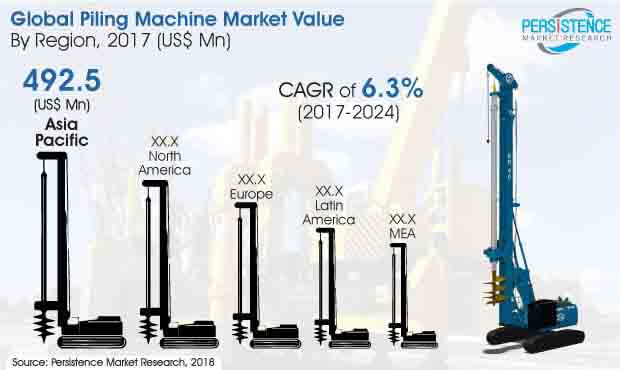 Region-wise Analysis
The Asia-Pacific holds more than 40% of the market share. This could be attributed to the countries like India and China witnessing a major overhaul concerning commercial and residential buildings. Russia is also at the forefront of the piling machines market, especially after the government invested close to US$ 400 Bn in the "Development of Transport System of Russia Program". However, in wake of the Russia-Ukraine war, the economy is expected to dwindle. North America and Europe are at the mature stage of the piling machines market. Persistence Market Research has entailed these facts with insights in its latest market study entitled "Piling Machines Market".
Competitive Landscape
Persistence Market Research has profiled the key participants in the piling machines market as BSP International Foundations, Soilmec S.p.A., Casagrande Group, Bauer Group, International Construction Equipment, Liebherr, Junttan Oy, DELMAG GmbH & Co. KG, Changsha Tianwei Engineering Machinery Manufacturing Co., Ltd., MAIT S.p.A., and likewise. These players are into the expansion mode, both – in the organic and inorganic mode to keep themselves infallible. They include joint ventures, new product launches, mergers, acquisitions, and partnerships.
To Get All-In Insights On the Regional Landscape of The Report Market
The Way Further
The global piling machines market is slated to grow on an astounding note in the next 10 years – Persistence Market Research
Get a Sample Report (Including Full TOC, Table & Figures)