The basic aim of zero liquid discharge systems is that of removal of all solid and liquid waste from system, thereby producing clean water best-suited for reuse. Clean water obtained through zero liquid discharge water treatment systems could be used in the form of coolant for systems and various industrial processes like boiler blowdown, cooling tower blowdown, oil refinery effluent, and likewise.
Zero Liquid Discharge Market Classification
The global zero liquid discharge market, by type of system, spans hybrid ZLD and conventional ZLD. Application-wise, it's power generation, oil & gas, chemicals & petrochemicals, mining & metallurgy, pharmaceuticals, food, textiles & leather, paper, and likewise. Out of these, pharmaceuticals are bound to hold the largest market share in the upcoming period. Persistence Market Research has stated these facts with insights in its latest market study entitled "Zero Liquid Discharge Market".
Region-wise Analysis
North America holds the largest market share due to the US being subject to strict regulations with regards to wastewater emissions. As per the latest guidelines by the US EPA, federal limits have been set on level of the toxic metals and various other discharges, thereby making zero liquid discharge the most sought-after solution to check pollutants in ash transport water, fly ash transport water, and the wastewater from flue gas mercury. Regulatory incentives have also been declared by the government of the US herein.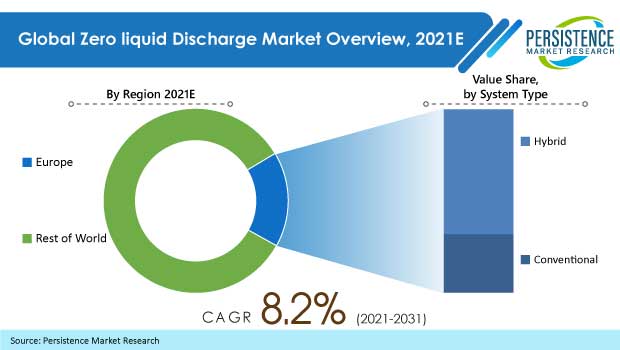 Europe stands second with Italy, the U.K., and Germany holding the baton. The Asia-Pacific is expected to grow at the highest pace in the zero liquid discharge market due to the countries like India and China investing on a significant note in wastewater treatment plants. Persistence Market Research has highlighted these findings with insights in its latest market study entitled "Zero Liquid Discharge Market".
Competitive Landscape
Persistence Market Research has profiled the key players in zero liquid discharge market as Fluence Corporation Ltd., Aquarion Group, Arvind Envisol, Samco Technologies, Inc., GE Water & Process Technologies, Aquatech, Veolia Water technologies, SafBon Water technology, GEA, Shiva Global Environmental Pvt. Ltd., Toshiba Infratructure Systems & Solutions Corporation, Condorchem Envitech, Hydro Air Research, and Lenntech.
Persistence Market Research has gone ahead with mentioning about the latest developments in this regard. For example – Godavari Biorefineries Ltd., in November 2019, did inaugurate its upgraded set-up ZLD (Zero Liquid Discharge) facility. It's, indeed, state-of-the-art facility. The location of the plant is Sakarwadi (Maharashtra, India). For attaining zero liquid discharge, several biological treatments are bound to be carried out along with reverse osmosis, ultra-filtration, agitated thin film drying, and the evaporation techniques to enable purification at almost every stage.
Also, Fluence Corporation, in April 2019, did announce about the contact it procured to supply water treatment reuse system from the Rosenblad Design Group (Rosenblad). The zero liquid discharge system that the company has deployed makes use of reverse osmosis and ultrafiltration for treating brine reuse.
Coming to developments in the year 2021, GEA tabled its new generation valve providing improvised operational safety. GEA claims of it to be deployable as one of the standards in over 80% of the hygienic conditions. This has also been mentioned by Persistence Market research in its latest market study entitled "Zero Liquid Discharge Market".
GAIN COMPLETE ACCESS TO THE REPORT – https://www.persistencemarketresearch.com/checkout/12307
In Future
With world at the risk of water scarcity, the industrial sector would be unimaginable without proper zero liquid discharge systems. That will also ascertain wastewater treatment and water recycling to help in captured waste being constructively used. Thus, the zero liquid discharge system market is bound to grow at an exorbitant note between 2021 and 2031 – Persistence Market Research