With increasing awareness about the known fact that mechanization in farming does save on labor and time, cuts down on overheads, and curtails the post-operative losses, the combine harvesters market is bound to grow on an unstoppable note in the forecast period, as stated by Persistence Market Research.
How is the Combine Harvester Market categorized?
The combine harvester market, by cutting width, spans large size combine harvesters and small size combine harvesters. By type of movement, it's crawler type combine harvester and wheel type combine harvester.
By power source, it's self-propelled combine harvester and tractor-pulled/PTO powered combine harvester. Self-propelled combine harvesters are dominating the market. It has been reported by the same Association of Equipment Manufacturers that as many as 194 self-propelled combines were sold in North America in Jan 2022 alone. Persistence Market Research has entailed these facts with prospects in its latest market study entitled "Combine Harvester Market".
Explore how Japan is performing For the Entire List Of Market Players @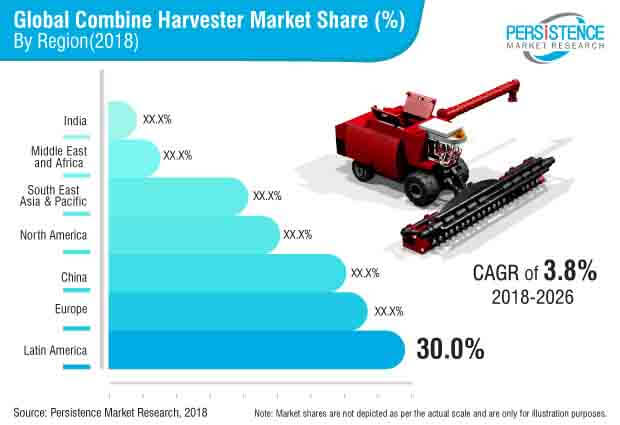 Region-wise Analysis
North America holds the largest market share due to the need for replacing older machinery with new ones, thereby improvising the productivity of the crops in the US and Canada. As per the Association of Equipment Manufacturers, sales of self-propelled combine harvesters all across the US for December 2021 witnessed a gain of 25.3% in comparison with the year 2020.
Europe stands second on this count, followed by the Asia-Pacific. The countries like Korea, Japan, and India are more into manufacturing combined harvesters and also exporting them. Persistence Market Research has, with the help of its team of analysts and consultants, walked through these findings with insights in its latest market study entitled "Combine Harvesters Market".
Competitive Harvesters
Persistence Market Research has profiled the key players in the combined harvester market as Deere & Company, Kubota Corporation, Mahindra & Mahindra Ltd., CLAAS KGaA mbH, KS Group, YANMAR Co., Ltd., Preet Group, SDF S.p.A., Hind Agro Industries, Tractors and Farm Equipment Ltd., Kartar Agro Industries Pvt. Ltd., Iseki & Co., Ltd., Sampo Rosenlew Ltd., and likewise.
Persistence Market research has also gone further by mentioning the developments on this count. For instance – Mahindra & Mahindra, in the year 2021, did come up with its new-fangled harvester in Telangana (India). It's known as "Combine 7060", specially designed for those engaged in paddy farming. There is a paddy cutter bar available. Sleeping crops could also be cut efficiently. New Holland Agriculture, in August 2020, tabled CH 7.70, a combined harvester embedded with twin color separation technology and age-old threshing technology all across Europe. The Deere & Company, in June 2020, did introduce 2 novel headers – X9 1100 and X9 1000. They claim to provide 20% better diesel efficiency as compared to S700s.
The Road Ahead
The global combine harvesters market is likely to grow impertinently in the next 10 years – Persistence Market Research