In-line transit time ultrasonic flow meter is preferred over hybrid and Doppler type as the technology is cost-effective.
How does the in-line transit time ultrasonic flow meter market dispense?
The global in-line transit time ultrasonic flow meter market, by technology, spans multi path and single/dual path. Application-wise, it's gas flow measurement and liquid flow measurement. By end-user, it's power generation, oil & gas, chemicals, and likewise (food & beverages and water & wastewater). Out of these, oil & gas hold the largest market share, followed by power generation.
The former one – with applications in methanol and water injection metering, water measurements, in-line meters' verification, and pump testing and inspection, is expected to keep the hopes high for in-line transit time ultrasonic flow meter market. Also, the fact that oil & gas are capable of adequately conducting ultrasonic waves can't be ruled out. Besides, Industry 4.0 norms ask for automation, which lets in-line transit time ultrasonic flow meters fill the bill. Additionally, liquid flow meters are in great demand due to their proven expertise in metals and mining, pharmaceuticals, pulp and paper industries, and likewise.
Single/dual path in-line transit time ultrasonic flow meters hold more than 70% of the market share as of now. However, in future, multi path flow meters are expected to take over as industry 4.0 asks for precision of the first order.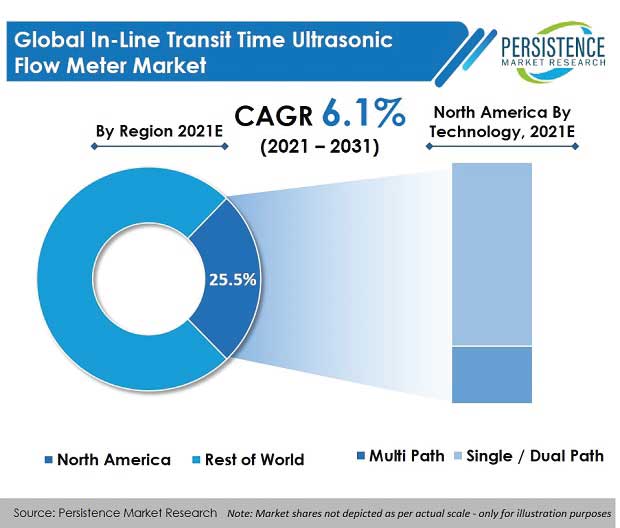 Region-wise Analysis
The Asia-Pacific is poised to be the most lucrative market in the in-line transit time ultrasonic flow meter market with Australia and New Zealand leading from the front. This could be attributed to growing exploration of oil and gas herein, thereby calling for more industrial automation. Europe stands second with Germany dominating the market. This could be reasoned with the fact that production of biomethane and biogas has been substantiating herein since the last few years and the status quo is expected to remain unchanged in the upcoming period.
As far as North America is concerned, the US is home to large number of producers coming up with long-lasting products. MEA is also not behind, with Qatar, Kuwait, the UAE, and Saudi Arabia calling for more imports of the precision tools for the purpose of measurement. BP stats dated 2019 mention that gas production in Saudi Arabia is increasing at the rate of 4-5% every single year.
What's with the Competitors?
The key players in the in-line transmit time ultrasonic flow meter market include:
Emerson Electric Co., KROHNR Group, Badger Meter, Inc., Petro Fiorentini S.p.A., SICK MAIHAK, Inc., Siemens AG, Gruppo Antonini S.p.A. (M&T), Spectris plc, ODS Metering Systems, Endress+Hauser Management AG, Baker Hughes Company, Elster Instromet (Honeywell), Danfoss, and Omega Engineering Inc.
GAIN COMPLETE ACCESS TO THE REPORT – https://www.persistencemarketresearch.com/checkout/32393
Coming to developments, KROHNE, in February 2019, did come up with OPTISONIC 7300 biogas ultrasonic flowmeter to measure wet (raw) and dry biogas, that too, with variable composition. Also, Siemens, Emerson, and Endress+Hauser AG came up with ultrasonic flowmeters in 2018, 2019, and 2020 respectively. The objective of launching these products is offering more reliability, precision, and less maintenance.