Founder Tyler Gottstein Devises New Startup to Disrupt Retail and eCommerce 

Over $2.2M+ Raised From 2,102 Investors 

$42M Valuation 

$1.5M+ in pilot testing sales, signed letters of intent from 63 golf courses, accessing over 250,000 golfers
The National Golf Foundation reports that, as of 2022, the travel golf industry is worth a cool $20 billion. Moreover, 80% of responders stated that they were interested in a golf-specific vacation for 2022. This is indicative of a thriving golf industry that has evolved through dynamic change. But, what is next for the golf industry?
Cadi Kiosk, a Carlsbad, CA-based tech and big data startup, has completed a StartEngine crowdfunding campaign, raising over $2 million from over 2000 investors. After filing multiple patents and onboarded a team of executives from Redbox, Callaway Golf, and Brown Golf, Cadi secured numerous letters of intent from golf courses, driving ranges, and entertainment venues. Cadi sets a projected beta launch date of summer 2022. 
Cadi eCommerce Beta Platform Launch 
Cadi officially launches in beta this summer, offering golfers an autonomous platform in which they shop for new clubs. This platform centers around a new and unique retail experience where the user can demo golf clubs on golf courses, driving ranges, and entertainment venues of their choosing. This is accomplished in both an online marketplace and an on-site kiosk, where the user can use one or both platforms to demo and purchase clubs. The demo can last for several hours and allow the golfer to determine if the club or clubs are the best fit for their swing and skill set. The golfer can directly purchase clubs from the eCommerce platform or the kiosk. 
Cadi offers membership on the eCommerce platform for the golfer, where a user can set up an account, enter information about their skill set and preferences, and build on that data with demoed clubs. Using data from the demo, Cadi can assess a player's skills and provide real-time recommendations for the golfer based on their game. 
"We are incredibly thankful for all of our partners, investors, and advisors who have helped Cadi get us to this point," says founder and CEO Tyler Gottstein. "We look forward to the official launch, and watching golfers across the country use Cadi's platform for their next purchases".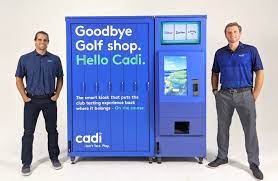 Cadi as a Tech and Big Data Company 
Cadi has positioned itself as a tech and a big data company, more so than just a golf company. While the end-user ultimately purchases clubs, big data and tech use propels the company forward and offers a unique proposition for disruption in other verticals. To build out this model, Cadi takes significant steps in retail disruption, both similar to companies like Amazon and unique to Cadi. 
The first step is a nationwide system of micro warehouses, which require few employees, for mass distribution of golf clubs. Each warehouse has a new, proprietary tracking system to provide real-time updates on each club in the Cadi system, both new and demoed clubs. This tracking system allows for immediate tracking from warehouses, shipping, and use on a golf course. With this system, Cadi has a significantly less overhead cost than other major retailers and much more streamlined tracking and distribution, eliminating sub-par inventory management that plagues many major retailers today. 
The second major step is the use of data itself. This is in two primary functions – sensor technology in each club and data usage on each player. Each club in Cadi's inventory will be equipped with a proprietary sensor for the sensor. The sensor is used for tracking throughout the Cadi system and is available to each user with a Cadi account when a club is purchased, or demo requested. Location information is available in real-time and eliminates lost inventory or missed shipments. 
The sensor also assists Cadi's platform with swing information on each user. With this technology, a golfer's swing, where the ball is impacting the club, and other key metrics. This allows Cadi to offer personalized recommendations and product suggestions on the best club for the user without bias or brand preference. Through this technology, golfers have the assurance that Cadi's platform offers the most detailed feedback and suggestions, outpacing even an in-person shopping consultation in a pro shop or brick and mortar retailer.  
Next Steps After eCommerce 
Cadi will begin placing the innovative kiosk in golf courses, driving ranges, entertainment venues, and retail locations across the United States by late 2022/early 2023. 
Cadi recently announced the endorsement of PGA pro golfer Paul Casey. Paul is a four-time Ryder Cup participant and ranks in the top 30 on the all-time career earnings list. Since his pro debut in 2000, Casey has amassed a long history of accomplishments and some impressive worldwide wins, including three on the PGA Tour, the Shell Houston Open, the Valspar Championship (the first player to win the Valspar Championship in back-to-back seasons), and international wins such as the Porsche European Open. 
Casey has chosen to not sign a golf equipment deal, preferring to use a variety of clubs that best suit his game. "Every golfer, even tour players, love to try the latest and greatest technology" says Casey. "Cadi makes it so easy to find the perfect clubs to help golfers play their best." Soon, golfers everywhere will have the same opportunity of 'try before you buy' through Cadi's marketplace!
While the current system Cadi will launch in Q3/Q4 2022 is only geared towards golf, this technology and data use would ultimately be positioned for disruption into other retail segments.
Suggested Video: Cardi Kiosk – The Future of Golf Retail