Members of the crypto community shared their forecasts for the movement of BTC.
Most cryptocurrencies from the top 10 of the CoinGecko resource capitalization rating began Thursday with a fall. Bitcoin, as of 10:05 (MSK), is trading at $ 55,552. During the day, the cryptocurrency has risen in price by 2.6%, which was the best result among the top 10. Over the week – by 9.8%.
The largest losses in 24 hours were recorded at Uniswap (-5.2%). At the same time, the cryptocurrency showed the best movement result in 7 days (+ 18.9%). During the week, Cardano lost more actively than others (-7.2%).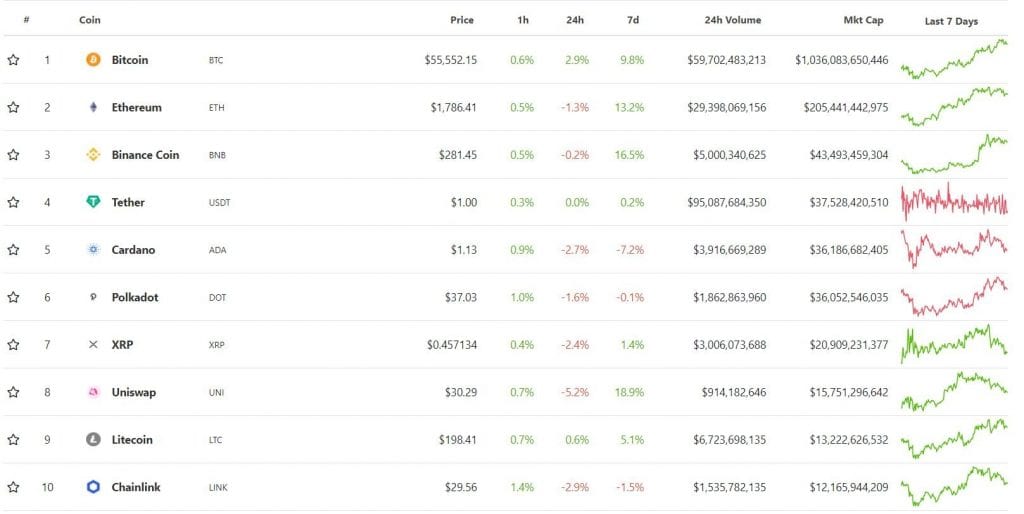 Crypto community members drew attention to the fact that bitcoin has already gone through two major corrections. According to investors, realized and future depreciation of the BTC rate can be used for profitable entry into the market.
Remember how everyone was always talking about 30% pullbacks being normal in a bull trend?

Well now we've had two of them, did you take advantage? pic.twitter.com/Iw4jfv7nSE

— Mayne (@Tradermayne) March 10, 2021
There is a lot institutional money coming into #bitcoin but most of it is still sitting on the sidelines. We're in the second pitch of the first inning.

— Tyler Winklevoss (@tyler) March 10, 2021
Vitalik Buterin has x100 scaling solution for ETH in 2021
According to an article by Citytelegraph,
In his speech on the Tim Ferris Show podcast, the creator of Ethereum, Vitalik Buterin Rollups, singled out as a "really powerful" scaling solution. It will help the smart contract platform stay ahead of its ETH 2 upgrade.
Buterin argued that Rollups could be a solution to Ethereum's current scaling problems. At least until the introduction of sharding technology in Ethereum 2.0. (Read the whole story here: Ethereum Price Prediction 2021)