Malaysian law enforcement agencies have arrested seven citizens today accused of stealing millions of dollars of electricity to mine BTC.
Malay Mail reported today that an operation involving Tenaga Nasional Berhad (TNB), a Malaysian energy company, and the Johor police, resulted in the arrest of seven suspects ranging in age from 24 to 64.
Investigation revealed that TNB caused damage to TNB in ​​the amount of RM8.6 million ($ 2.13 million). It was for this amount that unpaid electricity was used, which was sent to BTC mining in 2020.
Police seized 1,746 bitcoin mining machines, valued at 2.6 million yuan ($ 64,000). 21 premises were used to accommodate BTC mining farms.
"The criminal syndicate, which has been operating since the beginning of 2020, conducted its illegal activities on the upper floors of shopping malls to avoid government detection," said Datuk Pitchay, the current chief of police in Johor.
The police are still investigating the group's activities and are trying to track down the group's organizer and other members of the group who are still at large.
Over the past year, this is the largest electricity theft ever recorded in the world. Previously, similar incidents occurred in different countries, including in Russia, where government officials sent state electricity to the extraction of cryptocurrencies in order to enrich themselves.
EIP-1559 Opponents On April 1 Will Combine Hashing Powers On Ethermine Pool
Ethereum developers made the decision last week to include EIP-1559 in the London hard fork scheduled for July. EIP-1559 implies burning ETH when paying commissions. This will significantly reduce the ever-increasing transaction fees but will affect the income of miners. Some analysts suggest that miners will lose up to 50% of their profits.
Bitcoin mining has become more profitable in November
Bitcoin miners generated $ 522 million in revenue in November, up 48% from October, according to CoinMetrics.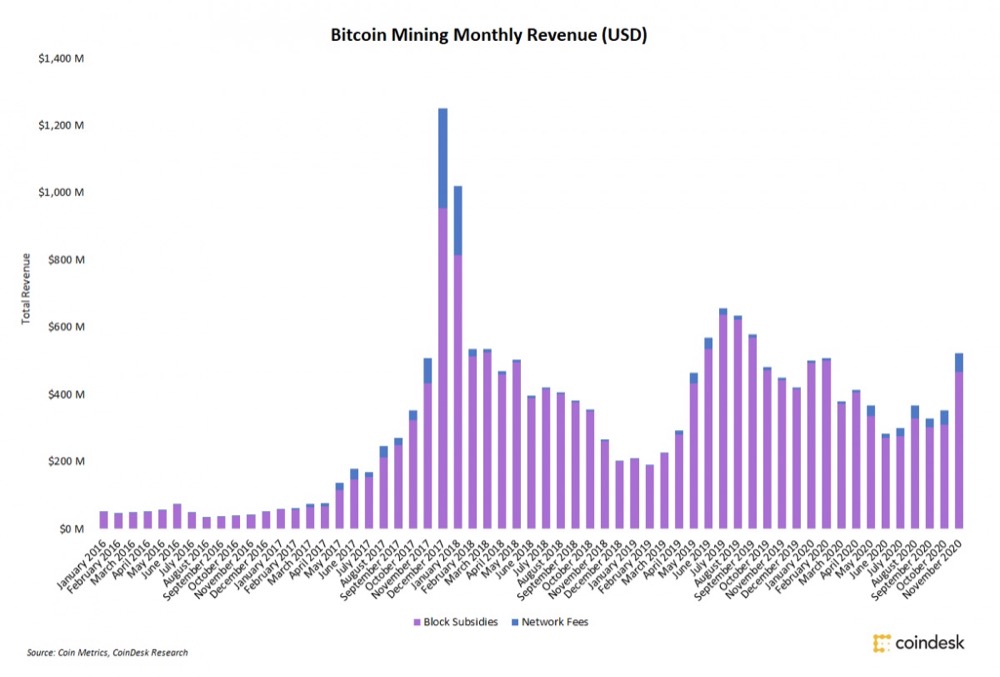 But commission fees brought in $ 54.9 million last month, or almost 11% of total revenue. This is a slightly smaller share than in October – 12.2%. Fees declined steadily throughout November, dropping from an average transaction fee of $ 13 to less than $ 3 by the end of the month.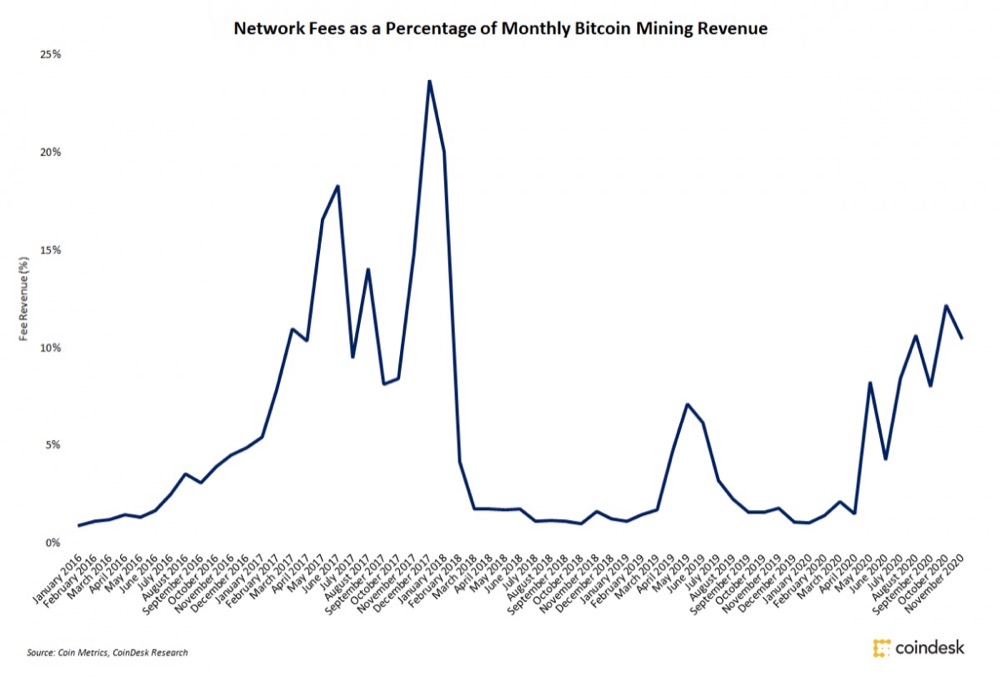 As analysts predict that the current rise in the price of bitcoin will be sustained, miners expect revenue growth to continue until the end of 2020.
Binance Crypto Exchange Launches Ethereum Mining Pool
Seven months ago, the Binance crypto exchange launched a Bitcoin pool, and now a pool for Ethereum has also been launched . This means that Binance Pool users can now mine ETH in addition to bitcoins.
Binance will charge 0.5% fees for mining ETH, which is half the price of competing offerings. For example, in Ethermine and SparkPool, the commission is 1%. However, for the first month, that is, until December 12th, Binance will not charge any fees for mining ETH at all.
The pool uses a standard method for distributing block rewards as well as distributing transaction fees.
It is currently impossible to predict whether the new Ethereum pool will gain the same popularity as the Bitcoin pool, especially when Ethereum is about to move from Proof-of-Work to Proof-of-Stake. But the Bitcoin pool is quite popular and according to the tracker BTC.com, in October it accounted for about 7% of the network hashrate.