BREATHE is a decentralized convention for a decentralized world.
Today the Blockchain and Web3-focused BREATHE! Convention officially announces it is returning to Las Vegas on May 3-5, 2023 with the aim of uniting communities across the Web3, Blockchain, Crypto, DeFi, Metaverse, and NFT (W.B.C.D.M.N.) space. 
BREATHE! sets itself apart from other conventions through its message of "Digital Wealth, Physical Health," to provide developers, collectors, investors, and thought leaders a physical space for networking and conducting business among the emerging tech and decentralization industries.
The event is set to bring an estimated 5,000+ attendees from North America, Europe, the MENA region, and Asia with hundreds of exhibitors to showcase a wide range of products and services, including advancements in cryptocurrency exchanges, blockchain utilization, and sustainable health and wealth practices.
Captivating panel discussions and enlightening Keynote presentations by industry giants are in development to hold thought-provoking discussions and educational opportunities for businesses looking to implement Blockchain and Web3 technology.
A variety of topics are planned, including generating a passive income, automating your business, maintaining your privacy, and securing your financial freedom as some of the breakthrough concepts for the BREATHE! agenda.
Completing the first step of its roadmap, BREATHE! has launched its website to receive inquiries from interested attendees, exhibitors, sponsors, speakers, and affiliates. Visitors can take advantage of the SUPER Early Bird REGISTRATION special or submit inquiries on the official website of BREATHE!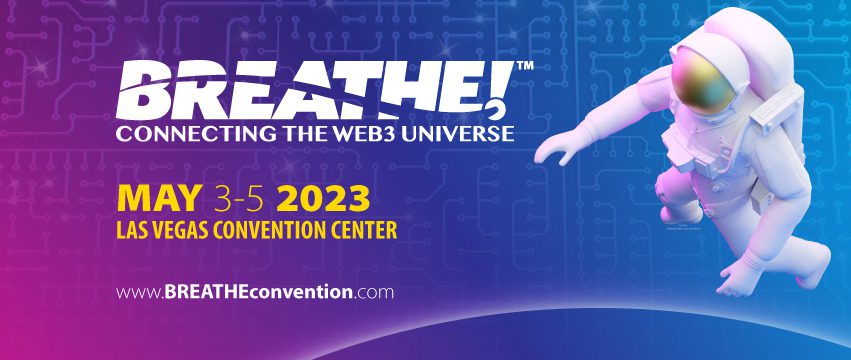 The team at BREATHE! has expressed excitement about bringing together the transformative W.B.C.D.M.N. universe.
"I am so grateful for the opportunity to work alongside such a passionate team of pioneers. One of the main goals of BREATHE! is to bring together the brightest minds and strongest developers to expand the blockchain's usage across the world. It's vital for emerging sectors like Web3 and the Metaverse to network, present new ideas, and showcase the latest tech to collectors, investors, and fellow developers," says BREATHE! C.M.O. Stormie Andrews. 
"We have a lot planned on the horizon for BREATHE! so I'm confident in saying you're going to see some really fun and exciting stuff come to light relatively soon. Imagine what we as an emerging tech community can accomplish when we bring in investment opportunities and expand useability for businesses and governments around the world. The power to transform the world for the better is on our doorstep."
Web3 and blockchain enthusiasts as well as members of the press can follow BREATHE! on its active social media channels Twitter@BREATHEConLV, TikTok@breatheconlv, LinkedIn@breathe-convention, Facebook@BREATHEConLV and Instagram @breatheconvention.
Visit the official BREATHE! website for the latest information and updates on how to purchase tickets to attend and get involved with the event. 
BREATHE! 2023 is active on Discord and Twitter.
About BREATHE!
BREATHE! 2023, a decentralized convention for a decentralized world,  provides a space for developers, investors, collectors, enthusiasts, and thought-leaders to showcase, educate, and network across the ever-expanding universe of Web3, Blockchain, Crypto, Defi, Metaverse, and NFT technology (WBCDMN).
With an estimated 5,000 attendees, hundreds of exhibitors, and industry-leading Keynotes planned, BREATHE! sets itself as the center of all things WBCDMN to help people achieve digital wealth and physical health. 
Powered by a passionate team of WBCDMN enthusiasts and investors, BREATHE! looks to help businesses and governments adopt this emerging technology for better opportunities in improving privacy, decentralization, self-expression, and financial freedom for people from all walks of life.
Please visit BREATHE! website for access to attend and for inquiries to get involved. BREATHE! is active on Twitter and Discord, providing the latest news and updates to the event.
Media Contact
Company Name:  5AMGlobal
Contact Person: Brian Edmiston
Email: Press@5AMGlobal.com
City: Las Vegas 
State: NV
Country: USA