The electric scooter industry has seen a massive surge in popularity in recent years. More and more people are turning to electric scooters as a convenient and eco-friendly way to get around. However, many of these scooters rely on traditional charging methods, which can be inconvenient and unsustainable. This is where the AOVO lirpe R1 comes in.
The AOVO lirpe R1 is the first solar electric scooter in the industry, offering breakthrough technology that sets it apart from other electric scooters on the market. The AOVO electric scooter features a solar panel integrated into the handlebars, which allows users to charge the battery while riding, making it an eco-friendly option compared to traditional electric scooters. The solar charging technology is an innovative solution to the problem of limited battery life and helps reduce the carbon footprint of the scooter.
In order to create a green and friendly travel lifestyle, AOVO technology is working hard to achieve this. This is the latest detached solar battery charging technology developed by AOVO Technology. The battery of AOVO lirpe R1 can be taken out and powered by a solar panel alone. It is worth mentioning that this solar panel can be folded into a bag, which is very convenient. Product name : AOVO lirpe S100 Foldable Solar Pack
If electric scooters can change the way people travel or camping, then this solar electric scooter AOVO lirpe R1 will completely trigger a scooter technology revolution. This is an electric scooter that does not need to be limited to charging in the house. It can be powered by solar energy, and the detachable battery of AOVO lirpe R1 can be solar generator charging for mobile device as well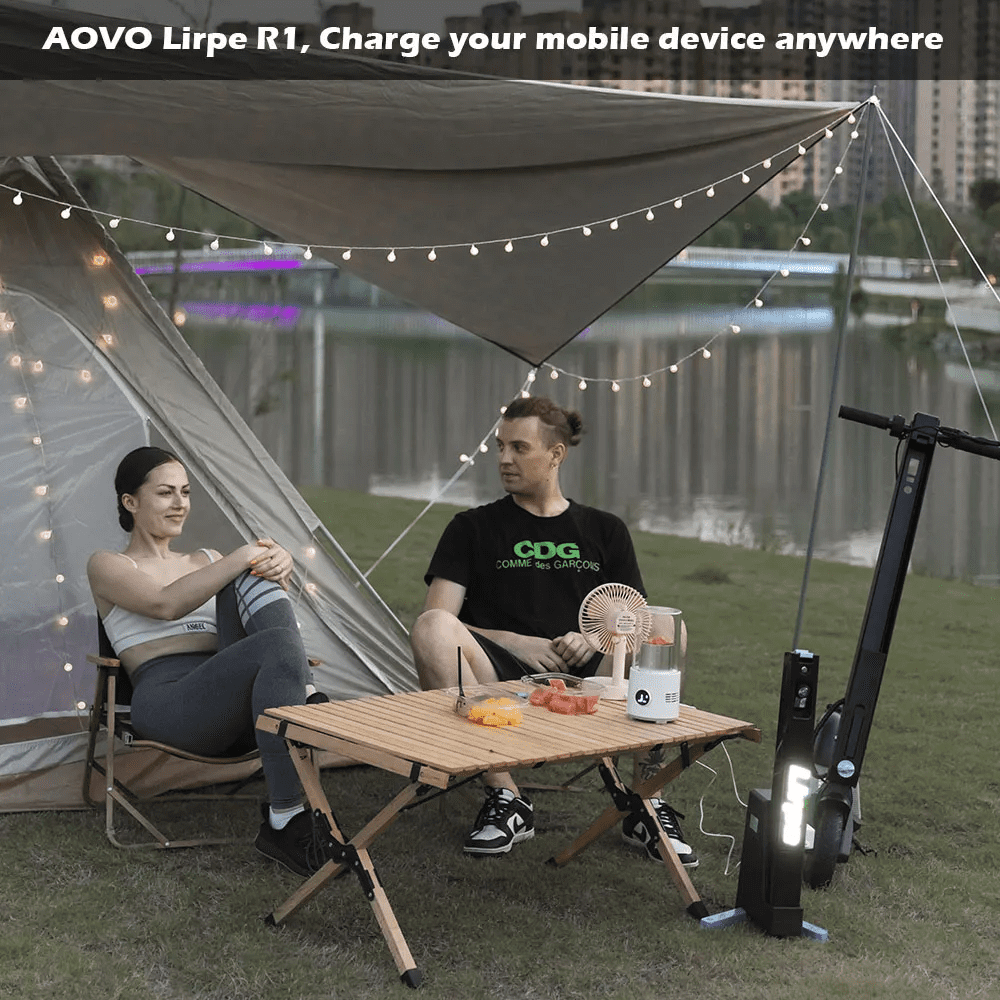 One of the most impressive features of the AOVO lirpe R1 is its versatility when it comes to charging. Users can remove the battery from the scooter and charge it separately using a regular power source, providing a quick and convenient charging option. This feature ensures that users can keep the scooter charged, regardless of their access to a solar panel or charging station. The scooter also has a quick-charging time of just four hours, allowing users to get back on the road quickly.
The AOVO lirpe R1's powerful 350W motor allows the scooter to reach a top speed of 25 km/h, making it suitable for both commuting and leisurely rides. The motor is also efficient and quiet, providing users with a comfortable ride without disturbing others. The scooter's impressive range of up to 25 km on a single charge allows users to travel longer distances without worrying about running out of battery.
The AOVO lirpe R1 is designed with safety in mind, featuring a front LED light and rear brake light for increased visibility at night. The scooter also has a rear disc brake for reliable stopping power, providing users with peace of mind while riding. The scooter's sturdy aluminum frame can support up to 120 kg, making it suitable for riders of all sizes. The large LCD screen on the handlebars displays essential information such as speed, battery life, and distance traveled, allowing users to stay informed and safe while riding.
The AOVO lirpe R1 simple and intuitive control system includes a thumb throttle for acceleration and a handbrake for stopping. This easy-to-use system makes the escooter accessible to users of all ages and levels of experience. The scooter's sleek and modern design is not only functional but also stylish, with a compact size that makes it easy to store and transport. The handlebars can be folded down, making it convenient to carry the scooter on public transportation or store it in a small space.
Another benefit of the AOVO lirpe R1 is its eco-friendliness. The scooter's solar charging technology allows users to reduce their carbon footprint while still enjoying the convenience of an electric scooter. In addition, the scooter's efficient motor and long-range help to further reduce its impact on the environment. Using an AOVO lirpe R1 as a mode of transportation can help users make a positive impact on the planet.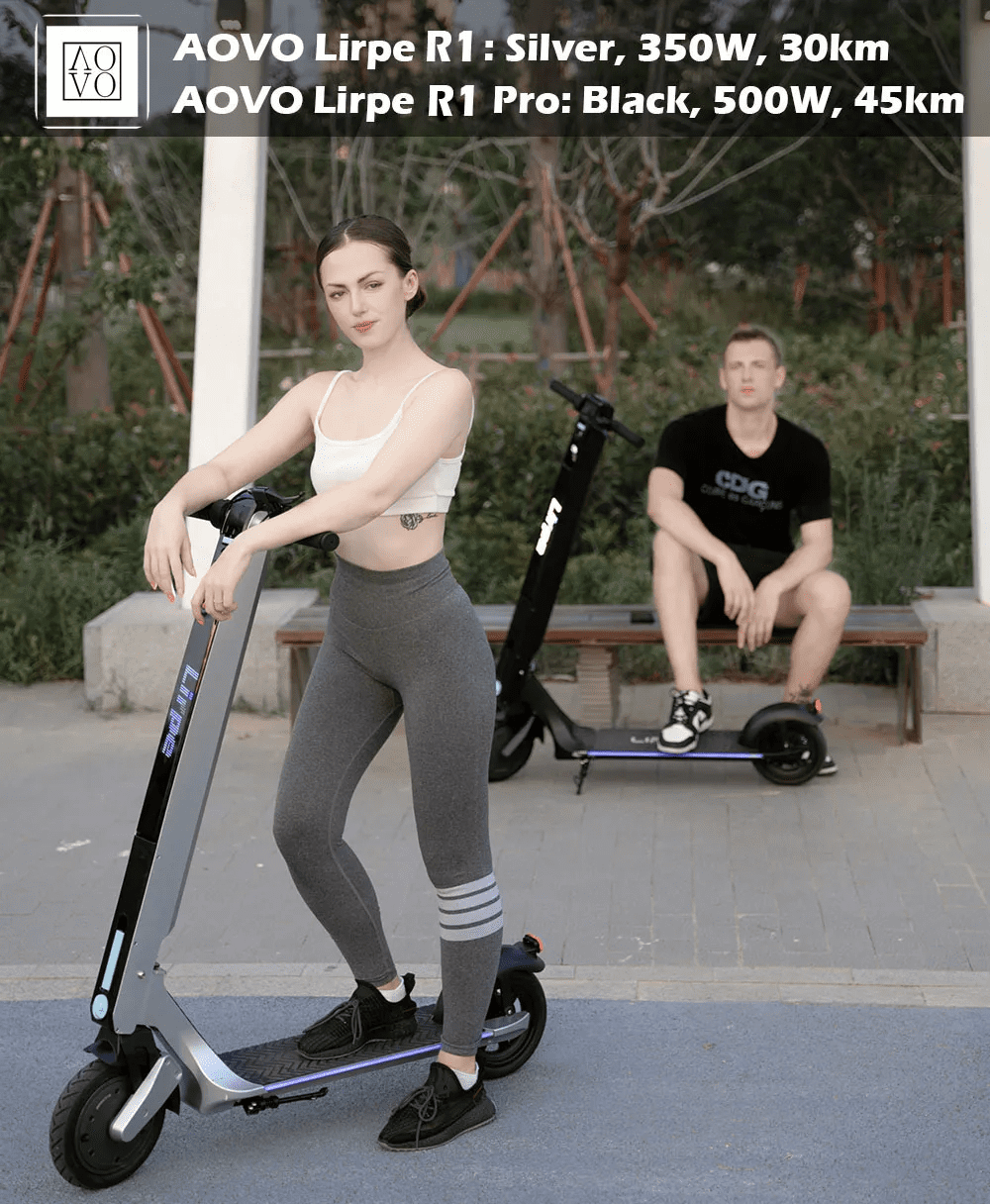 There are two versions of this solar electric scooter, general and economical: AOVO lirpe R1 (silver), energy storage enhanced: AOVO lirpe R1 promax (black)
AOVO lirpe R1 electric scooter: 350W, 36V, 7.8Ah battery, AOVO lirpe R1 promax: 500W, 36V, 10.4Ah battery.
Overall, the AOVO lirpe R1 is an impressive electric scooter with breakthrough technology, providing a range of innovative features and benefits. With its solar charging capabilities, powerful motor, long-range, and safety features, it is an excellent option for anyone looking for a reliable and eco-friendly mode of transportation. Whether you're commuting to work or exploring your city, the AOVO lirpe R1 is sure to provide a smooth and comfortable ride.
Learn more about the solar electric scooter AOVO lirpe R1, please visit:  AOVO official global store