Stan Bharti is a recognized international businessman and entrepreneur with over thirty years of hands-on experience in the mining, oil and gas, technology and finance sectors. Stan is the Founder and Executive Chairman of Forbes & Manhattan Inc, an international merchant bank and finance house focused on natural resources, infrastructure, energy and technology. Forbes is recognized around the world as a leader in discovering, financing and building projects through to completion.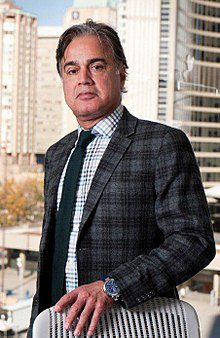 Why Brazil Needs to Expand Domestic Potash Production. 
Potassium is a vital agricultural nutrient source that has no substitute. After all, plants require sufficient potash to activate dozens of important enzymes, which in turn catalyze chemical reactions important for water uptake and photosynthesis.
It significantly affects the absorption and utilization of other nutrients by plants. Besides, it is also very important for cell growth, which is an essential process for the function and development of plants.
As fertilizer for growing crops, potassium strengthens root systems, helping plants resist disease, dry, and cold weather. It further plays a vital role in yield formation and increases crop quality. Overall, Potassium is important for ensuring optimal plant growth.
The potash fertilizer market is projected to have a CAGR of 4.1% from 2022-2027. The production and demand for this essential nutrient are rising substantially, but at the same time, the supply side is facing issues at the global level. 
Importance of Potash in Brazil 
Agribusiness is one of the main drivers of the Brazilian economy. Through its increasing exports, Brazil has been feeding the entire world. In fact, Brazil has become a world leader in agriculture through its abundant natural resources, large-scale operations, extensive use of state-of-the-art production technology, and modern farm management.
At the same time, Brazil is the world's fourth-largest fertilizer consumer. This growth in demand has actually surpassed the world's growth rate. But for its agricultural chemicals, Brazil relies on imported inputs. This dependence is most acute for fertilizers, with Brazil importing more than 80% of its total fertilizer needs annually.
Due to producing only 2% of the world's fertilizers, Brazil imports a vast majority of its fertilizers, especially potassium at above 95%, nitrogen (96%), and phosphorus (55%). 
In the first nine months of 2021, Brazilian fertilizer imports exceeded 24 million tons, 13% higher than the previous period, according to the Secretariat of Foreign Trade at the Ministry of Economy in Brazil. This has left farmers vulnerable to nutrient price increases. 
Over the last couple of years, there has been increasing concern about rising fertilizer prices and potential disruption to the global fertilizer trade. According to Brazilian growers, the most problematic nutrient to source is potassium during such events.
Global Potash Movement Affected
Global trade in potash is very concentrated, with Canada being the world's leading exporter of potash, accounting for a roughly 20% market share. Together, Russia and Belarus account for about a third of global potash exports. But Belarus is subjected to sanctions on its potash exports, and Russia is going through war and sanctions. 
The global potash outlook is currently facing some major geopolitical issues due to being heavily dependent on what happens in Belarus and Russia. Russia also has the largest number of individual projects in the International Fertilizer Association's (IFA) capacity forecast. 
This particularly affects Brazil because it sources about a quarter of its fertilizers from Russia. The COVID-19 pandemic and protectionist trade measures by important producers have further caused fertilizer disruption in Brazil. 
Together, geopolitical tensions and logistical woes led to prices for the valuable fertilizer component potash soaring past US$1,000 per tonne for the first time ever.  Prices have retreated slightly but still remain at elevated levels not seen in a decade.
Brazil Needs Local Potash
As we mentioned, Brazil is a powerhouse agricultural producer, ranking among the top three global exporters of several commodities. But to support its massive agribusiness sector, Brazil relies on imported fertilizers, especially potash, 97% of which is imported. As a matter of fact, Brazil is the second largest potash consumer in the world.
The Russian-Ukraine war is currently disrupting the global fertilizer trade, which has led to rising concerns in Brazil that growers may be unable to expand the croplands which require annual replenishment given Brazilian agricultural soils do not bind well with Potash. After all, without critical nutrients such as potash, they will also see lower crop yields. 
On top of that, the prices for the fertilizer ingredient have soared considerably on fears of a shortage caused by global unrest. To reduce the sector's dependence on imports, shipping costs and protect farmers from price increases, the government has developed a National Fertilizer Plan, but the implementation is expected to take decades.
Brazil aims to raise national production gradually through 2050 to six million tons of installed capacity. The country's domestic potash capacity with exploration potential is located in Sergipe and Amazonas' already deforested lands, which account for around 3% of global deposits. 
With the factors impacting the potash market continuing to remain relevant, coupled with freight challenges, gas and coal prices, and other supply issues, the future is full of uncertainty. Combined with this uncertainty is the trending up demand, which means Brazil needs to start fulfilling its potash needs domestically.