Hindi Cinema has never failed to give us some of the best melodious songs. It always brings music for its fans all over to make them entertaining. However, it is not new rather it took lots of time to grow and inspire people all over the world even those who do not know a single Hindi word. 
But you will be amazed after listening to the people singing Bollywood songs who are not native Hindi speakers. That is the success of the cinema for making people enjoy. It is said that music itself is a language and Bollywood has proved that very well since its launch. 
You will find millions of fans in China, Europe, Gulf countries, and many other parts of the world. The dance and music of this cinema are quite popular among the fans. You will find hundreds of thousands of songs that are quite appealing and melodious.
However, in this article, I am going to share some of the best Bollywood songs that are worth more than gold. I have picked these for you on the basis of peoples' choices from all over the world. If you are not Indian but want to understand the lyrics of Hindi and other songs, then you should visit Old Song Lyrics.
Best Bollywood Songs to Enjoy
We are in 2022 but the history of Bollywood is quite old and since its launch, this cinema has given us thousands of hits. I am not only talking about the movies and series but also its music. You have heard about so many big names from the industry.
You may have heard of Lata Mangeshkar, Mohammad Raffi, Mukesh, and so many others. Ek Pyar Ka Nagma is one of my own favorites that is sung by Lata Gee and Mukesh. It is not only my favorite, rather there are millions of fans from all over the world. 
These legendary singers have given so many hits and the number of their songs is quite huge. They are considered a gem in the Indian Cinema and still, they are loved all over the world. However, India and Pakistan are the hubs and most of the fans belong to these countries.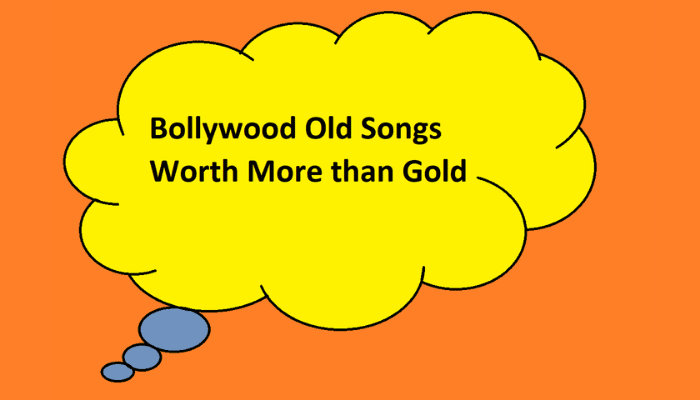 The lyrics of Ek Pyar Ka Nagma is a song picturized in the movie Shor. This masterpiece was written by Santosh Anand. You can find this song on YouTube very easily. Even there are multiple upgraded versions of this song or you can also call them remixes. 
So, some artists have tried to mix that classic song with western music and effects. Although today's generation like western and fast music, however, they still prefer such songs. Therefore, there are so many such classic masterpieces that are remixed by different singers. 
You can find all these resources on the internet very easily. So, you just need to search the song and that is all. However, the list of such songs is quite huge that I have included it in the list of Bollywood Old Songs Worth More than Gold. 
So, here I am going to share a list of those songs that I have picked for you. You can listen to them and enjoy them in your free time. Even you can enjoy music during work if it is not destroying your focus. So, you can check out the list of these songs here.
Ek Pyar Ka Nagma
The song that tops my list is Ek Pyar Ka Nagma that I have already discussed in the above paragraphs. You can read the lyrics and translation by visiting the page that I have linked at the begging of this article. This song is sung by Lata Gee and the lyrics are quite fascinating.
Lag Jaa Gale
Presenting one of the hits of Lata Mangeshkar Lag Jaa Gale. It is quite famous and one of the best songs from her young age. She sang this song for a movie called Woh Kaun Thi. This was released in 1964 and directed by the most famous director Raj Khosla.
Noor E Khuda 
Shreya Ghoshal is one of the successful singers in the current era. She got a melodious voice and well command of music. Noor E Khuda is one of her best songs that was picturized in a most famous movie called My Name is Khan. It was released in 2010.
Tum Hi Ho
Arijit Singh is quite famous for his sad and romantic songs. So, Tum Hi Ho was one of the most famous songs that he sang in the movie Aashiqui 2. This movie go fame because of its songs and most of them were sung by Arijit. This song was composed by Mithoon and the movie was released in 2013.
Mere Sapno Ki Rani
Kishore Kumar is remarkable and a gem when it comes to Bollywood singers. He is still famous among the youth and has given us so many hits. Mere Sapno Ki Rani is one of his best songs that was picturized in the movie Aradhana. 
Conclusion
This was a precise list of all those Bollywood songs that are considered gems. You can also listen to them and most of you may have already heard about these songs. You will find the videos on YouTube and for lyrics, I have already shared a link.