The Bank of Japan held a two-day meeting where it concluded to maintain its ultra-dovish monetary policy.
The market anticipated them to tweak their stimulus program with inflation pressure rising, however, BoJ Governor Kuroda defied expectations by not making any changes to Yield Curve Control targets.
This sent Yields lower for Japanese Government Bonds which resulted in weakness for the Yen.
We saw the Dollar push up during Asian trading this morning after seeing some rejection near support levels.
Gold has entered a retracement as it fell to the first key support level. We expect Gold to slide as traders take profits. The next support level is near the $1860 area.
Bitcoin is consolidating at the resistance near $21,400, but we are expecting it to break above this after a slight pullback. Bitcoin's next target is $22,700 if it can maintain this bull run.
In today's DIFX Analytics, we're going to look into the following assets:
USD/JPY climbs after BoJ meeting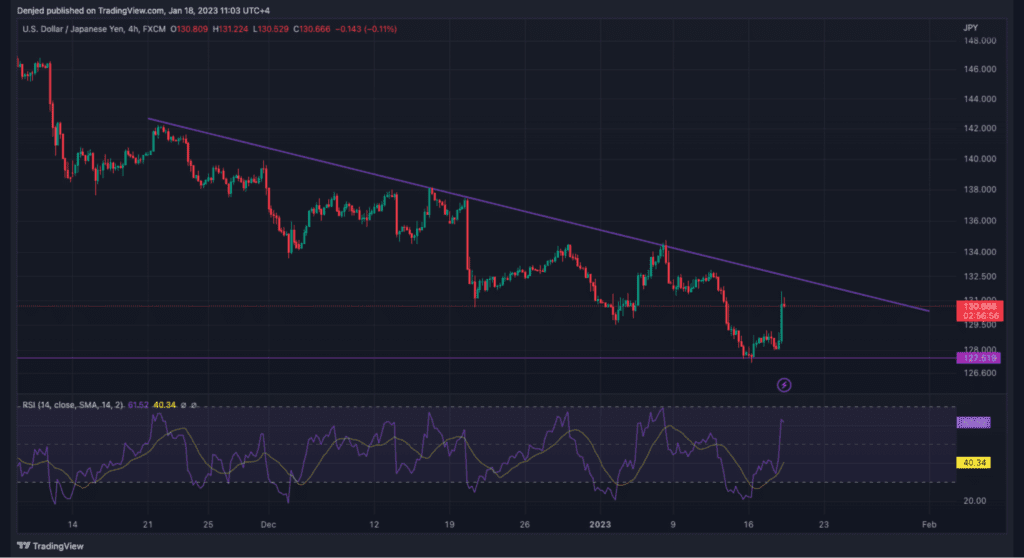 USD/JPY has risen above $130 on the news that BoJ has decided to remain with its ultra-dovish policy stance.
Many expected them to begin phasing out their massive stimulus program and we saw bond prices fall with yields higher in anticipation of the meeting. After the decision, JBG bond yields fell along with the Yen.
It is now expected that BoJ Governor Kuroda would not tweak policy until the end of his tenure in April.
Bitcoin hits $21,000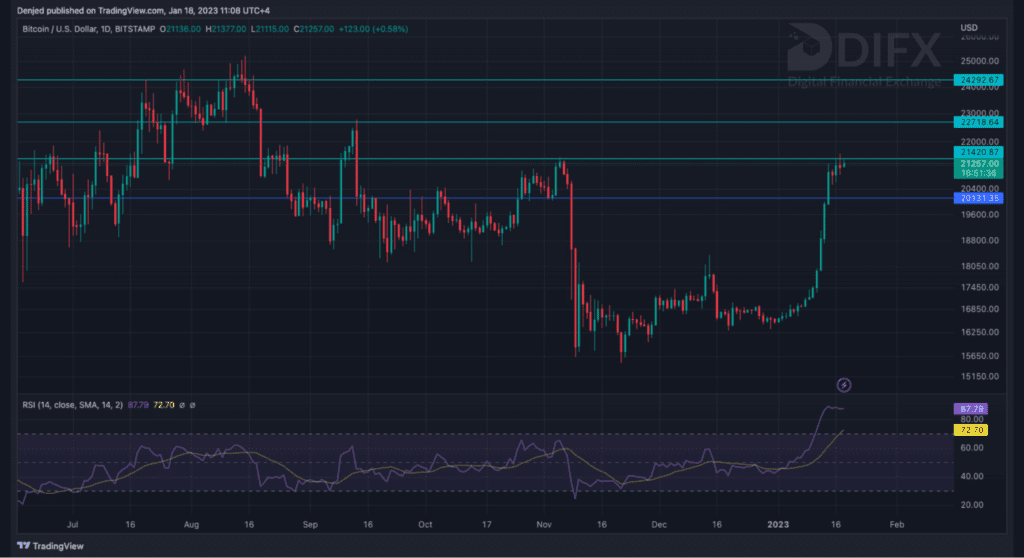 Bitcoin is still hovering at the resistance area near $21,400. We can expect the digital asset to continue climbing amidst the cooling off in US inflation.
We may see a mild retracement down to $20,000 – $20,400 before a continuation of the bull run to the next key levels.
Next Target Levels:
Dollar posts some gains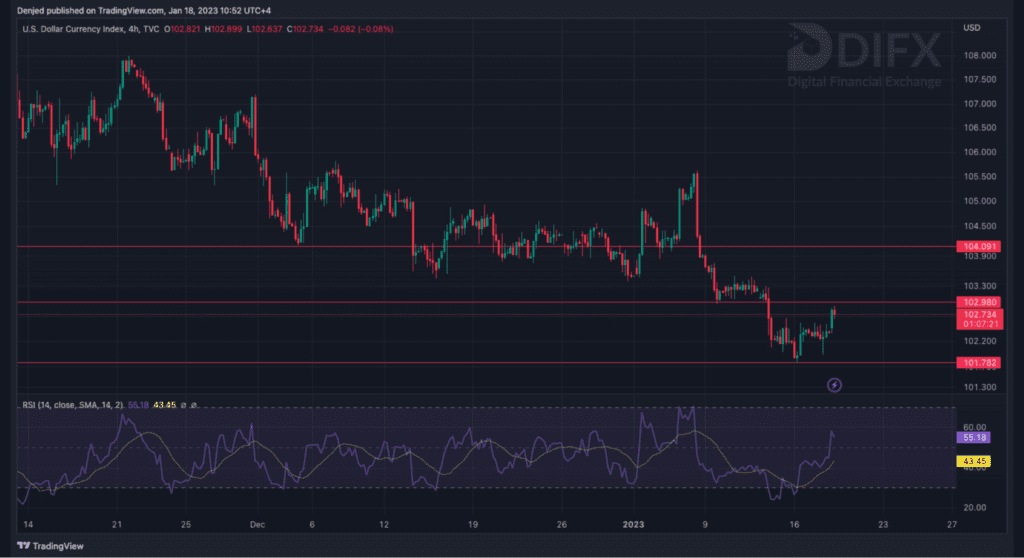 Dollar Index has pushed up to $102.71. We saw a reversal at the start of the week and forecasted price action would continue till $102.98 and this projection still stands. If this resistance is broken, we can expect more gains in the Dollar until $103.6 – $104.
The Dollar is gaining momentum since the BoJ surprised the market by standing strong with their ultra-dovish policy when many have assumed they would begin to phase out their stimulus.
Gold breaks below RSI trend
Gold has hit the first support level as it showed some weakness after breaking out of the RSI trend. This indicates bearish price action may follow for the asset.
We can now expect Gold to breach below $1896 and make a move for the key support area of $1860 – $1870.
*****
To learn more about the markets and start your trading journey, sign up now on Digital Financial Exchange (DIFX) to create your diverse portfolio of assets.
About Digital Financial Exchange
Digital Financial Exchange (DIFX) is a centralized cross-asset crypto exchange that allows users to trade between multiple asset classes that include indices, forex, crypto, metals, and commodities, just to name a few. The DIFX fully-insured crypto wallet comes from a partnership with Fireblocks, one of the leading crypto custodians in the world.
To begin your journey with Endless Possibilities, download the app now from the iOS or Google Play Store, or visit us at difx.com
Trading Disclaimer
DIFX shall not be responsible for any loss arising from any investment based on any recommendation, forecast or other information herein contained. The contents of this publication should not be construed as an express or implied promise, guarantee, or implication by DIFX that the forecast information will eventuate, that clients will profit from the strategies herein or that losses in connection therewith can or will be limited. Trades in accordance with the recommendations in an analysis, especially leveraged investments such as foreign exchange trading and investment in derivatives, can be very speculative and may result in losses in particular if the conditions or assumptions used for the forecast or mentioned in the analysis do not eventuate as anticipated and the forecast is not realized.