Last weekend, BLOND:ISH, famed music producer and performing artist, launched the first NFT series of its kind, a completely environmentally friendly blockchain-based product. BLOND:ISH is a long-term crypto enthusiast and spoke at the Bitcoin 2021 Conference this month as well. Using Proof of Work blockchains is quite damaging to the environment due to its considerable energy consumption. To avoid these negative effects, the artists choose a new platform, Metaplex, for the release to further her mission of sustainability. 
Metaplex is a new decentralized NFT marketplace and minting platform built on Solana's Proof of Stake blockchain. Through Metaplex, artists can launch direct-to-community portable and interoperable NFTs. Creators are given the power through transparent sales data, analytics, and automated payouts.
BLOND:ISH's NFT Series, Chakratastic, featured eight chakra-inspired digital assets. Each NFT consisted of a musical composition that corresponded to one of the seven chakra focal points within the body: Crown, Third Eye, Throat, Heart, Solar Plexus, Sacral, and Root. The eighth NFT symbolized the alignment of all the elements. A visual element, designed by KNOWNFOR, accompanied the pieces under the creative direction of BLOND:ISH in collaboration with the Art Plug collective.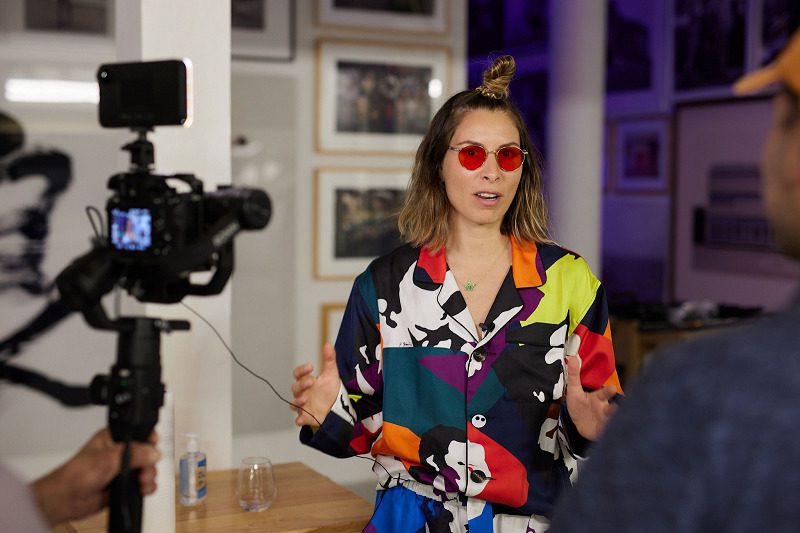 On producing the series, BLOND:ISH spoke at the event: "It was a beautiful experience because I have never made music to 3D art so it opened up a different dimension of how to approach music…it feels like an open space, not even just 3D, but more than that"
To further this multi-sensory effect, each piece exhibited its own smell, taste, and sound. BLOND:ISH's NFT launch created an immersive experience that transcended the digital art medium and reminded viewers of the search for balance and the importance of community. The event was held in  The Margulies Collection at the Warehouse in Miami's Wynwood district. The art was featured in a 50,000 square foot retro-fitted warehouse known for hosting prestigious exhibitions and educational programs.
BLOND:ISH wishes to continue her involvement of merging her art with the digital space: "Every day, we are learning new things, how we can utilize NFTs…I am doing it to bring that new dimension to my music and also to open up the exponential age. I want to find acceleration techniques through cryptocurrency and the endless possibilities of NFTs."
Bids for the series can be placed here.