The crypto and blockchain space is gaining momentum in a truly unprecedented manner. Bitcoin (BTC), Ethereum (ETH), and other major digital assets are increasingly being used to complete financial transactions. In addition to digital money transfers, smart contract platforms such as Ethereum have introduced new ways to engage in borrowing, lending, and even staking virtual currencies for sizable returns.
In mid-2015, Vitalik Buterin, a Russian-Canadian programmer and writer, along with many of his colleagues introduced Ethereum (ETH) in order to build and deploy decentralized applications (dApps). Because of Buterin's efforts and those of many other prominent industry participants such as Vlad Zamfir and Gavin Wood, we now have an incredible crypto economy built on the foundations of distributed ledger technology (DLT) infrastructure.
In order to promote the ongoing development of the crypto-assets and DLT space, many organizations and individuals have come forward to offer engaging blockchain-focused hackathons. These immersive events serve as a truly interactive experience for novice computer programmers and even some of the more experienced software architects.
One of the best ways to get involved is to consider taking part in a fun hackathon event, and there are many great ones to choose from. So, here's a list of 5 incredible opportunities for you to explore, as they will prepare you to enter the multi-trillion dollar digital assets industry.
1. Metis Ethereum Hackathon
Metis hackathon participants will get the opportunity to create Ethereum-based dApps. These distributed software applications can be deployed quickly on Metis Layer-2 and you can try to  claim a part of the $1 million $METIS prize pool.
METIS is an Ethereum compatible Layer-2 Optimistic Rollup platform for the fast-evolving Web 3.0 economy with its native $METIS token that's used to power transactions on its network. METIS Hackathon is focused on onboarding high-potential initiatives, including those working on scalable dApps, innovative DeFi solutions, distributed autonomous organizations (DAOs), and decentralized or non-custodial exchanges (DEXs). The project's team would like to guide developers and help them acquire the skills they need to start making meaningful contributions to the Metis ecosystem and the larger crypto space.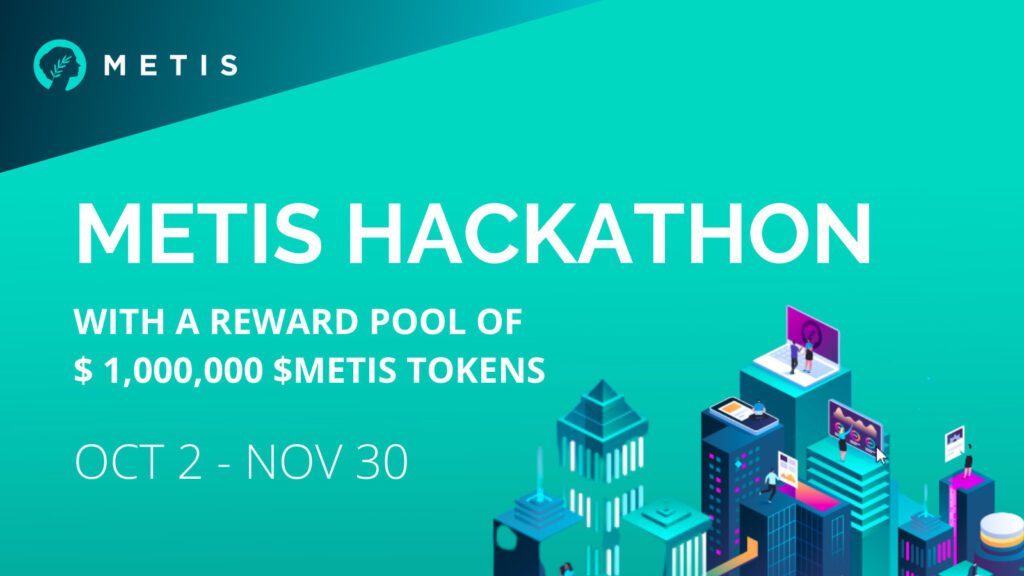 You'll have the chance to either develop (from scratch) or simply port an Ethereum app right onto Metis Layer-2 and then take advantage of key capabilities while not having to leave the Ethereum blockchain:
As noted by the Metis team, the first place DeFi project launched on Metis will be awarded $25,000 in Metis Tokens – which will be confirmed at the time the winner is announced.
2. Swiss Blockchain Hackathon 2021
During this engaging event, you will be able to solve real-world business challenges with the latest blockchain protocols. You may join on your own or look for a team via the mix&match features. The #SBHACK21 will take place at the Ambassador House in Zurich, at SUPSI University in Lugano, at the University of Geneva and online.
For more details, check here.
3. ETHLisbon
ETHLisbon is an exciting hackathon event that welcomes all application developers who are interested in creating innovative ideas by leveraging the power of the Ethereum blockchain.
This event is focused on bringing together the Ethereum developer community so they can compete and create useful ETH-enabled dApps. More details are available here.
4. Chainlink Fall Hackathon 2021
You can start working on the next generation of hybrid smart contracts with the help of experienced software architects, creators, artists, and mentors from across the blockchain ecosystem. Check here for additional information.
5. BlockHack Hackathon
During this event, you can learn to bridge the gap between entrepreneurs and blockchain tech, while promoting growth for blockchain-focused initiatives and ventures. Please check here for further details.