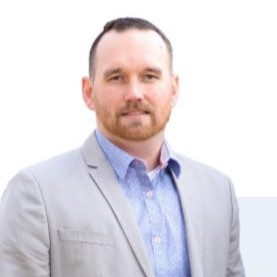 Block66 CEO Joe Markham will be discussing with us, the incredible Block66 project disrupting the mortgage lending industry on the blockchain. "Block66 is developing a new breed of mortgage lending platform that leverages blockchain technology to increase transparency, streamline the deployment of capital and overcome geographical lending restrictions."
Your background in the mortgage industry speaks very highly of you, could you tell us more about your experience?
When I used a mortgage broker to buy my first house, I had such a wonderful experience. In fact, my broker offered me a better mortgage rate and overall product than what was offered to me by my personal bank of 15+ years. Because of that positive experience, I knew I wanted to be a mortgage broker so I immediately signed up for broker coursework and licensing.
Today, I've been in the industry for over five years—and my passion for real estate, numbers, "a good deal," and helping people, have all proved to me that I made the right decision. I love this industry and I'm determined to play a big role in innovating it by making the approval and funding process easier for every person involved.
What is Block66?
Block66 is the first platform where lenders can access a marketplace of vetted borrowers looking for mortgage finance. This marketplace will be public, transparent, and highly automated, so lending is streamlined with lower costs and lower risks. Each loan will also be represented as a pool of "proof of loan" (PoL) tokens that can be individually resold to investors, providing lenders with liquidity and empowering a diverse pool of investors.
What are the unique services you plan to offer at Block66?
Block66 is offering a unique mortgage hub for borrowers, brokers, and every kind of lender. Our blockchain platform will store government regulations, internal guidelines provided by lenders, and information on applicants and their property obtained directly from the source. Moreover, our platform will also provide potential borrowers with the best mortgage product in real-time based on the information they submit on their application.
What problems in the mortgage industry are you hoping to solve with the development of a blockchain-fueled platform?
There are various problems that Block66 will eradicate. However, there are a couple of major pain points that our platform will resolve:
a) Mitigating mortgage fraud: With more borrowers being dishonest on their mortgage applications, fraud is a huge concern. In 2017, mortgage fraud increased 17 percent and one out of 122 applications contained fraudulent information. Since this is a top concern for the industry, Block66 will solve this pain point by pulling applicants' information (i.e. pay stubs, tax documents, credit information, bank reports, etc.) directly from the source and store it on the blockchain. This visibility will not only discourage borrowers from submitting dishonest information on their applications, but it will also help brokers verify applicants' claims.
b) Innovating the approval and funding process: It typically takes about 30-45 days to approve and fund a mortgage. Not only is this a time consuming and paper-driven process but it also includes multiple people, various criteria, and numerous steps. This never-ending process has been plaguing the industry for years. While other sectors have been innovating, the mortgage industry has continued to lag behind. However, Block66 will transform the approval and funding process by introducing a blockchain-powered platform that increases visibility into borrowers' applications as well as the criteria that still needs to be met. This transparency will ultimately increase efficiency because every person involved will immediately know what still needs to be done.
There's been a lot of coverage around the partnerships Block66 has entered, could you tell us more about those mean for your organization and the industry?  
We recently signed a partnership with Civic Technologies. We look at Civic as the industry leader offering verification services and Know-Your-Customer (KYC) solutions. This partnership is a must have so Block66 can satisfy the verification elements of both borrowers and lenders on our platform. We are looking forward to working with the Civic technology team as we align them with our offerings.
We are also on the verge of finalizing several other relevant partnerships that will only further demonstrate our desires to work with other innovative solution providers. We are in a global market worth $30+ trillion so working with the best is very important to us.
Are there any new developments for Block66? Our readers would love to know what to expect for your organization in the future.  
It seems like the next big news will be the date in which we will be moving forward with our ICO/TGE. This announcement will be made in the very near future.  
However, we are as always scouring the globe for world-class talent to add to our already awesome development and business team.
Do you have more information for our readers?
If you're interested in an innovative solution that is building a platform for a $30+ trillion industry, then please follow us on our respective social channels and keep up with everything we are doing moving forward.
Visit https://www.block66.io/ for more information.