The Philippine Blockchain Week opened on November 29 at the Grand Ballroom of the Marriott Hotel in Manila. The first of its kind to be held in the Southeast Asian nation, the Philippine Blockchain Week, which runs until December 4, educates attendees about blockchain, Web3, FinTech, the metaverse, and how all these emerging technologies can make the future brighter for businesses and industries in the Philippines.
One of the exhibitors of the blockchain conference that got fans excited is Tier One Entertainment, the biggest esports firm in Asia and home of the multi-gaming organization Blacklist International. Blacklist gained fame as they won back-to-back championships in the multiplayer online battle arena (MOBA) game Mobile Legends (ML) and claimed the M3 World Championship in 2021.
ML world champions OhMyV33NUS, Dex Star, Wise, OHEB, Master the Basics, and Hadji held a short meet and greet session during Day 1 of the blockchain conference. Delighted fans lined up to have their photos taken with the gaming stars and get their autographs.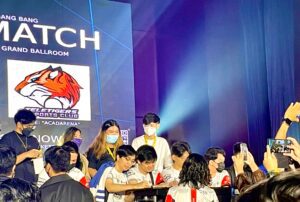 What followed was a best-of-three show match between the Blacklist and the Teletigers Esports Club of the University of Santo Tomas. Playing for the Blacklist team are Owwwl, Eyon, Dominic., Steeeeveeee, and Rindo. The Teletigers team is composed of players Drew_, Emperorrr, Yecheil., Armenito, and Rome. Luna acted as the shout caster and provided exciting commentary for the show match. Blacklist International won 2-0 as fans cheered them on.
Tier One Entertainment Co-Founder and CEO Tryke Gutierrez also sat down to talk about Web3 gaming during a fireside chat with Gala Gaming Founder Jason Brink, moderated by Web3 and NFT marketer Caleb Roberts.
Roberts and Gutierrez emphasized how Play2Earn Web3 game developers are so focused on monetizing games that the user experience is being compromised. Games are created for people to enjoy them and to create another avenue for social interaction. These are the two objectives of gaming that Web3 developers should prioritize before monetization.
"In the advent of the bear market and what's happening today, I think people are realizing that you don't just question the technology around Web3 today. I think what you have to question is the motivation. Why are people building games? Because for a time, I think in 2021, people are just building games just to be able to monetize," Gutierrez said.
"But I think at the core of every gamer is a person who wants to enjoy the experience… at the end of the day, gaming is for everyone, and the most important thing of gaming for me is the social aspect of interaction within the game," Gutierrez added.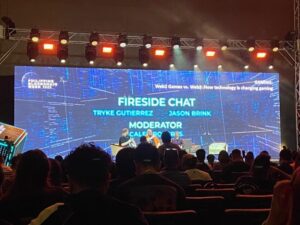 Although Web3 and the metaverse are certainly the up-and-coming technology in the world of gaming, Roberts shared that developers should work together to bring Web2 gaming into Web3. It is but natural for technology to evolve, and now is the time for Web2 to steadily transition to Web3.
"Web2 gaming is a thing. Web3 gaming is a thing. But what we need to do is we need to get to the point where there is just gaming. And there shouldn't be a division—there should just game and then games where you own your stuff and you have your rights to everything," Roberts explained.
Developers and gamers should not be afraid of NFTs and blockchain. While he admitted that most Web3 games available now are too focused on monetization that graphics and in-game experience have suffered, there are real and exciting games that could be developed on Web3.
"Gamers are terrified of the concept of NFTs, and that is our fault as an industry…. Because most Web3 games are freaking awful, they're terrible," Roberts shared.
"As an industry, we've done a terrible job because blockchain, for the longest time, has stood on an ivory tower of intellectual superiority…. Gamers, see all of this as a gigantic threat to their existence. The creators of both content and games see blockchain as a threat to their very existence when it shouldn't be," Roberts added.
And this fear of blockchain is at the heart of what Philippine Blockchain Week hopes to dispel by educating the people about blockchain and correcting misunderstandings. Roberts likened blockchain to the Internet protocol (TCP/IP). And while it has been a long time since dial-up Internet has moved on to high-speed Internet, TCP/IP is still playing a critical role in this new Internet.
Blockchain can become the foundation of many great things—Web3, the metaverse, Fintech, artificial intelligence (AI), and many others—if only governments, industries, businesses and people let it do what it can do. And with conferences, such as the Philippine Blockchain Week, leading the way for blockchain awareness and adoption, the Philippines being Asia's blockchain capital can become reality shortly.