Retail and Ecommerce have been on accelerated growth over the past few years during the holiday seasons. Halloween, Thanksgiving, Black Friday, and Christmas season typically constitute the traditional holiday season, last year with the onset of covid and some supply chain issues, many companies have also given offers well in advance of the holiday season. 
Let's take a deep dive into the data and forecasts to understand the season and how consumers are treating holiday sales, but mainly focusing on Black Friday as a part of this article. 
What do the trends say about the holiday season?
Mastercard Spending Report
Will keep this short. If you want to know all that is included in this report in detail, you can check the report of expected US Retail Sales. But the synopsis is that U.S. Retail Sales Are Expected To Grow 7.1% This Holiday Season. Consumer spending in retail and B2C is expected to increase even with the supply chain crisis, rising inflation, and the Russia-Ukraine war. 
Though online sales are expected to take a bigger part of the pie, some of the statistics for spending by sector are listed below: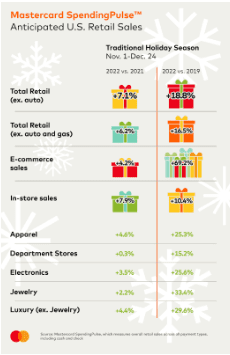 Source: Sales Growth this Holiday season
Adobe Analytics Spend Report
Last year during the holiday season, consumers saw over 6 billion out-of-stock messages online, which is roughly a 10% Y-o-Y increase in the out-of-stock messages this was due to the supply chain challenges. The decrease in the year-on-year growth of sales can be accounted for people buying gifts well in advance even before the sales start i.e. during the early deals season.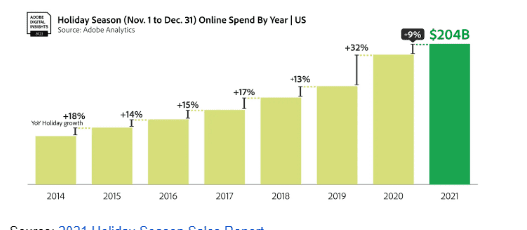 Source: 2021 Holiday Season Sales Report
Halloween Sales Report
The National Retail Federation's annual Halloween Consumer survey conducted by Prosper Insights & Analytics reveals that total Halloween spending in 2022 is expected to reach a record $10.6 billion, exceeding last year's record of $10.1 billion. This year there is an increase in the candy bought (not everyone can distribute iPhones like Mr.Beast) and parties to be held as compared to last year.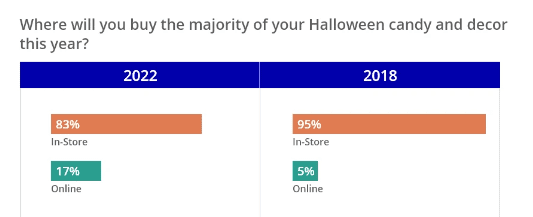 Source: Halloween Sales Report 
Question to Ponder on – Did you listen to your data?
Before we go directly into the Black Friday sales data, one thing you have to think about right now is whether you are listening to your data.
Call it Retail Analytics, Manufacturing analytics, or supply chain analytics, the point is to find out if there are any bottlenecks throughout the process and whether you are reaching the potential you want to. Some of the key questions that you need to ask yourself are:
What is the expected traffic volume and what are the trending products?

What would the top considerations for the customers be?

When should you start the sales?

What is the ad budget this year?

Did any stockouts or other events happen last year are you prepared for the same?
Sounds simple, doesn't it? But it would need some level of analytics from your data to get the insights required. Now, let's dive into the data.
Black Friday Data Trends 
Before we go into the expectations and trends for 2022, a small outlook into how the past few years have been for Black Friday Sales. Traditionally 13% of all retail sales in the United States occur between Black Friday and Christmas which is a very big chunk of the sales and profits for retail companies. An NRF study shows that in the US alone, over 158 million people shop on Black Friday weekend.
Last year, the sales stagnated due to pre-season sales, and the consumers being aware of the supply chain challenges didn't want to leave things to the last minute, which resulted in a dip in the final Black Friday and Cyber Monday sales. Last year the discount on prizes has also seen a dip, for example, Computer Prizes were only 13.6 discounted as compared to 29 percent in 2020, and Appliance prizes dipped 8.6 percent vs 20 percent last year.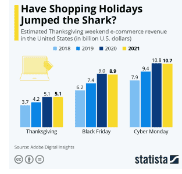 Source: Statista 
Multi-Channel Strategy for Black Friday
It is not new that the pandemic has changed consumer buying behavior, especially in making them understand the comfort of buying online without the rush and people around. Therefore brands need to think from a multi-channel perspective and focus on both online and offline ads. Depending on the sales companies can also leverage their BOPIS – Buy-online-pickup-in-store services which became popular during the pandemic as a part of their long-term strategy.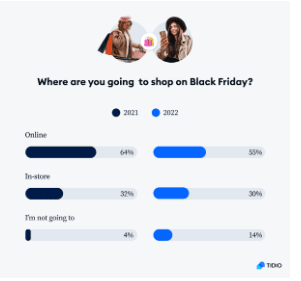 A few tips to keep in mind for this Black Friday
According to reports, three major components of a product being sold other than the price are – Free delivery, Fast Delivery, and Customer Reviews. As most customers compare between multiple platforms and multiple channels before zeroing down on the final deal, it is important to be in their TOMR. 
Geographic, channel, and segmentation analysis for better supply chain planning

Online ads and Email marketing are as important as other promotions 

Understanding peak traffic details and cart abandonment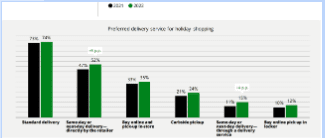 Keep in mind that consumers have different shopping patterns for different sales. For example, here are the trends from Deloitte regarding stockouts, where they are expecting 77% stockouts as compared to 75% in 2021: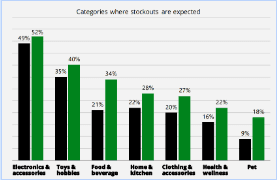 Source: Deloitte 
Make sure you are planning for Thanksgiving, Black Friday, and Cyber Monday as traditionally more people tend to buy on Cyber Monday as compared to that Thanksgiving.  
Everything is connected
By now, you must have understood something all the data is connected. This means companies have to think about how multiple nodes- supply chain, finance, marketing, and also workforce planning to ensure a "made for each other" experience. 
All of this is possible to understand or analyze only with your data. Not just for this holiday season, with Retail Analytics you can make sure that you avoid stockouts, excess inventory, and supply chain issues.