The crypto gaming industry currently has a capitalization of $34 billion, and the daily trading volume on the largest exchanges is $7-12 billion. In 2024, the capitalization can reach $200 billion. But this is not exactly what's on the mind of the average player. The first question that gamers around the world ask is: what is the most profitable cryptocurrency game, and what will bring more money with minimal investment in 2022?
Experts from BlaBlaGame, a developer of cryptocurrency games, note that first of all it's worth distinguishing between profitable games and profitable tokens. It's one thing to make money on a game coin growing in value or by trading it on an exchange, and quite another to win significant sums in a game.
"A significant number of game token holders and traders have never played these games. They trade the coin on exchanges and may not even know what the game is about. And there are many such tokens, including SLP, GMT, AXS, SAND, MANA, and many others. If some token is profitable on its own without having to earn it in a game, but just buy it instead of wasting time, then it's easier to buy it on pre-sale and wait until it starts trading on the exchange," say the creators of BlaBlaGame.io.
Indeed, the yield of a game token on the market is on average 11,000% per year—not bad, right? True, given the factors of market ups and downs and the gaming tokens themselves, this currency is super volatile. Such tokens can rise when the market falls and, vice versa, fall rapidly with a general favorable trend of the entire cryptocurrency market.
"Super popular games cost over $1,000 to enter, making them not for everyone, to put it mildly. Many players write that they would rather buy SOL for $1000 and wait than lose everything in the game," note the game developers from BlaBlaGame.io.
Among the top gaming tokens in terms of capitalization in 2022, it is worth noting MANA, SAND, AXS, THETA, and STX. As for making money in the game itself, Axis Infinitie, STEPN and others remain the most popular.
STEPN, in particular, blew up the market; in the game, users buy various sneakers and then run in reality to earn tokens. The cooler the sneakers, the more you can earn. A collaboration between STEPN and their GMT token with ADIDAS was recently announced, or rather, there is a leak about a future collaboration, but users are already ready to buy sneakers. Many users write that they need to invest at least $1,100 to earn on such a run or walk, and many also complain about bugs in the application and GPS malfunctions which result in inaccurate step counting. However, the daily trading volume of STEPN NFT on Solana exceeds $12 million. In game chats, people write that there are users whose shoes cost more than $100,000 in total, but it's unknown how long they will remain that valuable.
The game AXIS Infinitie has the same problem: in order to start earning at least something on it, you need to invest $800 or more. It seems that crypto games are becoming a thing only for wealthy young people. Developers are already thinking about what to do so people who don't have so much spare cash can also earn money playing games. At the moment, the amount you need to invest to purchase a team on Axis starts at $175. Taking into account the SLP market rate, the investment will pay off in about 2 years. To reduce this time, you need to win as many fights as possible. "An entire industry of handing over your account to more experienced users has already been born," BlaBlaGame.io notes.
All the same, players all over the world generally want to just play and win without crazy investments. And that's okay. True, you can win just by playing something like casino games or the lottery, without complex gameplay. But these games are still very popular.
An unknown user won $160,000 in Ethereum by winning the NFT arena game ChainFaces Arena. In early January 2022, artist NateAlex released a collection of emojis. Buyers of these digital works could submit them to battles to compete for the overall prize pool. The "survivor" emoticon received 58 ETH.
In general, BlaBlaGame.io experts say that in order to assess the prospects of a game, several factors must be taken into account at once:
game entry cost

payback period

popularity of the game and investment in marketing

circulation of game tokens on an exchange (although this is not always necessary: tokens can also be traded perfectly well on dex exchanges, without access to large platforms)

opportunity to buy tokens on presale

referral program and its terms
The BlaBlaGame.io developers have now launched their own simple pay-to-play play-to-earn game. It's called rock, paper, scissors. The price of entry in the game starts at $10. One game costs 10 cents. The creators take a commission of 3% of each game played, and the rest is taken by the winner of a simple game of rock, paper, scissors.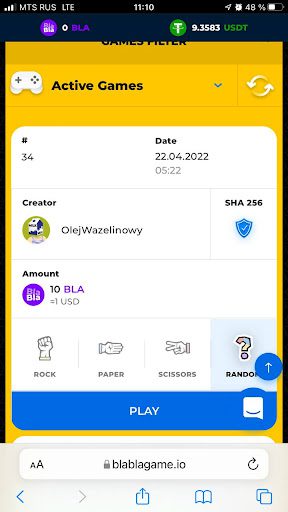 You can spend money on games with other live players and buy BLA game tokens on presale. You can also invite friends and make money when they play. Owners of a large amount of BLA get access to an exclusive chat and game strategies, as well as increased cashback and referral program payouts.
"Simple games will take their place in the cryptocurrency world. Not everyone can play for hours, be traders, or implement complex strategies. Our game is for everyone, and that's what makes it great," says BlaBlaGame.io.