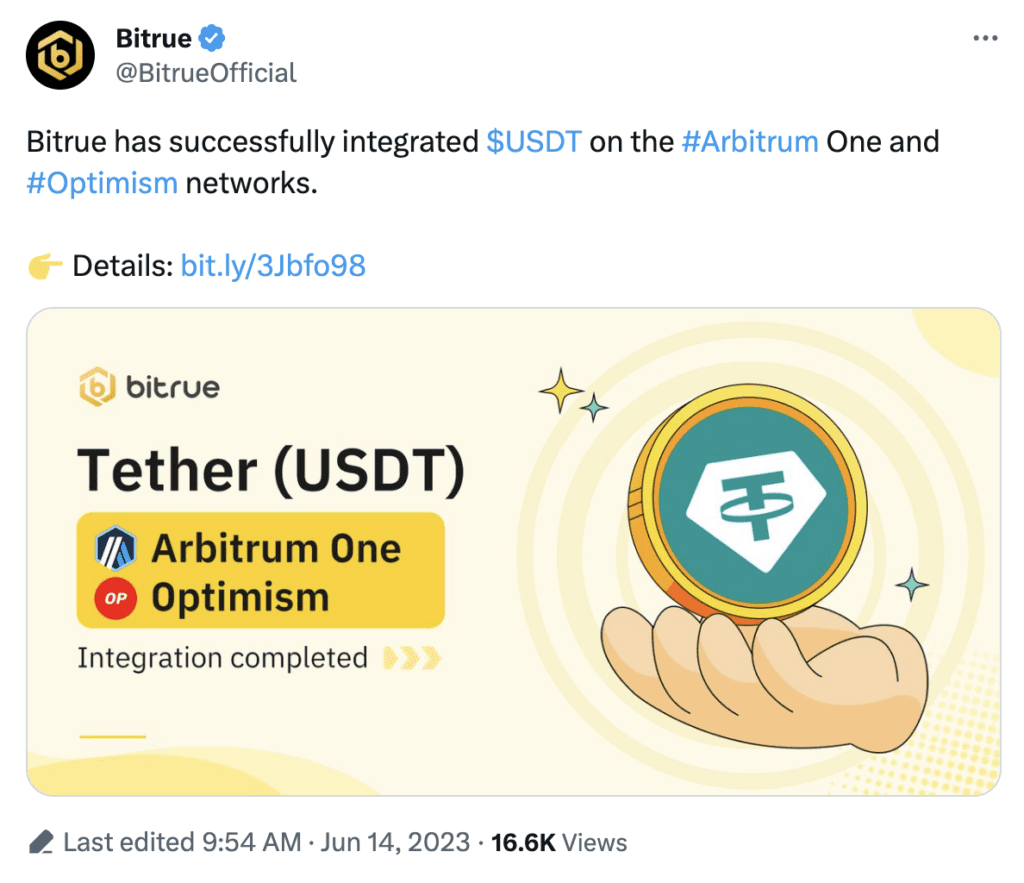 According to a recent announcement, Tier-1 cryptocurrency exchange Bitrue has successfully integrated Tether (USDT) on the Arbitrum One and Optimism Layer 2 (L2) networks to offer cheaper and faster stablecoin transfers for its users.
As of June 14, 2023, users can deposit USDT via the two newly added blockchains. The exchange will also enable withdrawals once users have made sufficient deposits on the platform.
Bitrue follows in the footsteps of Binance: another top-tier crypto exchange that completed the integration of USDT deposits and withdrawals on Arbitrum One and Optimism earlier in June.
Enhancing Ethereum's Scalability
While Ethereum has been the home for thousands of dApps and tokens, its capacity is limited to processing around 27 transactions per second (TPS). This is mainly due to the project's developers sacrificing scalability to prioritize the security and the decentralization of the network. For comparison, payment giants Visa and MasterCard have the capacity to handle 65,000 TPS and 5,000 TPS, respectively. Consequently, when the network experiences heavy usage, congestion occurs, leading to steep transaction costs for users and significantly longer processing times.
Arbitrum One and Optimism, two prominent Layer 2 blockchains in the crypto industry, dominate with a collective market share exceeding 83% and an impressive TVL (total value locked) of nearly $7 billion. These networks effectively tackle the scalability constraints of the Ethereum mainnet by implementing optimistic rollups, a technology that enables off-chain processing of transactions on the second layer, resulting in significant improvements in throughput.
Arbitrum One and Optimism offer a remarkable boost, capable of achieving up to 100 times the scalability of the Ethereum mainnet. What's impressive is that these two Layer 2 chains not only leverage Ethereum's security and decentralization but also optimize transaction processing. By bundling multiple transactions together in batches and publishing transaction results on the first layer, they strike a balance between enhanced scalability and the inherent strengths of the Ethereum ecosystem.
Bitrue: Faster USDT Transfers With Reduces Fees
While it takes an average of $5.16 to swap two tokens via a DEX on Ethereum, executing the same transaction costs only $0.07 on Optimism and $0.17 on Arbitrum One. At the same time, transfers are not just cheaper but also faster on the two L2 chains: while the average block time is around 12 seconds on Ethereum's mainnet, it is only 2 seconds on Optimism and 0.25 seconds on Arbitrum One.
As the top stablecoin by market capitalization, USDT is utilized by many traders to move funds between different cryptocurrency wallets. Tether's widespread popularity among crypto users shouldn't come as a surprise considering the fiat-backed stablecoin's over $83 billion market cap and nearly $14 billion of trading volume in the last 24 hours as of June 19, 2023. The integration of USDT on Arbitrum One and Optimism by Bitrue signifies a growing trend towards faster and cost-efficient transactions.
If you want to learn more about Bitrue exchange, please feel free to visit the official website or subscribe to the project's Twitter account.