The leading cryptocurrency exchange Bitrue has achieved remarkable milestones over the past five years. Including its recent integration with TradingView, the platform has shown commitment to innovation and growth in the ever-evolving digital asset industry.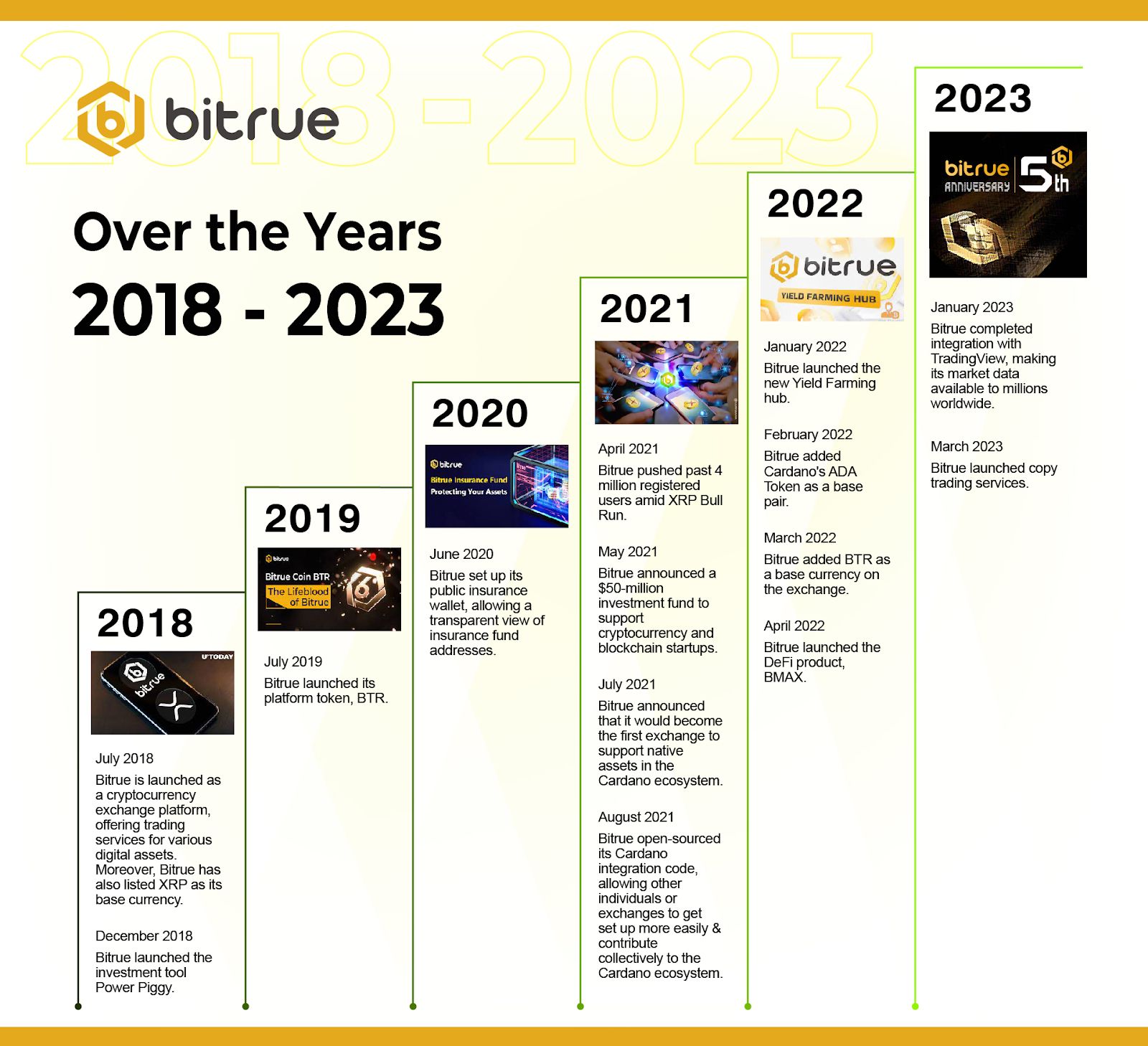 Strong Beginnings, Early Prescience
Bitrue emerged as a game-changer in crypto, offering a secure and user-friendly platform for trading digital assets. The exchange listed XRP as its base currency — a rarity at the time — recognizing its potential and popularity among traders. By Dec 2018, the platform introduced the investment tool Power Piggy, allowing users to earn passive income on their crypto holdings. In 2019, Bitrue launched its platform token, BTR, to enhance its ecosystem and reward its community, solidifying its position as a comprehensive platform catering to the diverse needs of cryptocurrency enthusiasts.
In June 2020, the exchange showed dedication to transparency and security by rolling out a public insurance wallet where the users could see insurance fund addresses, boosting their confidence and trust.
Successes Lead to Successes
By April 2021, Bitrue surpassed 4 million registered users. With the growing momentum of XRP, the platform had become an industry expert and a preferred choice for traders. Just a month later, it introduced a $50-million investment fund to support promising crypto and blockchain startups and support the industry's further growth.
By July, Bitrue became the first exchange to support native assets in the cutting-edge Cardano ecosystem and expanded into leverage tokens and crypto derivatives. Offering increased exposure to underlying assets' performance without the complexities of margin trading, Bitrue unlocked even more opportunities for its users.
Partnerships Form, UX Enhances
Yet, the exchange's developments weren't limited to introducing bold internal updates and fostering industry-leading user experiences. For one, Bitrue open-sourced the Cardano integration code and invested in Cardano's WingRiders. In early 2023, it integrated with TradingView — a widely recognized market data platform — allowing millions of users to access Bitrue's actual market data, further expanding its reach and influence.
By March of 2023, Bitrue launched copy trading services, enabling users to replicate the actions of successful traders, and fostering a user-friendly, ergonomic crypto trading platform for industry veterans and novices alike.
The New Face of DeFi Trading
Bitrue's five-year journey as a leading cryptocurrency exchange platform has been extraordinary and inspiring. With a steadfast commitment to innovation, transparency, and user satisfaction, the exchange continues to shape the future of its community and the crypto industry.
Bitrue
Bitrue is a crypto trading & investment company with a wide range of financial products. Its Tier-1 one-stop platform lets users trade 700+ cryptocurrencies and manage assets in a simple, efficient, and secure manner.
Bitrue's manifesto is always putting the user first. The project aims to refine UX by enhancing security, fine-tuning interfaces, collecting feedback, and offering localized customer support while maintaining a healthy trading landscape.
First registered in Singapore in 2018, Bitrue was built by a mix of digital finance experts, cyber security specialists, and blockchain developers who share the same passion for redefining crypto trading experiences. Today, it has offices across the United States, Japan, Singapore, and Taiwan and offers its services to investors worldwide.
In mid-March 2022, Bitrue became the world's #6 crypto exchange platform by trust score, according to leading independent aggregator CoinGecko. It has also been a long-term supporter of the Cardano ecosystem, with 3+ years of a mutually beneficial partnership.