Gold started the week trending lower as we expected a reversal in the asset. Signs of a reversal have diminished as it recently set a new high after bouncing off the support at $1896 earlier this week.
As we see a slowdown in growth, cooling inflation has fueled a sell-off in the Dollar which in turn, has pushed other assets higher including Gold.
EUR/USD is consolidating as it trades sideways without any clear intentions of a direction. We have seen Bitcoin push up in a bullish fashion along with the rest of the crypto market, but we may see it hold steady as Genesis files for bankruptcy. First reactions don't look severe at all for the market with hardly any volatility.
In today's DIFX Analytics, we're going to look into the following assets:
Bitcoin settling around $21,000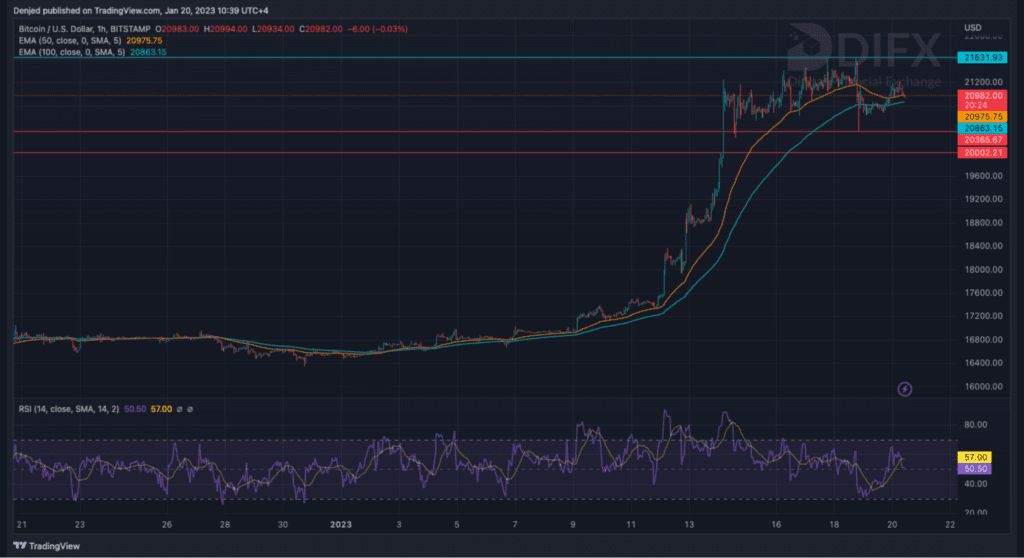 Bitcoin is hovering around the $21,000 level. We are expecting a consolidation around this area before a push upward to break $21,630.
The next resistance for the asset is sitting around $22,500.
Recently, Genesis filed for bankruptcy to become the latest to feel the consequences of the cascading effects of the FTX meltdown.
So far, this has not had a major effect on Bitcoin's price which is a good sign for bulls.
The dollar may continue its decline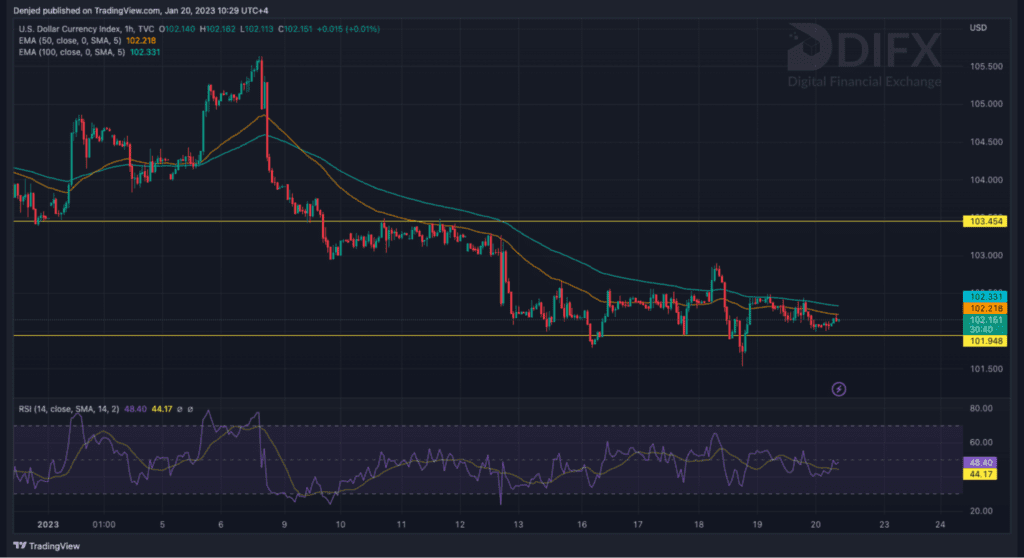 The Dollar is trading near support levels. We may see it trade around this level and depending on sentiment, it can break below to make a move for $101.5.
On the other hand, if Dollar longs could enter the market, we may see some upside toward $103.
Overall, with the 25 basis point rate hike planned for mid-February, traders are expecting more weakness from the Dollar.
Euro in ascending triangle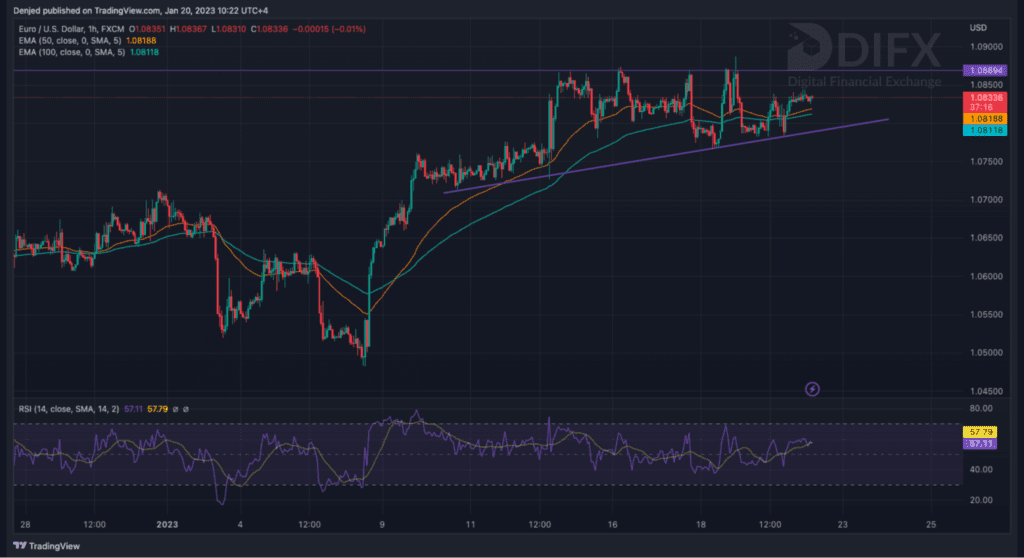 EUR/USD is going through a consolidation phase with not much action out of the FX pair. Price has been moving sideways between $1.082 – $1.084 for the past day. 
We usually see this as a bullish pattern as the ascending lower trend line pushes higher, putting pressure on the resistance.
We can anticipate price action to break resistance to set a new high.
Gold breaks out of the symmetrical triangle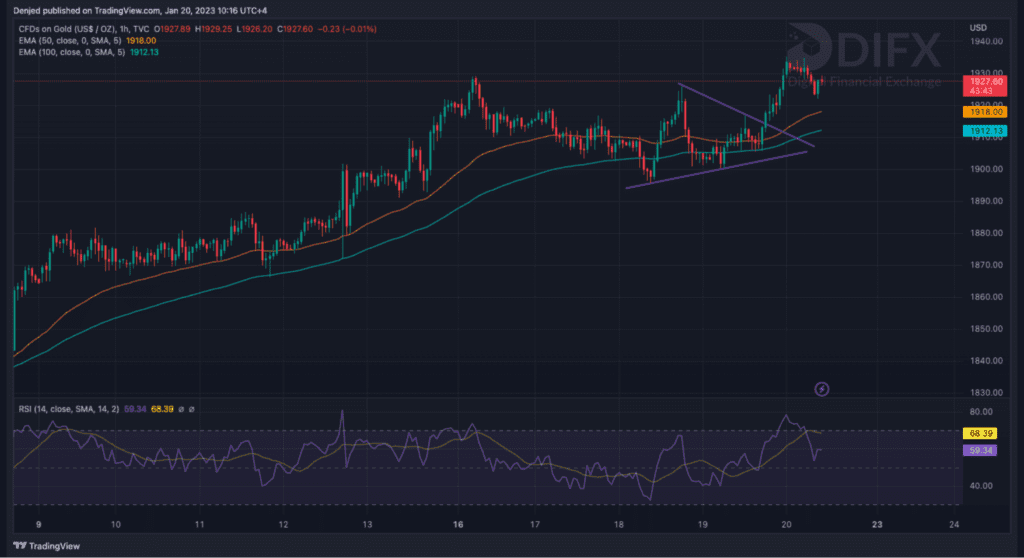 Gold broke out of the symmetrical triangle to the upside. Since it broke out of the trend, we have seen gains pushing to a new high at $1935.
These are bullish signs from the metal and fundamentally, it's tough to see what will bring it down with inflation seeing a consistent cooling down.
The market should expect a pullback in the near term, however, the asset is bullish in long term.
*****
To learn more about the markets and start your trading journey, sign up now on Digital Financial Exchange (DIFX) to create your diverse portfolio of assets.
About Digital Financial Exchange
Digital Financial Exchange (DIFX) is a centralized cross-asset crypto exchange that allows users to trade between multiple asset classes that include indices, forex, crypto, metals, and commodities, just to name a few. The DIFX fully-insured crypto wallet comes from a partnership with Fireblocks, one of the leading crypto custodians in the world.
To begin your journey with Endless Possibilities, download the app now from the iOS or Google Play Store, or visit us at difx.com
Trading Disclaimer
DIFX shall not be responsible for any loss arising from any investment based on any recommendation, forecast or other information herein contained. The contents of this publication should not be construed as an express or implied promise, guarantee, or implication by DIFX that the forecast information will eventuate, that clients will profit from the strategies herein or that losses in connection therewith can or will be limited. Trades in accordance with the recommendations in an analysis, especially leveraged investments such as foreign exchange trading and investment in derivatives, can be very speculative and may result in losses in particular if the conditions or assumptions used for the forecast or mentioned in the analysis do not eventuate as anticipated and the forecast is not realized.