This week we will see interest rate decisions from the European Central Bank, the Bank of England, and the Federal Reserve.
This shall instigate volume into the markets and we are bound to see some incoming directional flows for major assets in every class. Inflation being the major market mover for the past year is still the key to sentiment
The FOMC meeting after the Feds rate decision on Wednesday will be vital and all investors should be attentive to the language as this will determine how the Fed navigates moving forward. Any hawkish tone would be considered bullish for the Dollar and a dovish tone will result in bears.
The Jobs Data coming out on Friday will be an indication of how well the rate hikes have worked thus far and will signal to Jerome Powell if the tightening has been effective.
In today's DIFX Analytics, we're going to look into the following assets:
Bitcoin still gaining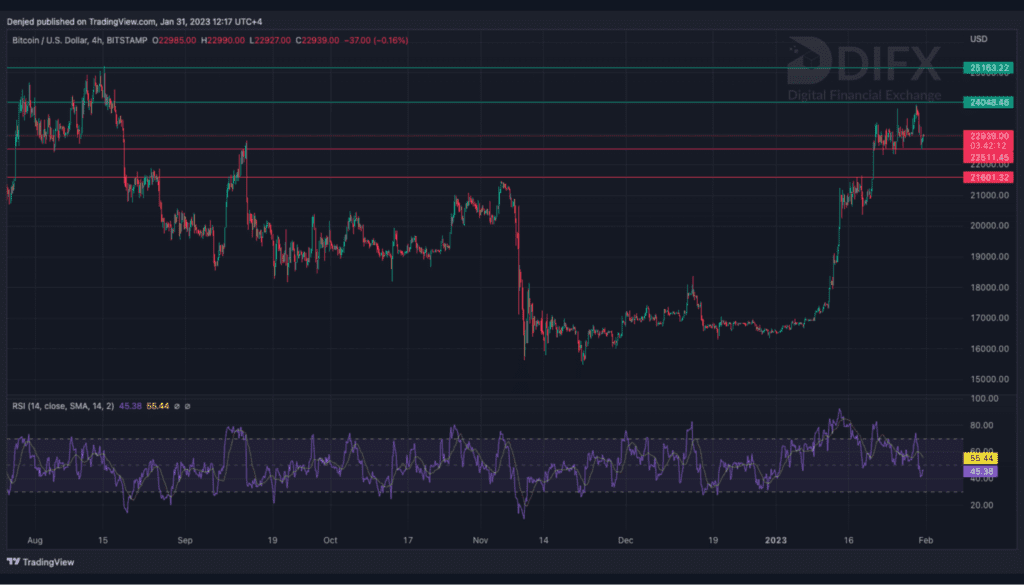 The price action of Bitcoin has bounced off support 1 and we expect it to make an upside move for $24,000 short term
Support Levels:
Support 1: $22,500

Support 2: $21,600
Resistance Levels:
Resistance 1: $24,000

Resistance 2: $25,100
Tesla support and resistance levels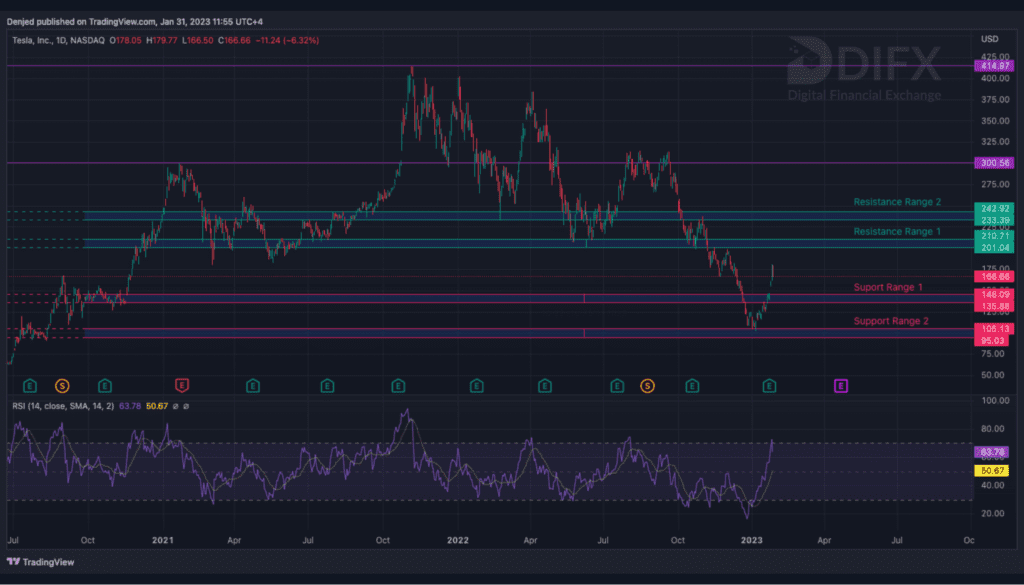 RSI is overbought at this level and we can expect some pullback from this area toward $146. We are near a pivot area for Tesla in anticipation of the interest rate decision on Wednesday.
$100 – $135 presents a good area for long-term investors.
EUR/USD is falling slightly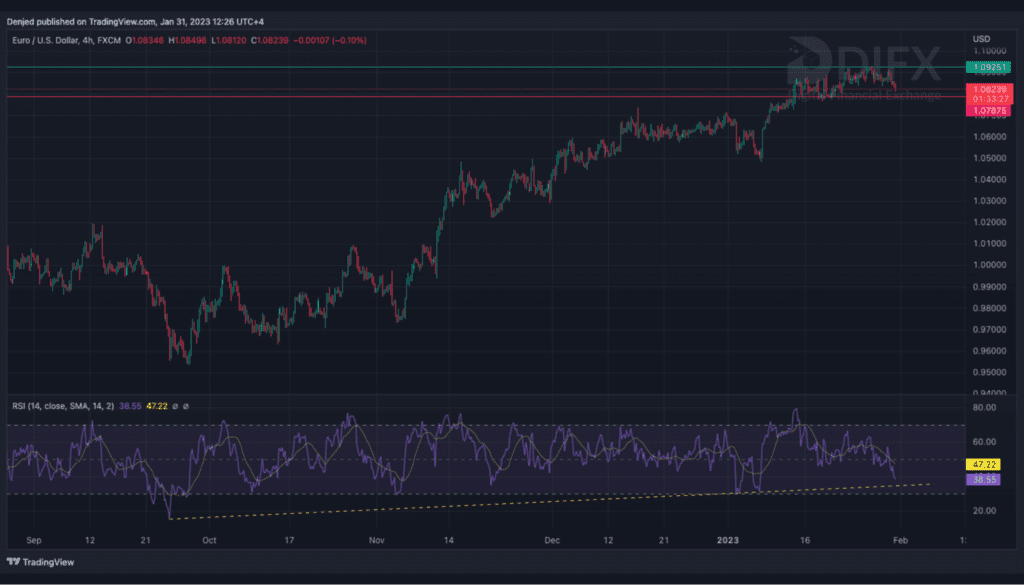 There have been some bears in EUR/USD at the start of the week. It is important to mention that the upwards trend has not been broken and we are just seeing some retracement.
We can expect $1.078 to be hit in the short term.
Gold seeing some pullback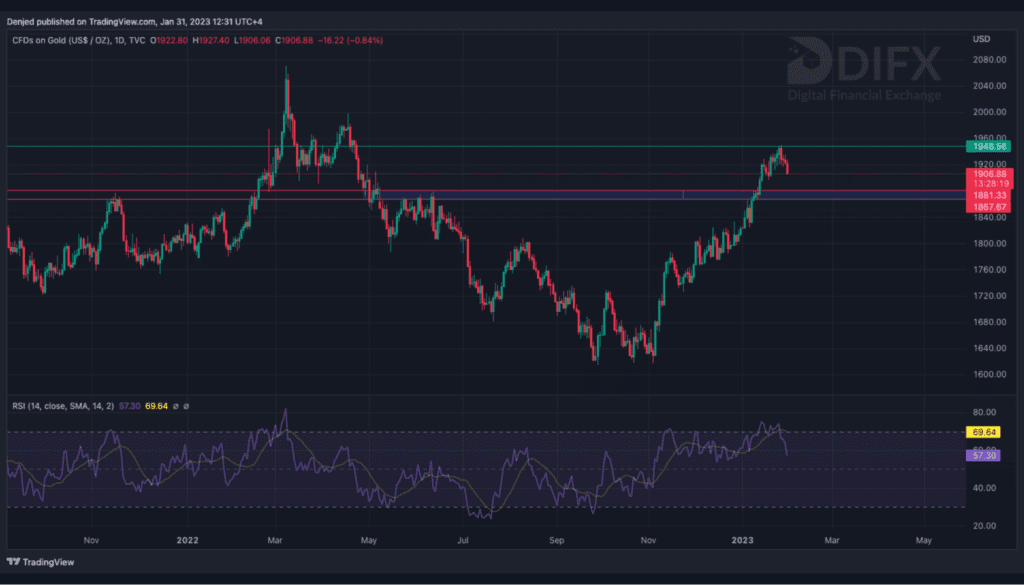 Price action is falling towards the psychological support at $1900. If this area is broken to the downside then we should see price action slide toward $1867 – $1881 before consolidation.
This will give buyers an opportunity for long positions. Traders should be wary that if this range is broken then the asset has reversed the trend.
*****
To learn more about the markets and start your trading journey, sign up now on Digital Financial Exchange (DIFX) to create your diverse portfolio of assets.
About Digital Financial Exchange
Digital Financial Exchange (DIFX) is a centralized cross-asset crypto exchange that allows users to trade between multiple asset classes that include indices, forex, crypto, metals, and commodities, just to name a few. The DIFX fully-insured crypto wallet comes from a partnership with Fireblocks, one of the leading crypto custodians in the world.
To begin your journey with Endless Possibilities, download the app now from the iOS or Google Play Store, or visit us at www.difx.com
Trading Disclaimer
DIFX shall not be responsible for any loss arising from any investment based on any recommendation, forecast, or other information herein contained. The contents of this publication should not be construed as an express or implied promise, guarantee, or implication by DIFX that the forecast information will eventuate, that clients will profit from the strategies herein, or that losses in connection therewith can or will be limited. Trades following the recommendations in an analysis, especially leveraged investments such as foreign exchange trading and investment in derivatives, can be very speculative and may result in losses in particular if the conditions or assumptions used for the forecast or mentioned in the analysis do not eventuate as anticipated and the forecast is not realized.