What Is Birch Gold?
Founded in 2003 by Laith Alsarraf, Birch Gold is an online precious metal and bullion dealer headquartered in Burbank, California. Birch Gold is one of the most accessible precious metal dealers in the US, providing exposure to gold, silver, platinum, and palladium in all their shapes, ranging from coins and rounds to bullions and bars.
Birch Gold uses only the most secure depositories, located in Texas and Delaware. It is a member of the London Bullion Market Association (LBMA) and the National Coin And Bullion Association (NCBA). Birch Gold clients' assets are kept separate from the company's own assets – and under their own names – so there's no risk of Birch Gold ever going under and you losing your assets. Additionally, Birch Gold is insured by Lloyd's of London, one of the leading insurance providers in the world.
In this quick Birch Gold summary, I will go over all the best features of this platform. If you want to read a more in-depth analysis, check out our full Birch Gold review.
Pros & Cons of Birch Gold
Pros
Acquire gold, silver, platinum, or palladium
Excellent customer support
Precious metals can help your investments against inflation
Allocated & segregated storage
Fully insured by Lloyd's of London
Member of the London Bullion Market Association
Educational resources for beginners
Cons
$10,000 minimum investment
Operates in the US only
Invest In Precious Metals With A Self-Directed IRA
With Birch Gold, you can invest in a Self-Directed Precious Metal IRA (SDIRA); that means you can pick and choose your investments and select from any of the four precious metals that Birch Gold offers – gold, silver, platinum, and palladium –, and choose from dozens of products, including coins, rounds, bars, and bullions.
Moving your assets to an SDIRA is very easy with Birch Gold; the most common ways to fund your account are 401k rollovers or IRA transfers, and in both cases, the customer support reps at Birch Gold will help you in every step. Here are the steps:
Create your Birch Gold account
Transfer the funds from your IRA account
Select and purchase your precious metals
Supported IRA accounts include Traditional, Roth, SEP IRA, Eligible 401k, and more. Birch Gold will take care of storing, delivering, and securing your assets at any of their approved depositories.
Birch Gold's $10,000 minimum investment may seem high, but it is incredibly affordable compared to the industry standard of $50,000 set by platforms like Augusta Precious Metals.
Birch Gold Security
Birch Gold is partnered with two International Depository Services (IDS) located in New Castle, Delaware, and Dallas, Texas. Both depositories are members of the London Bullion Market Association (LBMA) and the National Coin And Bullion Association (NCBA).
All personal information is secured in Birch Gold data centers, and all assets are kept segregated and under the name of each client. Both IDS depositaries use cutting-edge bank technology and UL-certified Class III Gold Vaults, the highest-rated gold vaults.
Additionally, Birch Gold offers 100% insurance on all assets through Lloyd's of London, the world's largest insurance provider. Birch Gold conducts regular internal and external audits.
Educational Resources & Excellent Customer Support
If you're a beginner just getting started in the precious metal market, Birch Gold's got you covered. You can call them anytime or request a free Information Kit – sent directly to your email – so you can learn everything about Precious Metals IRAs and why they're one of the best hedges against inflation.
Birch Gold's customer support is superb, so no matter if you're a beginner learning the ropes or an experienced investor looking to make a complex transaction, the Birch Gold reps will be there for you.
Birch Gold Fees
One-Time Account Setup Fee: $50
Minimum Investment: $10,000
Wire Transfer Fee: $30 per deposit
Storage & Insurance Fee: $100/year
Management Fees: $100/year
Keep in mind that with Birch Gold, you won't be charged a percentage of your assets held in storage. This makes Birch Gold one of the best platforms in terms of fees – if you're looking to purchase large amounts of precious metals –and it's one of the reasons why we recommend it over platforms like Apmex and Money Metals, which charge a percentage of your holdings as an annual fee.
Sign-Up Process
Anyone can register and create a Birch Gold account, but the company operates in the US. You can get started in just a couple of minutes, and there are no special requirements. Here are the steps:
Visit Birch Gold's website
Call the phone number to request information, or
Enter your name, email, and phone number, and you'll receive an Info Kit
You will receive an email with all the information you need to sign up, plus personalized attention from the Birch Gold representatives. If you use our link to sign up, you will get a signup bonus of $25 and the option to refer friends to earn a commission on all the purchases they make.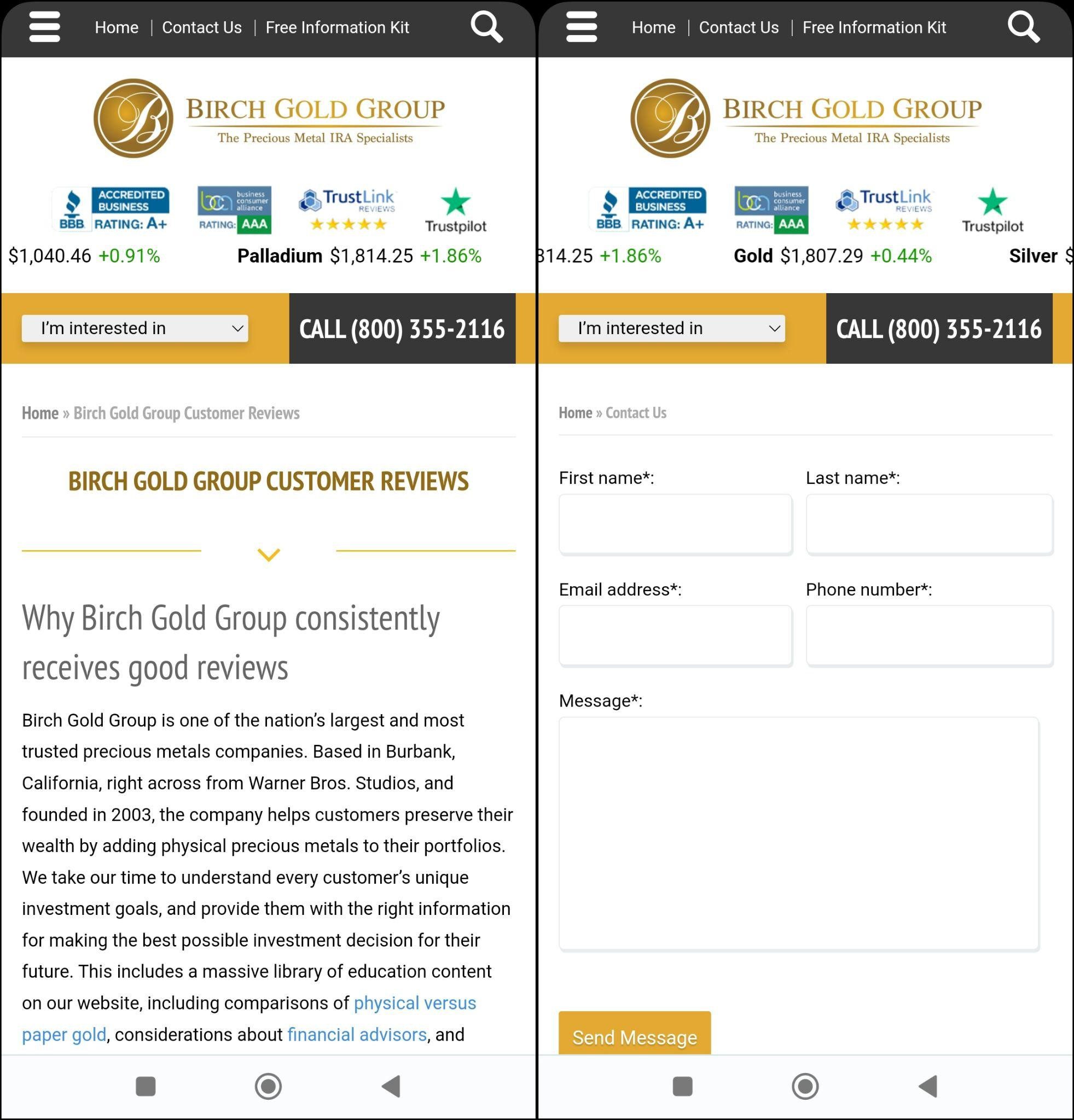 Birch Gold Trustpilot Reviews
Birch Gold has excellent reviews from its users, and it holds an average rating of 4.9 on Trustpilot. Here's what some of those users have to say about Birch Gold:
"I was pleasantly surprised by how great my experience was. Going into it, I knew nothing about these IRA rollovers, but the team at Birch, including Stu and Rod, were helpful in educating me from the ground up." – Oliver L.
"Dealing with BGG convinced and assured me that my investment would be safe and my experience with them has been superb." – Cliff V.
"All the representatives from Birch Gold I worked with were very friendly, helpful, and efficient. I would highly recommend this company!." – Heidi B.
"The Birch Gold Group was very patient with me during the entire process of transferring 401k funds to purchase gold and silver. They told me what to expect regarding the necessary documentation ." – Victoria C.
If you are not fully convinced after reading these reviews but you're still looking to invest in precious metals, we recommend Acre Gold. Acre Gold is a set-it-and-forget-it easy-to-use gold investing platform that offers a subscription plan to purchase gold on a schedule using tried and tested strategies like Dollar cost averaging.
Final Thoughts
Birch Gold is an excellent online precious metals dealer based in California, with multiple depositories across the country. It's one of the few platforms that doesn't charge a percentage of your investment as an annual fee, which makes it a great option if you're looking to purchase large amounts of precious metals. If you're a beginner and don't have much experience in the market, we recommend Birch Gold's educational resources, especially their Information Kit, accessible for free from their website. For those reasons, we're confident that experienced, and new investors can benefit from using Birch Gold.