BIP, the global IP licensing marketplace, has launched its innovative web-based platform to bridge the gap between licensors and licensees to enable greater connectivity within the licensing industry with an emphasis on democratization. 
Jazwares, a global leader in toys and licensing, and Metaverse gaming sensations Brookhaven, Jailbreak, and more have signed on to utilize BIP's newly-formed global IP licensing marketplace.
The BIP licensing hub features several tools aiding in the deal-making process, including real-time tracking enabling all users to easily track deal memo progress, virtual chat room communication.
The marketplace launched as IP licensing deals surged during the recent pandemic, topping $315 billion in 2021, a 7.75 percent increase from pre-pandemic levels. This ecosystem provides critical revenue for licenses, who saw their royalties rise to 8.47 percent, a fractional but meaningful increase since before the pandemic. 
BIP Centralizes Hub to Streamline Licensing Marketplace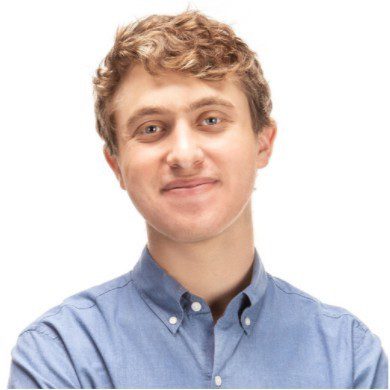 Co-Founded by Ari Zebersky and Dylan Karofsky, BIP is an expansive centralized hub streamlining the licensing marketplace, providing brands opportunities to field potential collaborations, expand territory, and provide a wider range of product categories. From its beginning, the platform quickly expanded into a multi-category network spanning consumer products, music, fashion, consumables, and more.
"BIP provides a powerful toolkit for all brands utilizing the platform—from the discovery of new and untapped licensing opportunities to creating new revenue streams—we're there to maximize value to these brands and streamline deals," Zebersky said in the company's product release. "Our goal is to provide the licensing industry with the ultimate catalyst for brand collaboration, opening the door for IP expansion and impactful multi-category product extensions."
The web-based platform will initially be utilized by Jazwares, which already features licensing deals with popular entities, including Squishmallows, to identify and forge new consumer product offerings.
"At Jazwares, we always have our fingers on the pulse, tapping into the partners and technologies that maximize our licensing efforts, bringing them to the next level," said Sam Ferguson, Senior Vice President of Global Licensing at Jazwares. "BIP enables us to have a 24/7, 365-day support solution to help find the best partners to bring our IP to life via a streamlined and highly intuitive online marketplace."
BIP Revolutionizes How IP Is Monetized in New Marketplace 
BIP aims to revolutionize the way in which IP is monetized by connecting brand owners with licensees in a highly immersive and intuitive global marketplace.
IP licensing can be an effective way to harness brand activation by elevating platform awareness, engagement, and positive affiliation. 
This is especially true for emerging gaming and metaverse markets where brands are trying to generate customer interest and build brand loyalty in a new online space.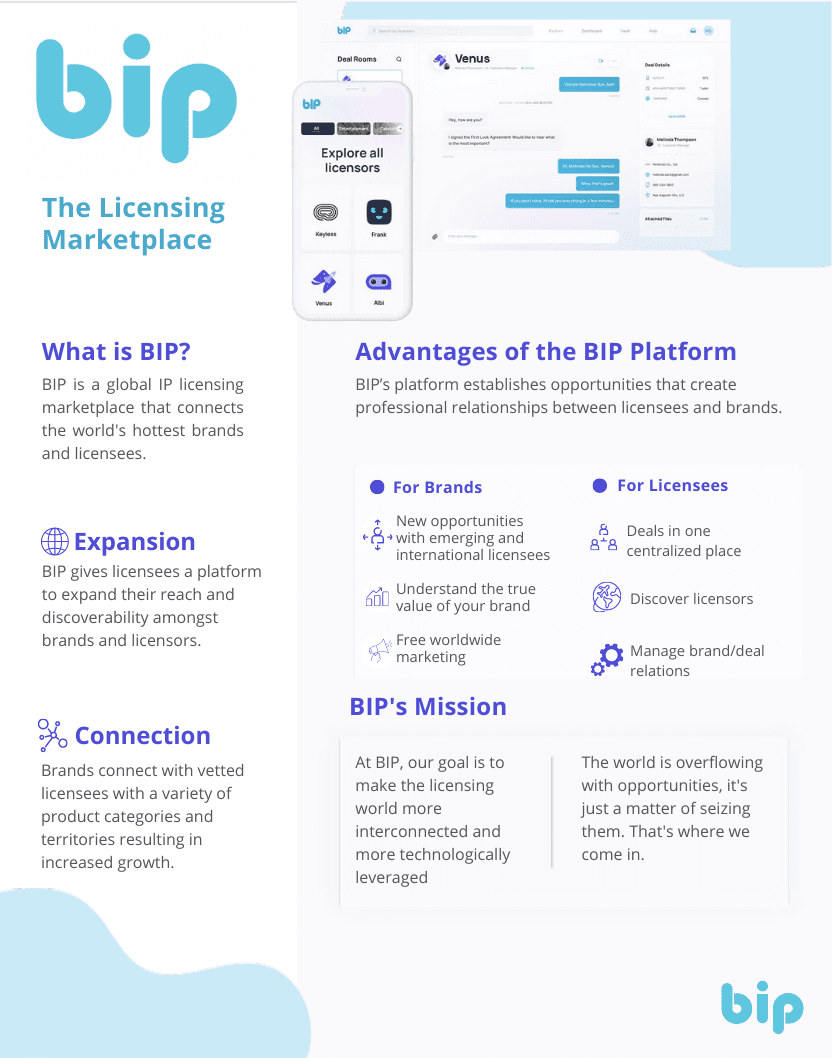 Metaverse Presents Emerging Opportunities for Brand Licensing and Audience Activation 
Metaverse brands present an emerging market where companies can reach new and diverse audiences. By licensing IP from metaverse brands, businesses can capitalize on this trend to expand mind and market share. 
In response to this trend and growing brand interest, BIP has escalated from funding to functional platform as demand for their solution drives growth.  
BIP is trying to expand this ecosystem by exposing companies to creators they may otherwise not encounter and inspiring creators with monetization opportunities once restricted to the most popular or prominent lines. 
At the same time, BIP is working to eradicate many of the top challenges associated with brand partnerships. While brand partnerships can be a powerful way for companies to expand their reach, increase brand awareness, and drive sales, there are also several challenges that can make these partnerships difficult to manage. This includes misaligned objectives, competitive conflicts, brand image alignment, resource allocation, communication, and legal considerations.
BIP says it will help eliminate many of these challenges by integrating tools that help with discoverability while streamlining the deal-making process with real-time tracking that enables all users to easily track deal memo progress, virtual chat room communication, and post-deal management services.
BIP's innovative web-based platform is not only bridging the gap between licensors and licensees, but also democratizing the licensing industry. By providing a powerful toolkit for all brands utilizing the platform, BIP is maximizing value and streamlining deals," Dylan Karofsky, BIP Co-Founder said. "With the ultimate goal of opening doors for IP expansion and impactful multi-category product extensions, BIP is revolutionizing how IP is monetized in the new marketplace."