Singapore – Top 20 CoinMarketCap cryptocurrency exchange BiKi.com has launched a new Global Manager Recruitment Program, a replacement of the former Community Partner Program. The GM Program will be geared towards recruiting community partners from all around the world. 
This is an astute move for the exchange, as it launches the new program that will simultaneously retain old users and recruit new users. Reaching out to global blockchain enthusiasts to join its stable of community  supporters, the exchange is targeting individuals with large local networks and resources with team management experience.
Role of GMs 
BiKi considers GMs the platform's ambassadors to the local communities around the world and they are bestowed the "highest rights and honors extended to our supporters". GMs must share the vision and values of the exchange in order to promote BiKi's initiatives and govern their local communities.  
Benefits of GMs
In return, GMs are remunerated with the monthly BIKI token salaries and altcoins for new user recruitments. Community rewards include a variety of trading rewards, user referral rebates, listing referral rewards, token airdrops, certified Fiat Merchant Accounts and other incentives. High-performing GMs will also be selected to take part in BiKi's annual conferences and executive dinners.
The exchange has been globalizing the BiKi brand the entire 2019. Making sure that their presence was felt, the team participated in all the major conventions around the world, such as Korea Blockchain Week, Devcon Osaka, Codex World Top 50 Innovators London, Malta AI summit, Singapore Blockchain Week, Blockchain Life Moscow, to name a few. BiKi global meetups and parties were organized at these events that managed to draw full-house attendances, attracting top industry personalities such as Brock Pierce.
An Improved Community Program
The exchange implements a global operations strategy in multiple regions worldwide. The GM program is a step up from its Community Partner [CP] Program which was launched in April 2019. Using network dynamics to acquire new users, despite only two tiers of membership put up, the CP Program was wildly successful. Its 'community fission' model of scaling communities was implemented and the exchange amassed 2 million registered users on the platform, including 200,000 daily active users with over 2,000 community partners and 200,000 community members. 
With the attractive trading rebates on offer amongst other incentives, the CP Program still has a standing waitlist. The 2,000 community partners possess a strong sense of ownership for the communities they have built. They have created strong bonds within their groups as they lead and share their trading techniques and network resources within their groups. Over the year, they have evolved to become influencers in their own right. 
The GM Program is now hailed as being an even better version of the CP Program, offering even more benefits and support from the exchange.
Community is Priority
As a community-driven exchange, BiKi has been prioritizing its users in every initiative. Projects and exchanges cannot succeed without strong communities and BiKi continues to ensure that its loyal users and community are top of mind.  
The platform welcomes all interested individuals to submit online applications to be considered for the Global Manager Recruitment Program.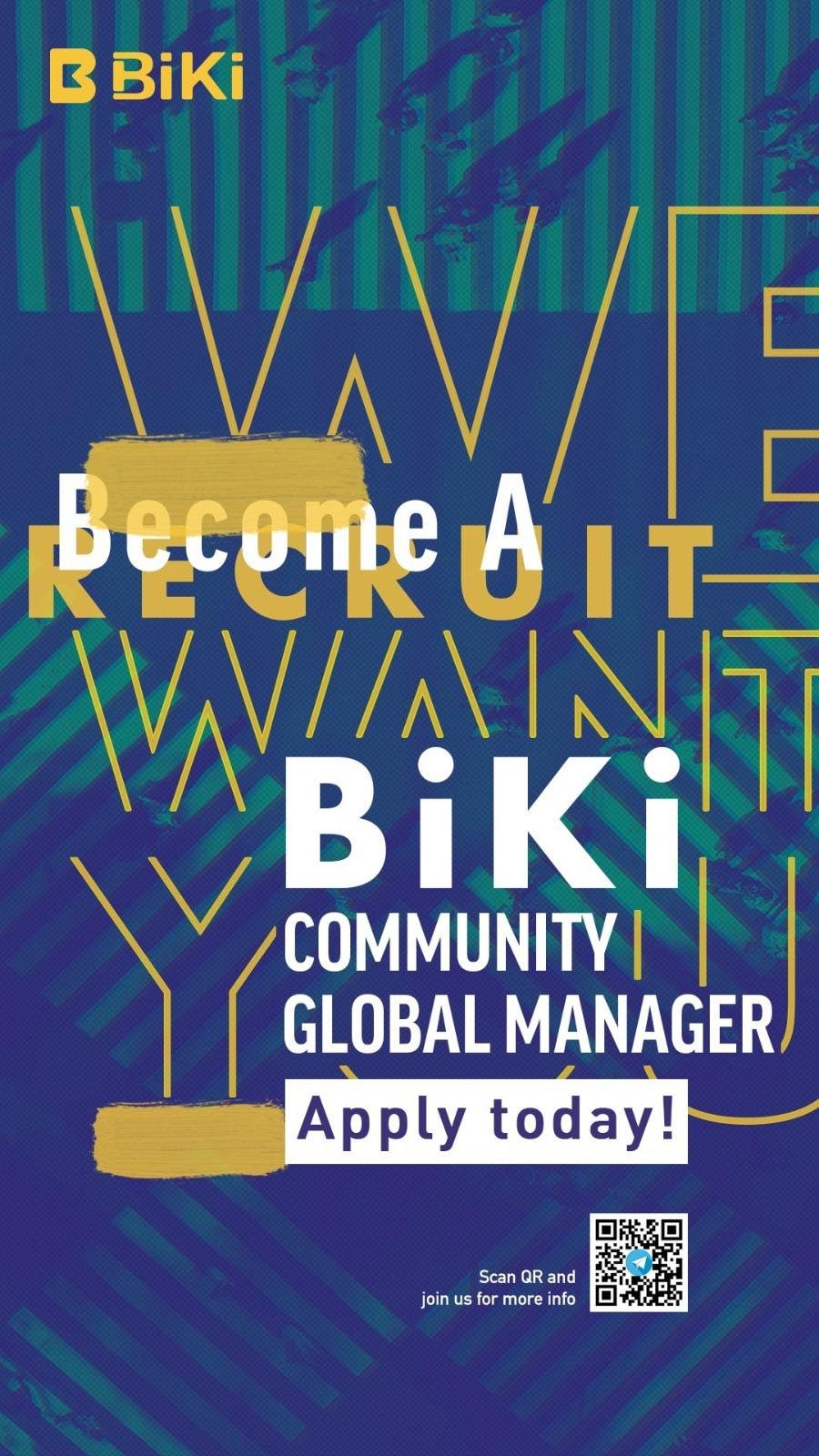 About BiKi.com
Headquartered in Singapore, BiKi.com is a global cryptocurrency exchange ranked Top 20 on CoinMarketCap. BiKi.com provides a digital assets platform for trading more than 150 cryptocurrencies and 280 trading pairs. BiKi.com is focused on providing the safest, most stable and most effective cryptocurrency trading platform. 100% of the transaction fees are used in buyback and burning of platform token, BIKI. Since its official opening in August 2018, BiKi.com is considered one of the fastest-growing cryptocurrency exchanges in the world with an accumulated 2 million registered users, 200,000 daily active users, over 2,000 community partners and 200,000 community members. BiKi.com has received investments from Huobi co-founder Du Jun, Genesis Capital Zhu Huai Yang, FBG Capital, ChainUP and others totaling approximately 10 million USD.