8th July, Singapore – BiKi.com is in the news again, this time for emerging  tops on the Forbes Top 10 listing of blockchain companies to watch in 2019. The prestigious listing consisted of 10 global blockchain companies who have contributed significantly to blockchain becoming more accessible, prominent or mainstream. 
The young cryptocurrency exchange has recently scored a round of investments from established crypto financial institutions FBG Capital and Genesis Capital. It also received early funding and support from co-founder of Huobi and CEO/founder of Chinese giant media group Jinse Finance, Du Jun,  who invested USD 5 million of his personal funds and served as joint CEO on the exchange. Known to have a strong technical and operations team, the trading platform supports languages ​​like Chinese, English and Vietnamese and has served more than 1 million global users in nearly 100 countries and regions. BiKi.com has grown quickly in less than a year, amassing 1.5 million registered users, 100,000 daily active users and a daily trading volume of 70 million USDT.
The main factors contributing to BiKi's rapid growth appear to be a combination of incremental marketing, an attractive community partner program, professional and cost-effective platform services as well as the performance of its platform token, BiKi coin.
Unlike most exchanges, BiKi helps its projects to increase its market users. It uses incremental marketing, a 'transformative way of scaling communities' to accelerate its growth in user acquisition. BiKi's Community Partner Program offers 10% interest on the 30,000 BiKi locked-in for a year, just like a time deposit and gives 60% cashback on trading fees together with bonus rewards and token airdrops.
BiKi's professional market-making strategies and media exposure support for partner projects, and its full range of platform service tools for users means that everyone is professionally serviced whether it is through a bull or bear market. For projects, BiKi.com's affordable listing fees and value-added service fees buffer the effects of a bear market.
The BiKi platform coin has also performed impressively, with a starting price of $0.01384188 in mid-April this year to its current price of 0.134539, charting an upward trajectory that represents an almost ten-fold increase in value in less than 3 months, a clear indication of investor demand. One billion tokens have initially been issued and the tokens will continuously be repurchased and burned until it drops to 100 million. The platform also plans to launch the BiKi transaction pair, where projects will raise funds in BiKi currency instead of ETH currency, which will bring value to the BiKi coin. Its business locks, institutional node locks and user financial locks will drastically reduce the BiKi coin circulation, increasing the value of the BiKi coin.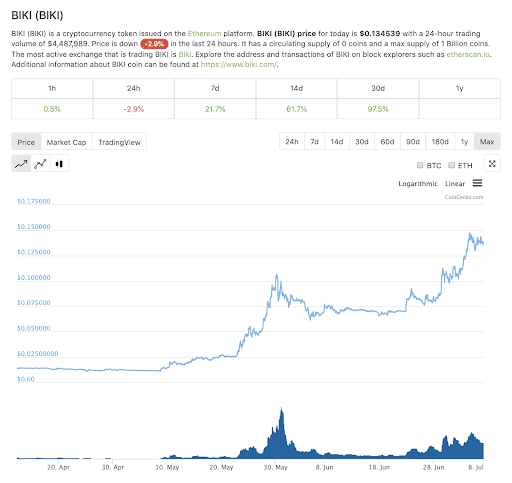 The trading platform continues to focus on incremental marketing and global market expansion while improving its professional services on the trading platform for both projects and users alike. When you consider all these factors, the Forbes ranking of BiKi.com amongst its Top 10 Blockchain Companies in 2019 is hardly surprising. 
About BiKi.com
Headquartered in Singapore, BiKi.com is a global cryptocurrency exchange that provides a digital assets platform for trading more than 100 cryptocurrencies and 127 trading pairs. Since beginning operations in Aug 2018, BiKi.com is considered one of the fastest-growing cryptocurrency exchanges in the world with an accumulated 1.5 million registered users and 100,000 daily active users, ranking within the top 30 exchanges globally.