Play-to-Earn gaming (P2E) has become very popular over the last few years, and during this time, the market has seen a surge in P2E games. With many new P2E games being released, it's becoming difficult to spot "the next big game".
There is one Play-to-Earn game in development that has taken a very novel approach to their gaming, and this game made its public debut on January 15th, 2022. This project is ramping up to be something not to miss. It is called BFK Warzone, which was first announced in August 2021.
What is BFK WARZONE?
BFK WARZONE is a Simple Hero 2D Shooter Multiplayer Matchmaking Game with a complex ecosystem built on the Binance Smart Chain and bridging to Ethereum, powered by its native token $BFK and used as the currency for our NFT Play-To-Earn (P2E) shooter game and our NFT Marketplace. 
The mission is to become the first 2D multiplayer shooter and blockchain gaming ecosystem worldwide to change how cryptocurrency projects should operate completely. A gaming battleground where gamers everywhere come together and immerse themselves in an AAA-built environment, fast-paced 2D, P2E (play-to-earn), multiplayer, original characters gameplay, high-calibre graphics, and intense hyper-engaging gameplay available and accessible from PC & Mobile. 
The main goal of players is to control Soldiers called Fortis ranging from Navy Seals, Paratroopers, Snipers, Medics, Machine Gunners, Special Forces & more, and use the Advanced Ranking system to level up and increase their NFTs ( Fortis, Weapons, Accessories, skins ) value reaching higher levels while earning airdrops, experience, skills, and unique power cards called Infinity Knox's. It is the fight between the Binance SmartChain represented by the "Fort" (hence the name, Fortis) and the Aliens – the Ethereum Network called Ethenum Sentinels represented by our PVE mode where players fight the Aliens and protect the fort from earning loot and achievements.
How to Start?
What makes BFK Warzone different from many of the play-to-earn games is its low barrier to entry. BFK is one of the few "true play-to-earn" games where players can start playing without having to first invest in a character.
New players can get started with a legacy character (named "C. Draxis"), a digital soldier available in-game at any time for everyone, which comes with a choice of two automatic weapons options, and through gameplay, the player has the ability to build the character's skill and rank. Not only New players can also claim a Free Fortis NFT depending on supply ( called C.Boomer ), but also be equipped with an AK47 that will allow players to engage and rise in the game ranks without spending a penny.
These characters with upgraded skill and rank can then be sold on the BFK Marketplace, and the proceeds can be used to upgrade to another Forti or enhance your armoury. The Game also has created several partnerships to allow its players to lend, rent and earn from partnered platforms outside of its ecosystem to allow everyone to build a use case for their NFTs.
How to Play?
The link for gameplay can be found on the BFK website and after connecting a meta mask wallet or other available wallets like Wallet-Connect, the player can create his account linked to his wallet or can head over to the mobile version of the game and create his account without a wallet. After that, logging into the game is simple; the player can either choose a default legacy character or purchase one within the NFT marketplace. There are various Forti soldiers available for purchase which include Navy Seals, Paratroopers, Snipers, Medics, Machine Gunners, and Special Forces. Each Forti comes with its own unique characteristics and strengths to create a massive, diverse playing experience based on the several categories, adding to the firepower. If the default weapons offered aren't to your liking or aren't enough firepower, there are additional weapon offerings that can also be purchased through the marketplace.
The gameplay requires at least two players per match and offers 1v1, 2v2, 3v3, 4v4, and 5v5 player modes. At the moment, single-player gaming is not available but you can still be able to join a FreePlay Arena to exercise and advance your gameplay without receiving any impact on your profile numbers. The gameplay is very straightforward. The left-right arrow keys move the Forti, the mouse is used to aim the weapon, and the left mouse button is used to fire the weapon. The spacebar is used to jump, and grenades can be launched by pressing the "q" key. There is also the option for the soldier to crouch, using the left "Ctrl" key.
As for the mobile game which is now running on its alpha version in preparation for the release starting June 2022, you will be able to control the fortis in a very classic controller setup that allows you to move, jump, aim, and auto-fire while adding a lot more simple features like locking the angle of fire to help users move faster and adjust their gameplay techniques without worrying about multiple actions to be taken at the same time, which is virtually impossible on mobile. 
The gameplay is intuitive, fast-paced, and highly addictive. It's available in WEBapp Mode cross-platform, Exe downloadable file or Package for macOS, Android version launching soon and IOS to follow.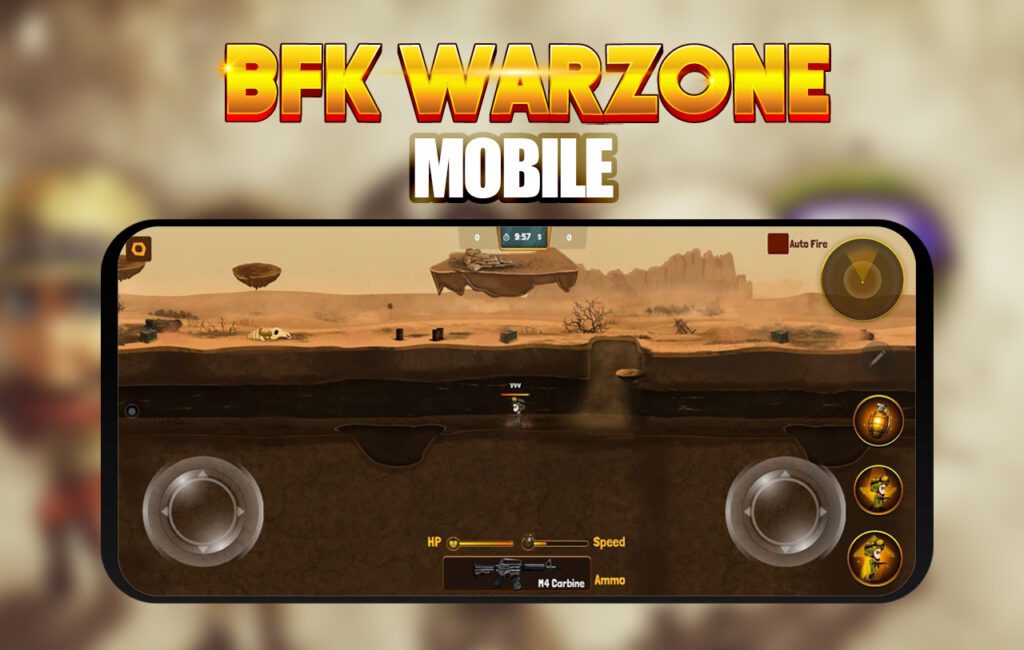 How To Earn?
For many players, an essential element of any Play-to-Earn game is the "earning" component. There are many ways to earn with BFK, and it's one of the few games where players can get started right away without having to "buy in" with a character first.
The best part is that it has many pillars under the "Earning" model. The main methods are ( Play/Trade-to-Earn, Stake-to-Earn, and Pay-to-Earn; Mine-to-Earn is planned for later release ), so the more you play and level up your Forti, the stronger and more valuable it becomes. 
Your Forti character can then be sold on the BFK marketplace at a price commensurate with its experience. Adding to this is the fact that the community controls the price of the soldiers and not the game; each NFT or soldier will be sold uniquely from the BFK Originals Market, adding a floor price. After that, the users will define the tradable price on the marketplace depending on offer and demand, which will really provide a community-controlled pricing mechanism.
There are three types of gameplay (Ranked, Team & Events) and one more coming in after the mobile release, which mimics the battle-royale mode, where players can earn a share of the pool as a reward, calculated and distributed by the number of players on the winning team. Another method is to level up your Forti with experience and then sell it on the marketplace. There are also various NFT cards within the armoury that can be bought, sold, and traded with a limited kind of supply. Also, there is an experience point system that will allow you to rank your commander level higher, which is your profile, and allow you to earn airdrops while you rank yourself.
The system has been built to look simple but is a robust algorithm behind the power of this game. Check out this Extended Ranking / Earning model here:
Ranking System:
Skills


Fortis earn skills by fighting in the warzone. Each skill equals 200 collected experience points. For more information about points allocation, please visit here (scrolls to XP Points)

Multipliers


Based on the action and performance you do in-game, your multiplier will be affected, especially with the acquisition of an Infinity Knox. Multipliers allow you to rank faster.

Collected XP
Each Forti rank consists of 20 total skill points based on the rarity of the Forti. Reaching 20 skill points is equal to 4000 XP points which will unlock the next rank and reset your counter.
Earning System:
Earn


Fortis earn Points by fighting in the warzone. Each kill will raise your point allocation and XP, you can raise your points to unlock a new rank and earn BFK airdrops as you go! Kills, assists, and marketplace activities will help you rank and allocate your BFK earnings for the next rank.

Collect


Collecting Points in your profile by doing purchases, auctions, and sales, will earn you more profile points to help you rank faster. The ranking is affected by Forti's battle efforts, and your actions in the marketplace allow you to collect more facts to get your airdrop more quickly on the next rank.

Airdrop


On each Rank Unlock, you will receive an airdrop based on the rank you are moving to. Airdrops are automated and will appear in your active wallet after some time related to the network processing on the blockchain. Network fees are covered by BFK so your earnings will arrive intact.
With such a system applied, the game promises to provide adaptation to any situation or level the game reaches while keeping the rewards logical and the project sustainable and scalable for the future of higher market caps.
A quick look at the Game Mode Setups:
Play FreePlay is as simple as it gets; join a lobby where ten players maximum can fight in an open map to learn how to fight, test weapons and build experience without taking any hits on the adventure.
For ranked games, players can join many different levels fighting with Stake or Without Stakes, players can choose between three stakes in case selected with levels offered (small, medium, and large) and the system automatically matches players for battle and the winner of the battle earns the pool. Players can also play non-staked battles without engaging in any limitations on stakes for the winners, and experience is collected only in ranked gameplay. 
Team Coop Stake / Non-stake 
Between 2–5 players are defined as a team. Teams with a Stake are matched by the system and the team that wins earns the pool. Also, experience and skills points are earned by the Forti who participate in coop mode. 
This is a feature that is anticipated to be released in mid-August where teams will be able to fight the "Etherium aliens" in a massive battle. The Alien will hold rare equipment, token winnings, and prizes offered by the BFK pool (such as infinity Knox cards). According to the information made available, some events will require a reserve payment while the majority will be free to join, also added to this are 2 new modes coming in; one called Battle Fort Royal and the other called Rambo Royal, the first one acting like 'capture the fort' mode but with a prism of Alien Sentinels closing in from both sides of the map trying to limit the map size.  Rambo mode, Royal, works in a similar way, but instead of collecting points from holding a fort position, it will be collecting points from capturing a flag and keeping it for the longest time before the game ends. It will be played in a very tight spot on the map that is randomly selected.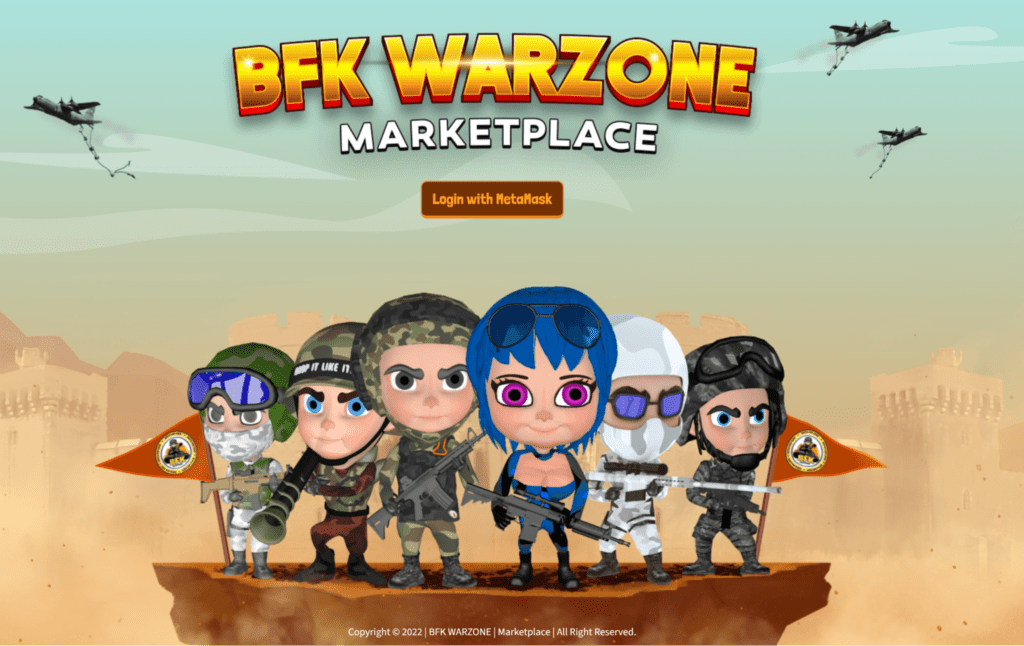 Types of NFTs
Most of the Soldiers on BFK WARZONE are purchasable NFTs from the original marketplace or from the community marketplace limited by supply and rarity also affected by the categories each one follows.
The infinity Knoxs are Elemental Powerful Energy Boosters that empower their bearer with unmatched powers over a period of time or even permanently. The Power Factor from these NFTs is applied to all Fortis without a Commander Profile, which is a pretty powerful effect. The Infinity Knox is limited by supply and rarity, and the available IFKs are Gold, Emerald, and Platinum.
The weapons act as the power handle for the fortis. Each model has its own power attribution but the weapons are the master power dealers. These NFTs will be considered very valuable as they affect totally how the game works and will allow players to mix and match soldiers with different ranked weapons to give an edge in the battle, as well as to be sellable at solid prices in the marketplace. 
As part of the Diversity Factor in this game, BFK introduced 2 New Smart Contracts to Add more variety to the game allowing players to access Accessories in types of NFTs and Skins that will allow the Fortis to have an extra edge of customizations and value to earn for the Players, all of which will be also limited by supply and rarity.
BFK is merging physical toys with their NFTs characters, something that has never been done before. These toys will be mailed out as a companion to rare NFTs and will also come with an activation code for a surprise gift. Limited edition BFK toy soldiers will be offered to those who purchase a rare NFT, and these physical toys trigger a code for a special weapon or skin for the NFT playable character.
BFK WARZONE has designed and distributed hundreds of toys ready to bring into the Merchandise store. We designed, modeled, and developed versions of the toy and partnered with overseas distributors to create them. We aim to have a toy replica of each character in our store by the end of 2022.
The electronic NFT artifacts collectibles are made from custom build units that enable its bearer access to several perks for in-game use called the IFS, these will be low-powered units placed into your desk and turned on to represent also a very nice example of Tangible NFTs that expand the game even further on what I offer. Every player can purchase these artifacts online based on availability which has never been seen before on a level of gaming.
There are even more types of NFTs getting into the game, but these will be announced while the system has started taking place effectively. 
The best part of these NFTs is mostly they are showcased in the Bootcamp section of BFK WARZONE, which acts like a Learnatorium for new players. Find out more here Bootcamp
Comic and Gaming Conventions
BFK WARZONE will attend many of the large comic and gaming conventions around the world such as Supernova and Comic Con. We will have 'real-life' Forti's in attendance signing autographs and meeting fans. We have already done one live-action shoot and will be using those images as part of our marketing and promotional activities, as well as interaction across our social media platforms.

BFK Tokenomics & Contract
No review of a project is complete without mentioning tokenomics. The tokenomics of this project are very fair, and upon relaunch, BFK simplified to a straightforward 9% tax on all buys and sells. Also, there is no tax imposed for wallet-to-wallet transactions, and BFK WARZONE understands that it is difficult to create a system in which many transactions operate under high gas fees. This was critical in the decision to bring the game to the BinanceSmart Chain and Also ETH.
Additionally, this is the backstory to the fictional enemy we have created within the game. The ETH Alien represents the corruption of gas fees in which the lifeless, robotic alien steadily tries to attack the gold. It's up to you and your Forti to save it! Users can combine forces and play "dungeons" where teamwork is needed to win the match. Loot, NFTs, and tokens are dropped as a reward for successfully killing the enemy in this dungeon game mod. As for the marketplace Taxing a Flat tax of 4% is applied for earning withdrawals which makes it a reasonable amount to use the marketplace.
The 9% tax is applied as follows:
3% Game Development

3% Marketing and Media

3% LP / Ecosystem
The 4% tax is applied as follows:
2% LP

2% Development / Marketing 
Adding to this BFK is also aware of the long-term sustainability of every project in the Play 2 Earn model and his thoughts on the solution thoroughly to keep the Game Exosystem  Rich while the game is scaling and introduced multiple income stream methods to ensure its survivability for the future. 
More information on the old contract and the new is always displayed here $BFK Contract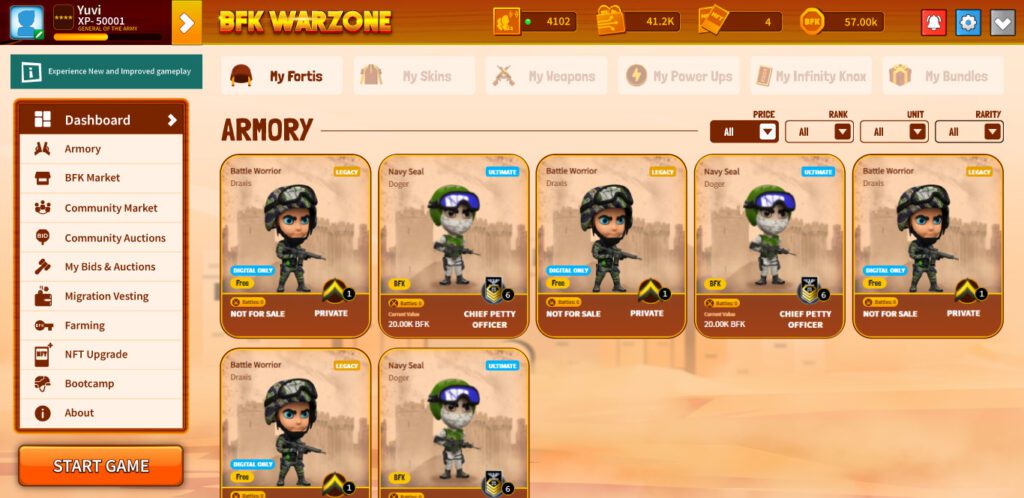 BFK Revenue Models
Bundles & Boosters 

Subscription Services 

$IFS Digital Farms 

Renting / Lending Platforms 

Infinity Miner Nodes 

Toys Production Collectibles 

Automated Trade Botting 

$IFS Miner Orbs 

Electronic NFT Artifacts 

OffChart Token Sale 

Marketing Placements in-game

Merchandise Store

Local NFT's Digital Stores
There is a lot more BFK WARZONE is planning to offer but this shows how strong the system is getting built on to ensure sustainability which is very unique for a gaming project.
TEAM
The Team at BFK warzone has shared more than seven decades of collective experience across the gaming, crypto, and entertainment sectors, the main focus is to gather every strength to put it in the right place. The Core Team is formed of 4 Main members, and the technical team adds up to 20 Members working around the clock into making BFK what it has become. The main operation is in Dubai, and the Company spreads connections over Major parts of the world like the USA, Canada, Lebanon, Egypt, India, and lately, Australia. Find out more here Team BFK
THE COMPANY:
BFK WARZONE is Licensed by the Studios behind it TGC International FZ-LLC the  Game is registered in UAE and Copyrighted there with its own certification and aims to fill its trademarks soon globally starting from UAE which makes it legally able to sell merchandise in the respective registries. To find out more about the company and registration, please head over to its official website. Find out more here Company
MEDIA AND COVERAGE: 
As part of the contributed efforts by its CEO, BFK was present at the CryptoExpo in Dubai 2022 as VIP Sponsor, Blockchain World summit 2022 as Pitch Partner, and CGC Gaming 2022 as Silver Sponsor and Speaker. Further partnerships and appearances have already been announced, and the closest one coming is Lbank's Crypto Mania happening in India 2022 at Bangalore. Find out more here Media
ROADMAP
According to the project's roadmap, the team plans to enhance cross-chain accessibility by Bridging to ETH, launching a mobile version of the game on both iOS and Android which is already in the works and the alpha version is available, submitting for exchange listing from of which secured is Bitrue, Lbank and enhance overall gameplay with airdrops, additional maps, improved ranking system, increased selection of weapons, skins and Fortis soldiers while applying the most sophisticated Ranking Earning Algorithm Seen in a 2D game, the future is bright and promising which all the clear points and activity the team is providing into each period on BFK's lifetime.
Part of the Roadmap set their migration from the Old contract V2 to the V3 version with improved general optimization of the code and ecosystem for the long term.
Conclusion
If you are looking to get in early on a new project with a lot of potential, check out BFK Warzone. This project is still very young and only peaked at a market cap of ~$7 million. The game has been almost completed and the listing on the several platforms listed and announced in the AMA is promising a bullish rise on a such gaming project.
BFK Warzone has a dedicated team and a strong community with a solid history of development. If you are interested in this project, certainly check out their Telegram and Discord server, the BFK Warzone website and why not have some fun and play a few battles?
Launch Date: Approx June 15th, 2022
Links for BFK Warzone:
BFK Website | Certik Audit Results | Telegram | Youtube | Links | Twitter | Instagram | Facebook | Tiktok | Discord