Can You Lose Weight by Changing Your Mind? Yes, Better Me is revolutionizing the weight loss journey
The nature of weight loss is nuanced. Weight loss is a normal, healthy response to a variety of stressors, including food.
"The food we eat," says Samir Becic, MD, FACC, FAHA, professor of internal medicine and director of the cardiac rehabilitation and weight management program at Mayo Clinic, "is like a double-edged sword. It gives us energy, but too much or the wrong types of food increase our risk for obesity, heart disease, high blood pressure, diabetes and high cholesterol."
We've found that people are much more likely to maintain their new weight when they use an approach that addresses both the mind and the body," says Dr Amy Bentley, an obesity expert at the Pennington Biomedical Research Center in Baton Rouge, La.
BetterMe is the first weight loss app to focus on changing your behaviour, rather than your diet or fitness regime. It is based on positive psychology, which focuses on the more positive aspects of behaviour change. The app takes a holistic approach to weight loss, helping you to change your thought patterns and behaviours around food and fitness, whilst also providing you with motivational tools, such as a journal.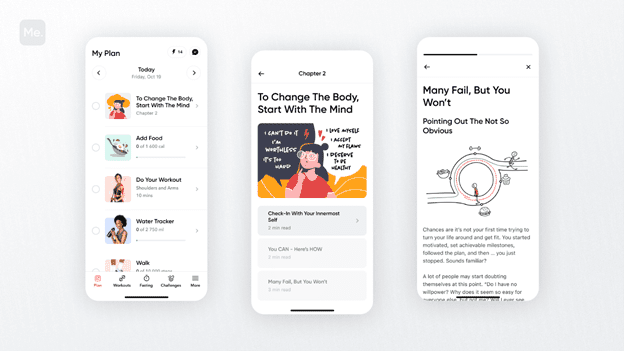 Weight loss with a CBT approach with Better me
Traditional weight-loss programs focus on nutrition, but research shows that people repeat the same mistakes over and over again. They don't understand why they overeat, don't understand why losing weight is so difficult, and don't know how to go about losing weight sustainably.
With BetterMe, they combine powerful techniques, such as cognitive-behavioural therapy (CBT), with fun, motivational exercises and a supportive community.
The goal of cognitive behavioural therapy is to relearn better ways of doing things. This usually involves changing habits.
When you are trying to improve your health by changing behaviour, it helps to set goals. When you set a goal, your brain starts looking for evidence to confirm that your goal makes sense. If your brain confirms your goal, it will work harder to help you reach it. But if it doesn't, it will resist change.
Here is why the Better Me app has 100 million of users across
Inclusive workouts – The app's inclusive workouts are designed by a certified personal trainer. The app is designed to help users track their workouts, diet, and progress.
Users can plan their workouts, and track their progress through daily, weekly, and monthly goals. They can also add notes to their workouts, and track their nutrition consumption.
The Better Me app also allows users to share progress with friends, and track their friends' progress as well.
Personalized meal plans – BetterMe is a personalized meal plan that will help you to eat better, lose weight, and get healthier.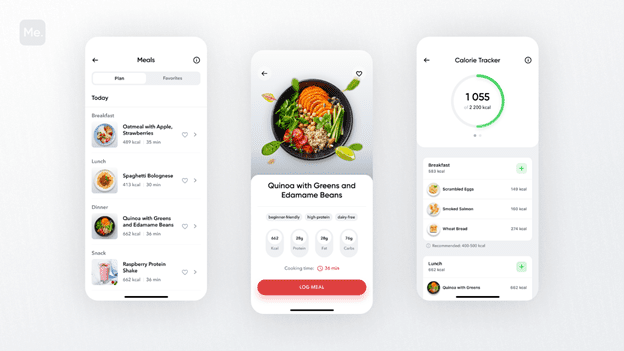 The BetterMe meal plan is based on the latest research and takes into account your allergies, food preferences, and lifestyle.
The daily meal plan includes breakfast, lunch, and dinner, and you can choose from a variety of recipes. The menu is flexible and you can change it whenever you want to.
Intermittent fasting plan – Intermittent fasting is a type of diet that alternates between periods of eating and fasting. An intermittent fasting regimen may involve fasting for 24 hours, 12 hours, 6 hours, or 4 hours, with eating during the remaining time.
Benefits of intermittent fasting include weight loss and an improvement in various risk factors for heart disease, type 2 diabetes, and some types of cancer.
Better me has curated that for you as per your goals and body structure and weight.
Psychology based course that can shift your thinking
Maintain healthy body functioning – Your brain is the most important organ in your body. It has 100 billion neurons, and 1 trillion connections. Exercise improves your mental functioning. Better mental functioning keeps you in a good mood. Because exercise regulates your brain chemistry, it makes you happy. And Better me works deeper to change the way you think.
Conducive lifestyle – The idea underlying the psychology-based course is that psychology is deeply important and that if we understood more about psychology, we could improve our lives. This allows you to integrate healthy lifestyle changes that fit perfectly with your routine.
Right food choices – Nutritionists usually advise people to eat a balanced diet. The keyword is balance. Because different people have different needs, different people will need different diets. But taking the right food is what wins the race, therefore BetterMe serves you the right food choices.
Make the right choice and start your journey of weight loss
Deciding to start fresh is half the battle. Once you get started, you'll realize that it's not as difficult as you thought. Most importantly, you'll realize that the right program is the one that fits with your routine. So if you're trying to incorporate exercise into your busy schedule, look for a workout that you can easily fit into your day.
Weight loss isn't easy. It's hard, it's challenging, and it's going to take work. But it's a journey, and a journey worth taking and BetterMe is changing the way people look towards a healthy lifestyle.
All you need to do is a quick sign up and then the app will get you covered by staying stuck with you throughout your journey.