It is important to have nice videos and pictures as they can enhance your business and present it in a better way to your clients and viewers who are searching for you online. Whether you are doing branding for a user or simply preserving your family and friends in the best light, good videos with nice backgrounds always put a nice impression on anyone. However, sometimes due to inexperience videos can't always be perfect, in that case, they might have a flaw that needs to be corrected or eliminated. This is why you need a good video background remover. The wonderful news is, one can simply eliminate and change video backgrounds in their post-production with the help of various software options accessible on the internet today. 
In this article, you will get to know about the particulars of removing or changing a video background, how to select the best video background changer, and what tools are required in order to achieve the required results.
Reasons to Remove the Video Background
There are many benefits of removing the video background. Digital designers and online businesses can get a boost if they get tools that are user-friendly and can remove video backgrounds easily.  In fact, the removal of background may even assist you to run a more profitable & higher-traffic website. With loads of stylish backgrounds for videos available on several editing software, you can drive yourself to places you've never really been to, enhance your video quality, and insert more life and liveliness into your content – all with a few clicks of a key.
There are many advanced tools nowadays that permit you to effortlessly change video backgrounds, using video background remover software or even starting a project with the background theme in view can go a long way in increasing your video engagement rate.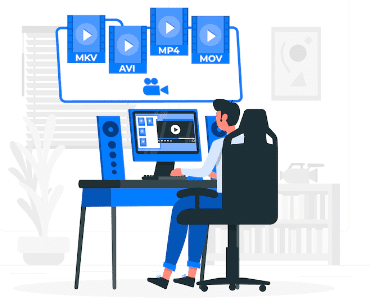 Improved Social Media Content
Nowadays, there is a lot of competition on the social media platform. Every business owner wants to create special content that stands out from others. By producing good quality videos you can increase subscribers & followers on Facebook, Twitter & other social media platforms. A good quality background remover will help you create improved content which will draw more users 'attention.
Eliminating Unwanted Objects
Sometimes background objects in videos can distract your users. With the help of a good online video background removal, you can eliminate unwanted objects. Similarly, many videos can contain other companies' names, logos & various commercial brand materials, which will lead to costly fines. By removing unwanted objects you can enhance your viewer's attention.
You require software that offers the finest features to remove video backgrounds online, as numerous software options on the web can't successfully remove or change the backgrounds of videos.
To get the video background remover online, you need to search for features that make the video editing process flawless and efficient. One of the most imperative features is the VIDIO tool which enables editors to filter out a video background online to insert a new one and it also supports GIF background remover.
Aspects of Video Background Remover
One should do comprehensive research before selecting a background remover. Before we dig into choosing the right tool for us, here are some critical features you should keep in mind when selecting video-changing background software. 
A useful background-changing software must permit a smooth transition between video clips while maintaining the preferred background. Before selecting one, verify and check if it allows multiple dynamic effects.
Automated Video Editor
Online video background remover must be fully automatic and the job must be done in fewer clicks. Many tools don't have this feature which results in the frustration of users. To avoid this, video editing tools must be hassle-free and user friendly.
Quality Video
Video which is being edited in software, must have a good quality at the final stage. 4K is preferred quality for editing of videos, as it appears more professional and well designed.
Selection of Backdrop Colours
In video editing tools, selection of right backdrop colours is equally important. To avoid distraction of watchers, orange & yellow colours must be avoided. It would be good enough if you stick to soft colours for example light grey and white.
Concluding Remarks,
A Video background remover or a GIF background remover must be user-friendly and contains all the key features so that users can conveniently run the software to accomplish their purpose. One of the ultimate features of any video background remover software is the added benefit of being available entirely on the web.