What Is Seeking Alpha?
Based in New York and with almost 20 years of market experience, Seeking Alpha is an online investing community for financial discussion. Seeking Alpha is one of the biggest online communities, with over 20 million monthly visitors and 7,000 knowledgeable contributors.
Seeking Alpha is one of the best options if you're looking for actionable stock market analysis and recommendations, but it's not the only one. In this quick summary, I'll review some alternatives to Seeking Alpha and why they're worth considering; if you want to read our complete list, check out the best Seeking Alpha alternative.
1. Motley Fool Stock Advisor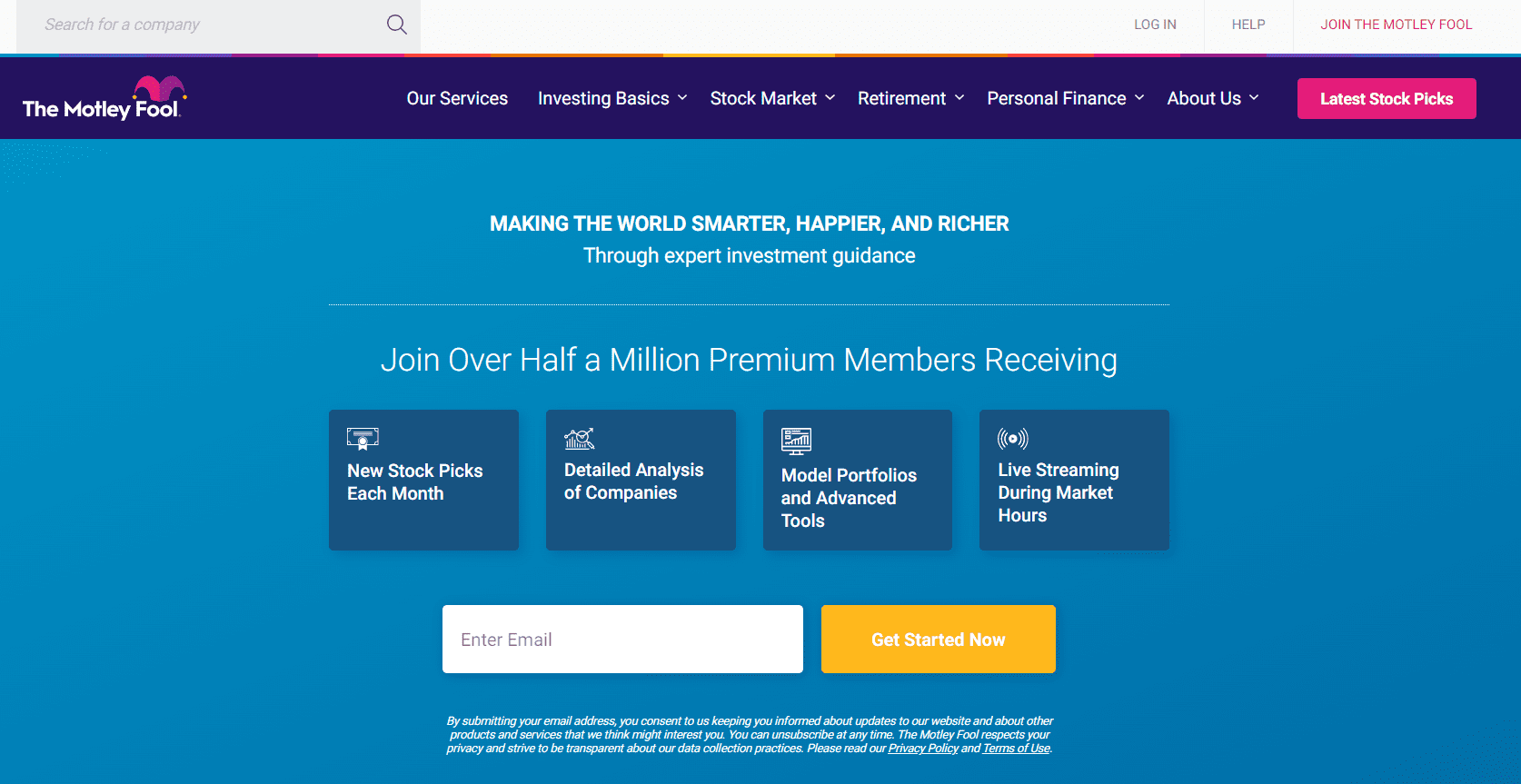 Headquartered in Alexandria, Virginia, The Motley Fool is a private financial and investing advice firm. The Motley Fool Stock Advisor is a subscription-based service and the most successful Motley Fool product.
Since its launch in 1993, Motley Fool Stock Advisor stock picks have outperformed the S&P 500 index returns by more than three times – 404% vs. 120% –in the same 20-year period. Motley Fool Stock Advisor has an annual fee of $199 – compared to Seeking Alpha's $239 – and it comes with a 30-day free trial. We go deeper into the plans and discounts on our full Seeking Alpha review.
On average, 172 Motley Fool Stock Advisor picks have returned more than 100% – unheard of in this type of stock-picking platform. Keep in mind that this service is better suited for investors who can stick with The Motley Fools' investing philosophy of holding investments for at least five years.
Pros
Affordable annual fee
Two monthly stock recommendations
Access foundational stocks
Top 10 Rankings
Excellent historical performance
Cons
Long-term investments (expect 5+ years)
Narrow focus on growth stocks
Pricing
Annual Subscription: $199/year
2. TradingView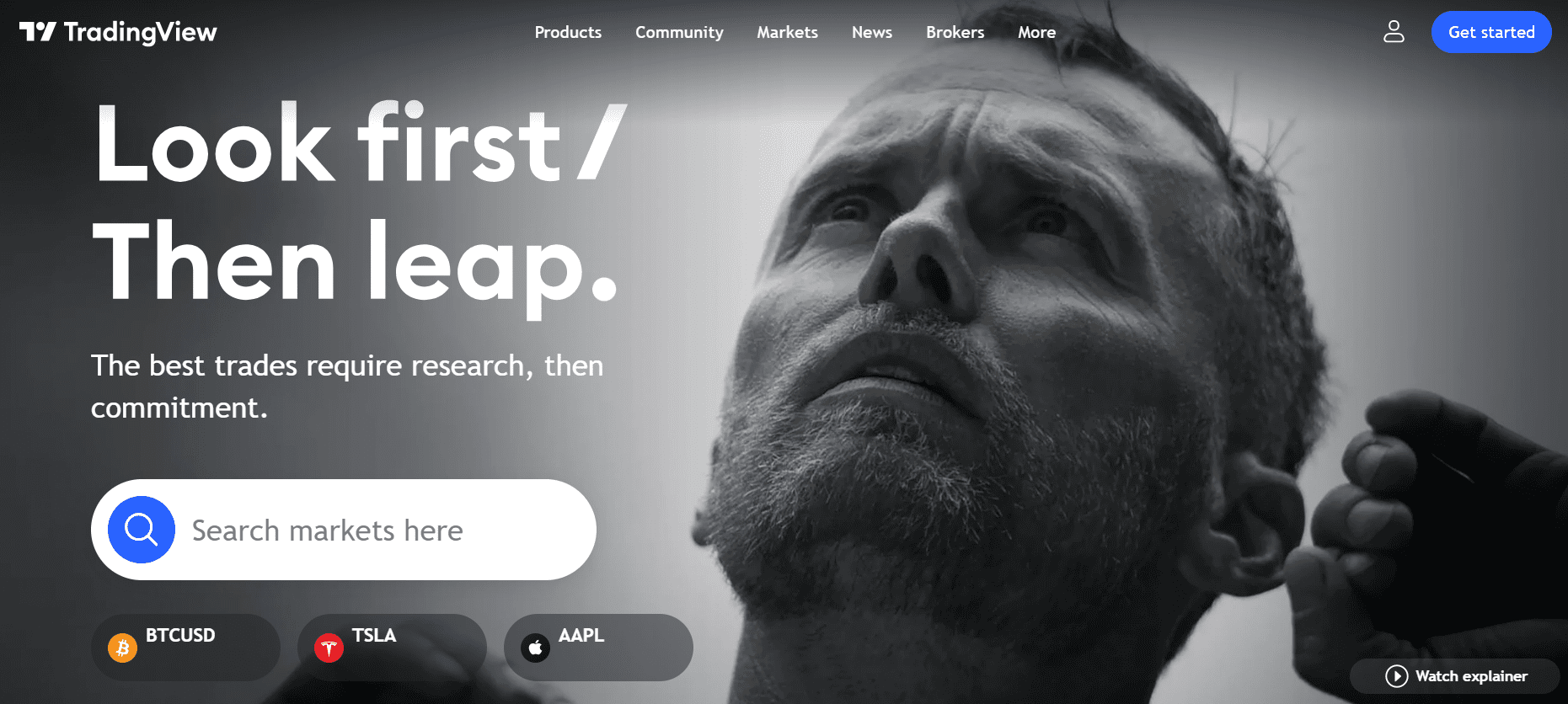 Founded in 2011 and headquartered in London, TradingView is one of the largest stock screening and charting platforms worldwide, with over 50 million active users. TradingView has a lower annual subscription than Seeking Alpha and Stock Advisor, and it offers a broader range of self-directed investing research tools than either of those.
Our favorite features include prebuilt indicators, multi-frame analysis, and simulated paper trading using real, historical data. TradingView is compatible with 45 of the largest online brokers, and it supports 150+ stock markets worldwide and more than 50 crypto exchanges.
Additionally, TradingView offers a seamless connection with most online brokers – that means you can stream your broker's data in real time and send orders without ever leaving the TradingView dashboard. We recommend this platform for experienced investors looking to visualize data with one of the best charting platforms in the market.
Pros
100+ pre-built and 100k+ community-built indicators
Multi-frame and technical analysis tools
Simulated paper trading with full access to historical data
Dozens of alerts with customizable triggers
Supports 150+ worldwide markets and 50+ crypto exchanges
Send orders directly to your broker
Connect with 45+ online brokers
Cons
The free plan is very limited
Limited brokerage support
Pricing
Pro Account: $155/year
Pro+ Account: $299/year
Premium Account: $599/year
3. TradingView Screenshot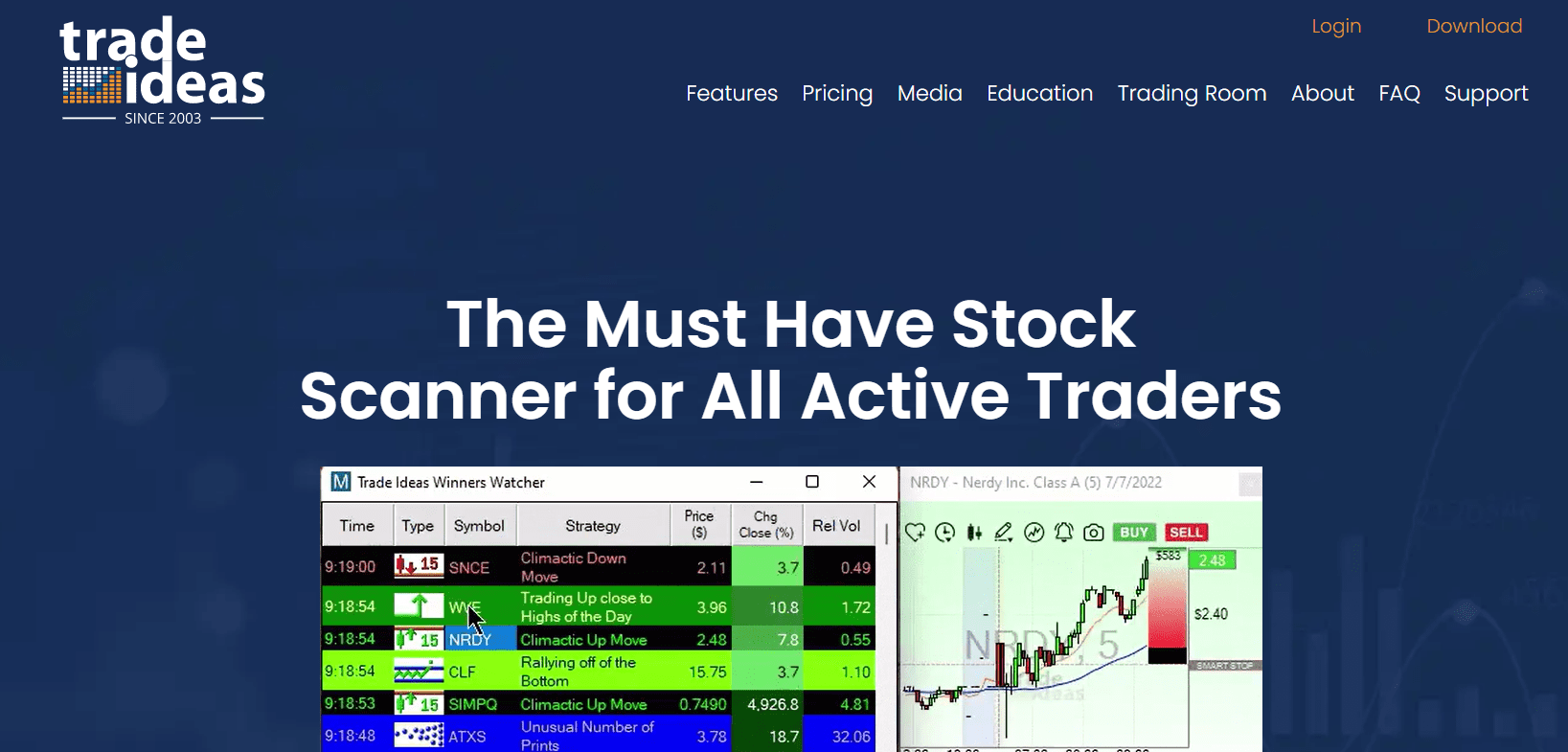 Headquartered in California and launched in 2002, Trade Ideas is an A.I.-powered robo advisor and research platform. Holly, Trade Ideas' proprietary A.I., is one of the most customizable algorithms, with dozens of triggers, metrics, and risk profiles.
Trade Ideas Holly runs thousands of daily scans and simulations using your set parameters and automatically sends you daily stock picks that match your criteria. Trade Ideas works excellently in tandem with online brokers like Interactive Brokers, E*TRADE, and Alpaca and allows for instant synchronization so you can place orders and trade your assets without leaving the Trade Ideas dashboard.
Trade Ideas is available as downloadable software and a web-based application that works on mobile devices.
Pros
Stock recommendations powered by an A.I.
Powered by an advanced A.I.
Backtesting environment
Filter investments using dozens of metrics
Educational & training resources
Synchronize with your broker and place orders
Cons
Pricing
Standard: $999/year
Premium: $1,999/year
TI Swing Picks: $17/month
FAQs
Is Seeking Alpha Worth The Price?
Yes, Seeking Alpha is definitely worth it. Here are our recommendations depending on what you're looking for:
If you'd like to try out all the basic features but don't want to commit to a subscription, we recommend the Seeking Alpha Basic account
For intermediate investors, we recommend the Seeking Alpha Premium subscriptions, which include unlimited access to premium content, analyst ratings & performance, and stock quant ratings & dividend grades
If you're a fund manager or pro-investor, we recommend the Seeking Alpha PRO subscription, which comes with full access to exclusive Top Ideas and PRO content
Can You Get Seeking Alpha For Free?
Yes – If you sign up using our Seeking Alpha premium subscription coupon, you'll have access to a free 14-day trial for Seeking Alpha PRO, a money-back guarantee. Just ensure you cancel before the trial ends, and you won't get billed.