If you are a small business owner, figuring out the most cost-effective solution for all your SaaS needs is paramount.
Small businesses often have limited resources, and they focus on growing their business without spending too much money on ancillary functions.
This is why when it comes to acquiring a SaaS tool, businesses need to tread carefully, or it may end up costing them big time.
Fortunately, the SaaS products market will be worth $60.36 billion by 2023, which means that there is no shortage of SaaS tools.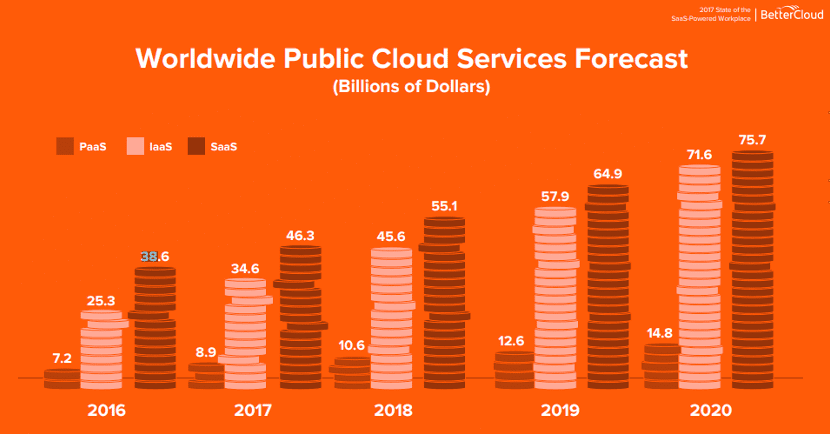 This is important to consider because almost 38% of the companies run entirely on SaaS-based operations, so businesses need to look for just the right tool out of the innumerable ones available.
Today's SaaS market is extremely diverse, and most of the tools offer unique and powerful features, so finding the right tool that can easily handle everything without costing a fortune is not as difficult as it may seem.
But before we dive into the list of best SaaS products, let's take a quick look at what SaaS tools really are.
12 Best Saas Tools for Small Businesses
What Are SaaS Tools?
Software as a service (SaaS) tools are products that are primarily accessed through a cloud-based system by the end-users, which the hosts provide over the internet.
Here, the cloud-based services might be offered by a third party to the software vendor, or the vendor might have their own services provided that they are a big enough organization.
SaaS products specialize in streamlining single or multiple business functions and are used by a range of users, including business users, IT professionals, or individual users.
12 Best Saas Tools for Small Businesses
There are plenty of SaaS tools that have come up in the market, but not all are as good as they might seem. The key here is to select a tool that fits your business needs in the best possible way.
Here are some of the top SaaS tools in the market that you cannot go wrong with.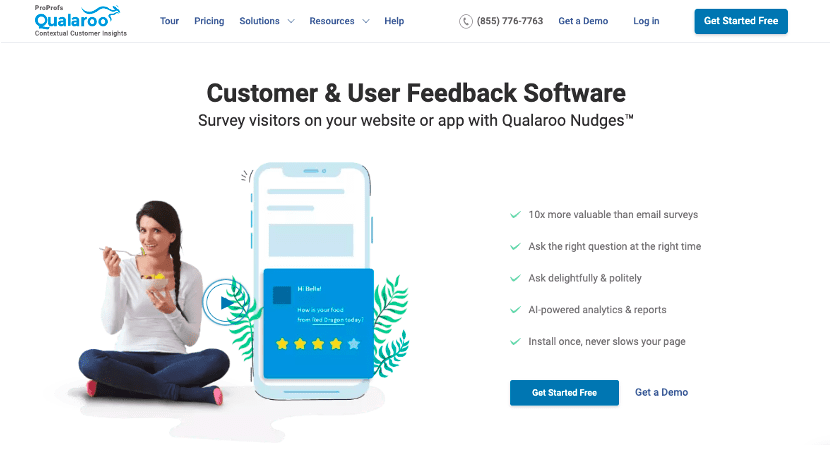 Qualaroo is one of the most advanced cloud-based SaaS tools in the market that specializes in collecting customer feedback and conducting user research. Businesses can collect website or mobile feedback unobtrusively with Qualaroo by deploying its signature popup known as NudgeTM.
Small businesses can use Qualaroo to generate more leads through lead generation surveys and boost conversion rates by collecting contextual information and making data-driven decisions.
Qualaroo also offers exit-intent surveys that can help reduce churn significantly for small businesses by identifying problem areas.
Survey building is extremely easy with Qualaroo, and with features such as no-code customizations, small businesses can make the best use of this tool in every situation.
Features:
Start collecting surveys within minutes with easy setup and deployment.
Design beautiful surveys every time with the help of 40+ built-in survey templates.
Always ask the right questions and collect all types of data with 10+ question types.
Only gather data that is relevant to you with the help of branching and skip logic.
Give your surveys a personal touch with white labels and personalization.
Schedule your surveys for a specified time or display them at random intervals.
Capture data from your niche with the help of multiple advanced targeting options.
Pros:
Excellent for conducting unobtrusive surveys
Good for analyzing even free-form responses
Doesn't slow down your page or app
Supports tons of integrations
Cons:
The dashboard needs more functionality
Does not include employee satisfaction surveys
Price: Starts at $80/month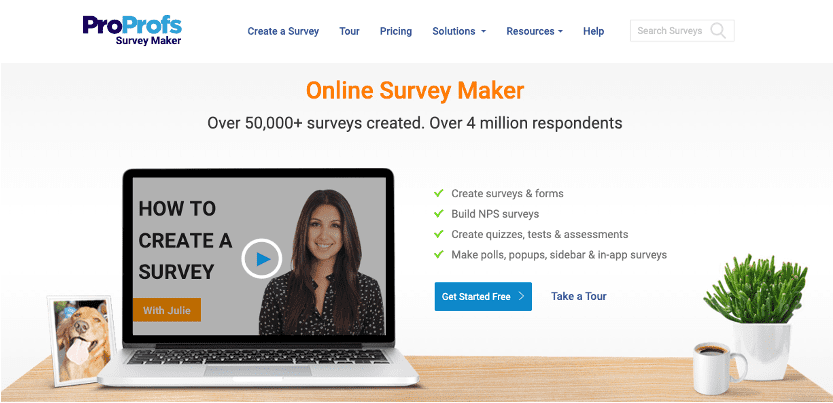 ProProfs Survey Maker is another very popular tool and one of the best SaaS products that is loaded with some of the best survey creation and analytics features in the market. It comes with a minimalistic UI which makes it easy to use not just for small businesses but for businesses of all sizes.
Business personnel can use unlimited surveys offered by ProProfs Survey Maker to collect valuable data from their target market.
Small businesses can use this tool to collect extremely specific data through advanced targeting modes to determine the best course of action.
Features:
Create simple and complex surveys instantly using 100k+ built-in survey templates.
Benchmark your performance and make better data-driven decisions with the help of NPS surveys.
Gather data from your visitors on your website through polls, sidebar surveys, pop-up surveys, and more.
Ask questions of any kind using 20+ question types.
Dominate new markets with the help of market research surveys.
Go where your customers are by sharing your surveys on social media via a link or embedding them on websites.
Pros:
Multiple channel support
Easy customization and personalization
Schedule for automatic check-ins
Cons:
A slight learning curve for new users
Needs deeper analytics
Price: Starts at $50/month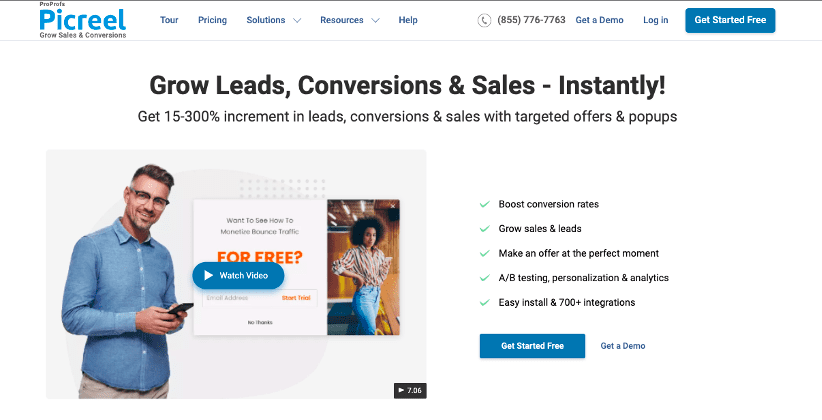 Picreel is one of the smartest and most effective SaaS tools for startups and small businesses that lets you create feature-rich conversion popups for dazzling incoming visitors with new offers and invitations.
It can help small businesses retarget on-site visitors along with targeting survey respondents based on their metadata like search intent and referral codes to improve conversion rates.
Picreel is extremely easy to set up and create fun surveys by integrating interactive design elements along with popup overlays that are excellent for sales, lead generation, and ROI tracking.
Features:
Reduce bounce rates by sending targeted offers to your visitors.
Personalize your ads and add interactive elements to your popups and surveys.
Uncover the reason behind cart abandonment with the help of exit-intent popups.
Integrate with mobile and different operating systems and access your data from anywhere.
Offers real-time cursor tracking and advanced lead capture for boosting conversion rates.
Integrate it with over 700 different tools to automate your workflow.
Pros:
Tons of popup survey templates
Easy to set up and deploy
Offers real-time analytics
Cons:
Occasional bugs and glitches
Price: Starts at $14/month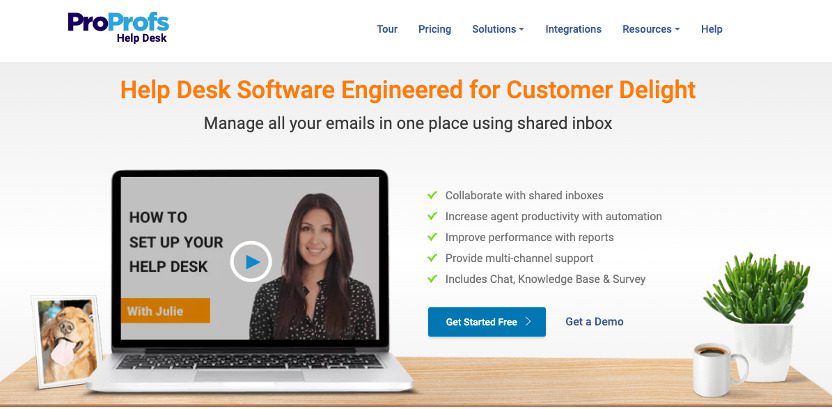 SaaS collaboration tools like the ProProfs Help Desk are essential for every business to have in today's world. Businesses can deploy ProProfs Help Desk as customer support software on a daily basis to provide information about the company's policies and offer product/service-related support to the customers.
The help desk software provides a centralized support management service that can help small businesses collaborate better, automate repetitive tasks and make better decisions.
It even helps you improve your team's productivity, track incoming requests in real-time and provide a delightful customer and employee experience.
Features:
Manage all incoming support tickets through shared inboxes.
Create email notifications with the help of built-in templates.
Calculate the first response time of your employees with the help of agent availability settings.
Export tickets details in MS Excel and all ticket conversions in PDF.
Assign roles and tasks to team members to define their permissions.
Connect your help desk tool with your social media accounts and manage customer requests effortlessly.
Pros:
Reduce tickets with the help of a knowledge base
Real-time chat with customers
Send automated responses
Cons:
Price: Starts at $10/month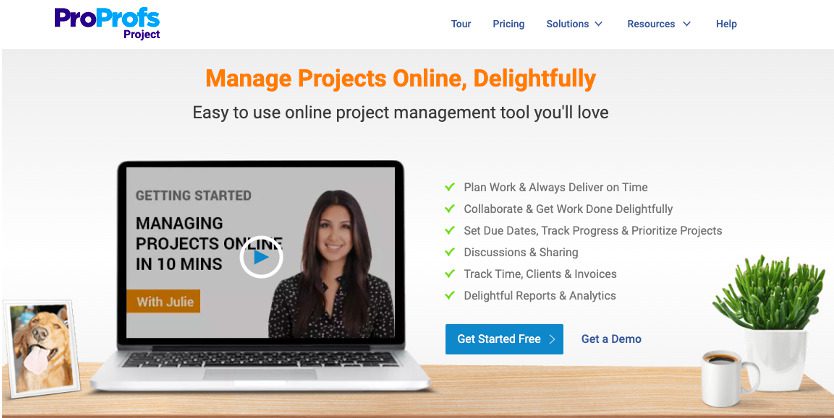 ProProfs Project is in line with some of the best project management and SaaS reporting tools that provide solutions for all project needs right from the planning stage to project completion. An online project management tool can help small business owners collaborate easily with their team members and have everyone on the same page for better efficiency and productivity.
With 24×7 remote access, users can receive real-time status of their projects and generate smart reports for better analysis and efficient risk mitigation.
Features:
Collaborate in real-time by sharing files, data, and projects with your team members.
Get the status of your projects in real-time with 24×7 access.
Plan your tasks in unison with the help of a shared calendar.
Visualize milestones and make effective decisions with the help of Gantt Charts.
Comment on projects and events to avoid messy email threads.
Prioritize your projects with the drag and drop feature.
Pros:
Track project progress
Receive updates in real-time
Add users to the project instantly
Cons:
The mobile application needs to be revamped
Limited integrations
Price: Starts at $2/month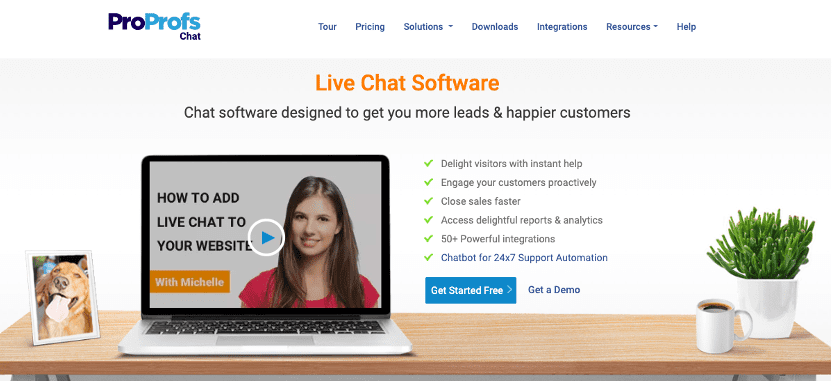 ProProfs Chat is easily one of the best SaaS live chat tools that businesses can use to reach their customers instantly and provide a delightful experience. It extends a great deal of support to small business owners as they can proactively engage with their customers by making product announcements and sending personalized greeting messages.
Users also get the ability to transfer and anticipate chat messages to make query resolution seamless and with features like canned responses and auto self-help articles for instant query resolution without any delays.
Another great thing about ProProfs is the live chat feature that takes automation and 24×7 support to the next level.
Features:
Reduce response time with the help of pre-defined canned responses.
Store conversations with all your customers in the form of transcripts.
Track the entire journey of your customer through chat history.
Route visitors to their relevant departments through chat routing.
Schedule callbacks for your customers if the chat is offline.
Pros:
Supports over 70 languages
Get hourly chat reports
Send messages offline
Cons:
Needs more customization for the chat button
Adding your website can be tricky
Price: Starts at $10/month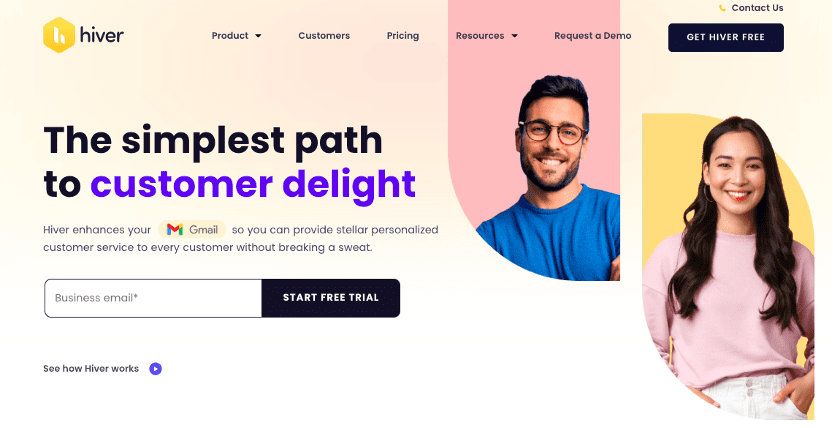 Gmail is a platform that every business uses on a daily basis, and Hiver aims to enhance that experience so that you can provide a much better service and experience to your customers.
It transforms your Gmail into a helpdesk system to help enhance client communication and deliver a lot faster customer service right from your email inbox.
Small businesses can have shared inboxes that they can manage altogether, assign emails with just the click of a button, track them seamlessly, collaborate, and get much better visibility when resolving the issues.
Features:
Manage and track shared email accounts and foster accountability.
Build custom reports and improve your customer support by measuring crucial metrics.
Automate repetitive tasks through rule-based automation
Escalate queries faster with the help of live chat and real-time customer support
Gather crucial data from your customers by using customizable surveys.
Pros:
Easy to set up and manage
Transparency in support emails
Cons:
Cannot create a support ticket without an email
Price: Starts at $15/month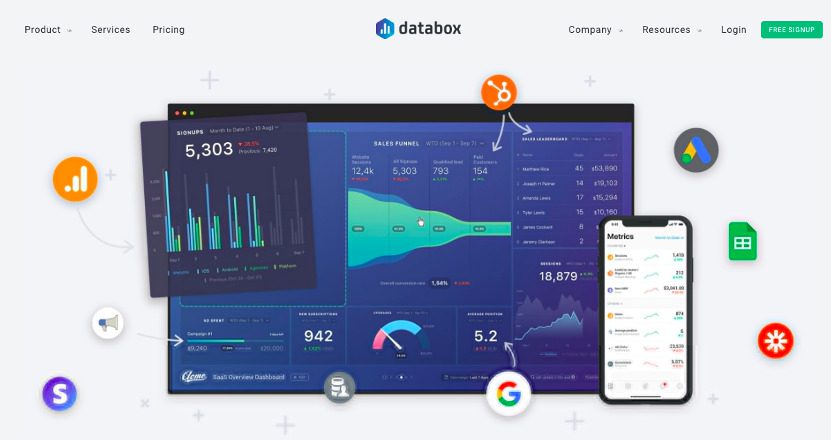 Databox is one of the best SaaS project management tools that help businesses improve their performance by giving them the ability to build detailed and comprehensive dashboards and track performance from anywhere in the world.
It allows businesses personnel to connect their data from any tool and seamlessly track it from any device. SaaS management tools such as Databox help teams transfer data, build and share reports, uncover insights, and easily spot future trends.
Databox also comes bundled with tons of visualization tools, making it easy for users to understand the data without spending much time figuring out how to visualize it.
Features:
Motivate your teams and do things differently by streaming your dashboard on your smart TV.
Replicate reports across multiple client accounts with the help of account templates.
Keep permissions restricted by only sharing your data and not editing access.
Present a live view of all your data with the help of a looped dashboard.
Explore and build over 3000 different metrics with the help of a query builder.
Gather data from different sources and evaluate KPIs.
Pros:
Range of visualizations
Set and track goals
Send alerts and scorecard updates
Cons:
Could use more integrations
Needs longer time frames for reporting
Price: Starts at $72/month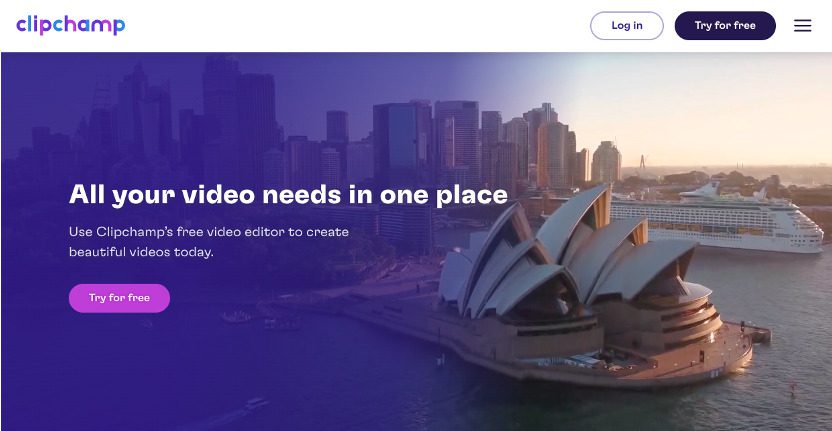 Clipchamp is another one of many free SaaS tools that is slightly different from the rest as it offers an online video creation platform for users to create beautiful videos with ease.
It is a perfect tool for small businesses because it is free to use and helps save time on uploads, along with providing free online storage and the ability to create amazing videos from scratch.
Clipchamp is a great online solution for businesses that are looking to create a product or promotional videos for their website without making a hole in their budget.
Features:
Change the aspect ratio of your videos easily with the video resizer.
Create amazing effects with the help of an online green screen editor.
Overlay videos and images in a single project by using the online Picture in a Picture video editor.
Turn your words into voice with the help of a built-in text-to-speech generator.
Visualize and transform your audio recording by watching audio waves on the screen.
Pros:
Easy to use
Built-in stock templates
Easily add media
Cons:
The screen record feature is buggy
Rendering takes a long time
Price: Starts at $6/month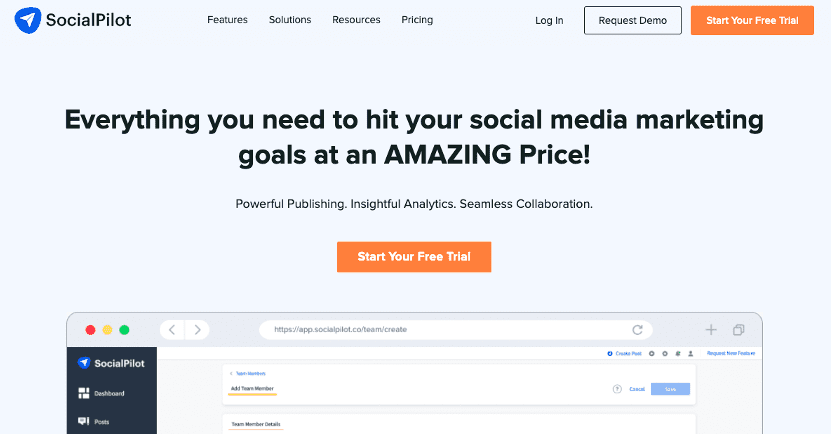 If you are looking for the best SaaS social media tools, look no further. Social Pilot is a popular social media scheduling software that gives users the ability to empower their campaigns on social media with the help of powerful publishing, seamless collaboration, and insightful analytics.
Business personnel can schedule social media posts across all platforms from a centralized place and then use these analytics to see what works and what doesn't.
It also provides content suggestions to new users to help them maximize the effectiveness of their marketing efforts and grow their business.
Features:
Schedule your posts on different platforms and save a ton of time.
See how your posts will look on social media with the help of Post Previews.
Drive your marketing strategies with downloadable and white-label reports.
Maintain content workflow by creating and collaborating with teams.
Schedule and share content from anywhere in the world with browser extensions.
Pros:
Acts on a single interface
Easy to understand analytics
Contributors can create drafts
Cons:
Needs better Instagram analytics
UI needs to be revamped
Price: Starts at $42.5/month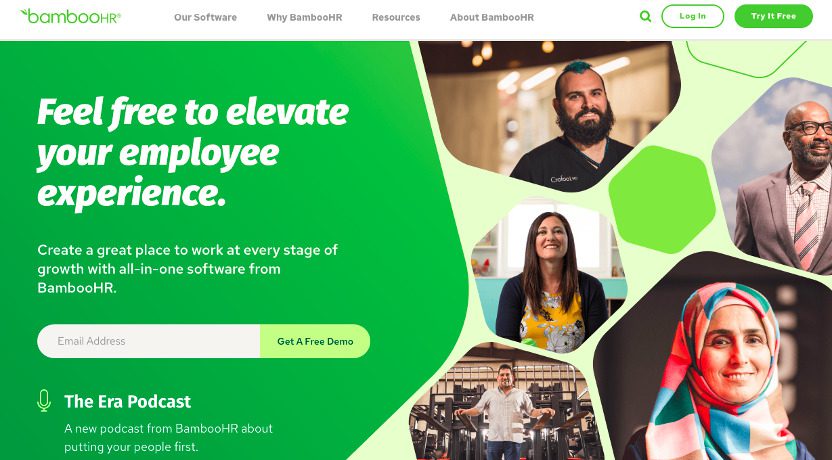 Bamboo HR is one of those trendy HR SaaS monitoring tools in the market that businesses of every size need to ensure they hire the right people for the job. It offers features like personal data modules, advanced reporting, and tracking to make the right choice in terms of manpower.
Bamboo HR also allows businesses to add new job openings, share them across different job boards, and manage applications altogether.
It helps in hiring talented employees for the business and works great when it comes to elevating employee experience by creating a great place to work.
Features:
Keep your information interactive with a centralized database.
Specify the way your time is calculated with the help of automated time off.
Give freedom to your employees to manage their PTO, tax documents, employment information, and more with employee self-service.
Make the most of your data by acting on HR reporting.
Organize job openings and manage applicant information with the applicant management system.
Pros:
Easily manage employee information
Easy access for employees
New hire shout outs
Cons:
Vacancy disappearance takes time
Price: Available on request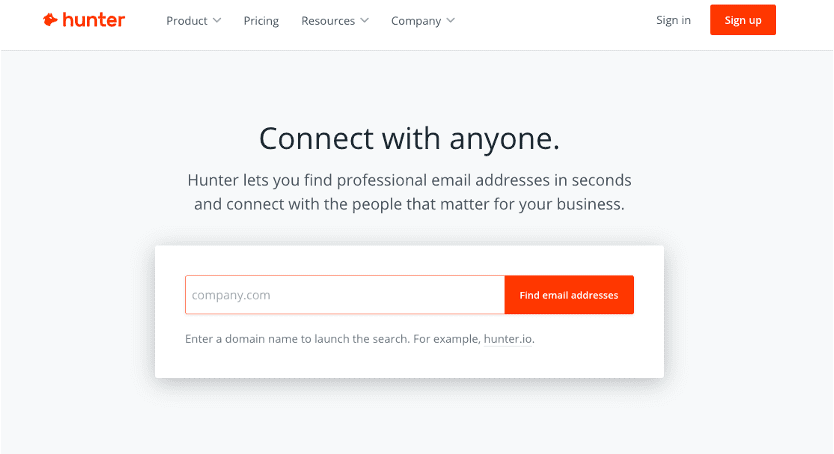 Hunter.io should be your go-to SaaS marketing tool if you are looking to find professional email addresses instantly and connect with people to establish networks. It has a huge directory of email addresses of people working in organizations all over the world.
Business owners can use Hunter.io to find the exact email address or the most probable address of professionals and contact them personally in order to extend their business. It even verifies the email addresses that are extracted from the directory to ensure that your efforts do not go in vain.
It even offers 25 free email searches every month, which is a great prospect when it comes to getting started with it.
Features:
Find the right person to contact with the help of domain search functionality.
Target email addresses of bloggers and journalists and extract their contact information.
Verify the deliverability of the found email address to check its validity.
Save potential emails and leads and optimize your outreach campaigns accordingly.
Get insights into the validity of the emails with the help of the confidence score.
Send personalized cold emails to your prospects by using autopilot.
Pros:
Easy integration
Find emails with a chrome extension
Track sent emails
Cons:
Clunky UI
Does not have a save feature
Price: Starts at $49/month
Conclusion
SaaS tools are being embraced by small businesses all over the world. Considering the level of return on investment they generate, there is almost no reason not to integrate them into your business.
These tools have proven to be excellent time and time again, especially when it comes to providing flexibility, customization, automation, and better insights. Also, provided that they do not need any installation and most of them have a minimal learning curve, not using them will simply mean you are selling your business short.
This list will help you pick some of the best SaaS tools for startups out there in existence so you do not miss out on any future opportunities and make your business boundless.
Author Bio
Dwayne Charrington is a technical writer for ProProfs Help Desk & Qualaroo. He possesses hands-on experience in writing for the customer service industry. He shares insights on industrial challenges, customer service trends, and how businesses overcome related challenges.