Due to the competitive nature of today's e-commerce lansdcape, successful delivery management has become a blueprint for businesses of all sorts.
Making sure products get to customers on time and without error can have a major influence on the company's bottom line.
Because of the time and money they save, ePOD apps have become a game-changer for many e-commerce businesses.
In this article, we will delve into the topic of proof of delivery tools and list the four best ePOD apps currently changing the way businesses handle logistics.
What is proof of delivery software?
Electronic Proof of Delivery (ePOD) software serves as an electronic receipt, confirming the successful delivery of goods to the intended recipient. 
By replacing time-consuming paperwork and manual tracking with digital proof, this logistics technology streamlines the recording of crucial delivery documents.
ePOD act as a guarantee both for the customer and the business that the order has been effectively fulfilled.
Electronic POD apps are typically integrated into last-mile delivery software and have a large number of functions beyond capturing delivery confirmations.
Key features of proof of delivery apps
POD apps assist drivers at every stage of the shipping process as a part of last-mile delivery software.
Key features of last-mile logistics software for couriers include:
Communication with dispatcher;
Proof of delivery capture.
With so many crucial functions, POD software is an important part of any delivery process.
The main feature of courier apps, electronic proof of delivery itself, can come in many forms, depending on the software used.
The most common proof of delivery types are the following:
E-signature;
Photo proof;
Barcode scan;
Geotags & timestamps;
Custom ePOD note.
Having those tools in a single app helps drivers confirm different type of deliveries and avoid unnecessary paperwork.
Best proof of delivery apps in 2023
When it comes to POD apps, the challenge lies in finding the right balance of features to ensure that the app remains user-friendly, yet, efficient for your daily delivery operations.
Let's discuss the best proof of delivery apps that combine both, reach functionality and high usability.
     1. Track-POD
Track-POD is an advanced ePOD software that revolutionizes last-mile delivery management for businesses.
Designed with efficiency and customer satisfaction in mind, Track-POD offers a wide range of powerful features to optimize the entire delivery process.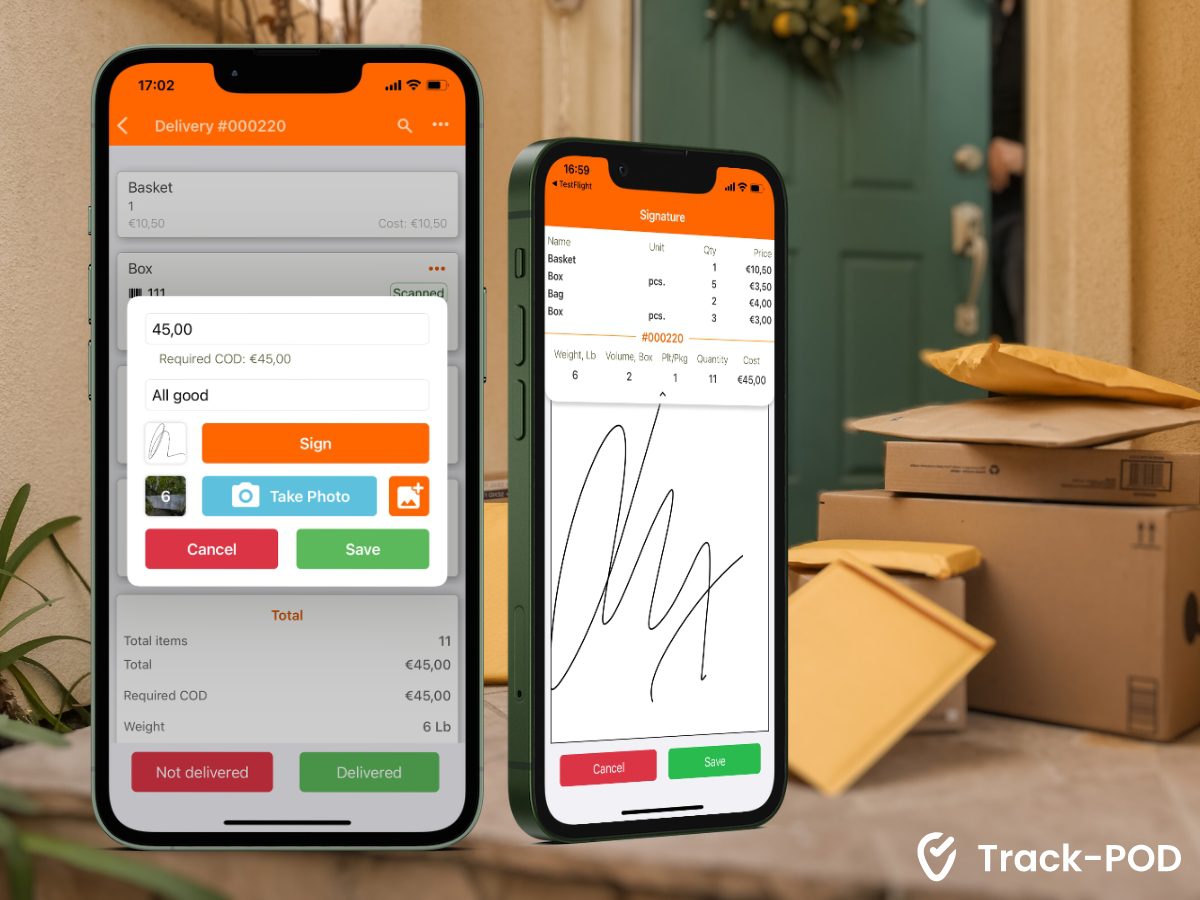 Pricing
Track-POD is a great option for last-mile operations of any size due to its flexible pricing structure – you can choose to pay per driver or per order.
All essential features are available out of the box, whether you pay for one driver per month or 6,000 orders per month with unlimited vehicles.
The cheapest Standard per driver plan is $29/mo if paid annually. The most feature-rich plans, Advanced and Advanced+ cost $49/mo and $69/mo per driver if paid annually.
Main POD tools
In addition to the web dashboard functionality, like powefrul route optimization and order management tools, Track-POD's driver app checks all the boxes when it comes to ePOD tools.
The cheapest Standard Track-POD plan includes the following POD tools:
GPS navigation apps;
Shipping labels;
Sign on Glass;
Photo confirmation (up to 10 images);
Cash on Delivery (COD);
Barcode scanner (incl. per item);
Order transfer;
Reasons for rejection;
Custom email notifications;
Custom Proof of Delivery PDF template;
12 months of advanced analytics;
Vehicle load plan;
Free personalized onboarding.
Some extra features are available in Advanced or Advanced+ plans are:
Vehicle safety check;
Geofencing;
Load check;
Live tracking + ETA;
Unlimited custom fields;
24 months of advanced analytics;
Driver stats & shipping reports.
     2. OptimoRoute
OptimoRoute has everything a company needs to run its day-to-day delivery operations smoothly.
Designed to seamlessly integrate into the OptimoRoute platform, the POD app empowers couriers with a comprehensive set of features to ensure smooth and efficient deliveries.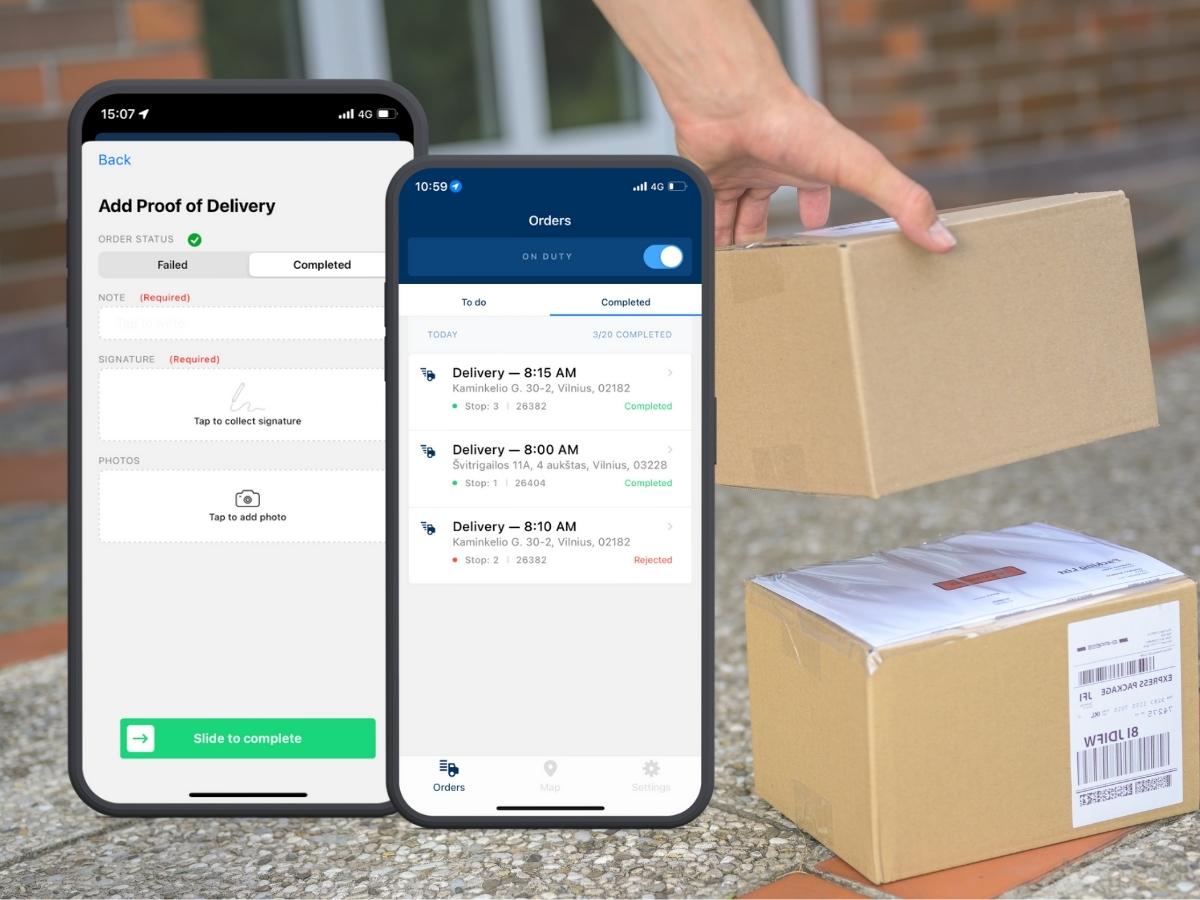 Pricing
OptimoRoute will charge you per driver/vehicle per month.
Lite ($35.10/mo if paid annually), Pro ($44.10/mo if paid annually), and Custom are the three available packages.
Main POD tools
Each OptimoRoute plan comes with its own set of features.
For example, Proof of Delivery feature is only available with the Pro plan.
Among the OptimoRoute ePOD app's features are:
GPS apps;
Offline mode;
E-signature;
Photo POD;
Geofencing;
Reasons for rejection.
     3. Routific
Routific's last-mile logistics solution is both cutting-edge and affordable.
Routific's proof of delivery app facilitates seamless communication between drivers, dispatchers, and customers, enabling real-time updates and efficient issue resolution.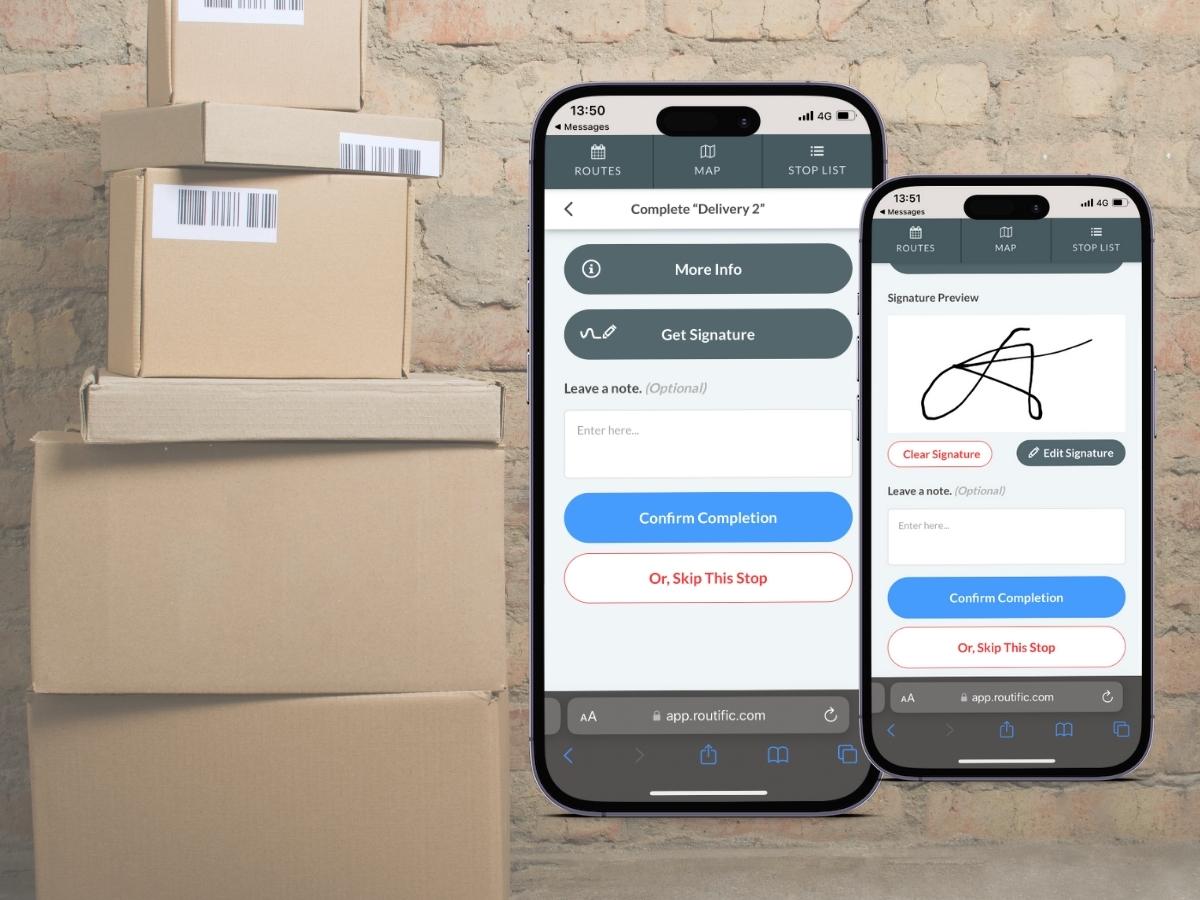 Pricing
You can choose between the Essentials and Professional pricing plans.
The Essentials plan would cost you $39/mo if billed annually.
The Professional plan that covers most functionality needed for business deliveries costs $49/mo if billed annually.
Main POD tools
Electronic proof of delivery option in Routific is available as part of more expensive Professional plan. 
Let's see what Routific's ePOD app has to offer:
GPS apps;
Offline mode;
E-signature;
Photo proof (1 picture);
Reasons for rejection.
    4. Detrack
Detrack software is an advanced delivery solution that streamlines last-mile operations for businesses of all sizes.
Due to its affordable price point and extensive set of services (live order tracking, proof of delivery, etc.), Detrack's delivery app is a great fit for startups and small businesses.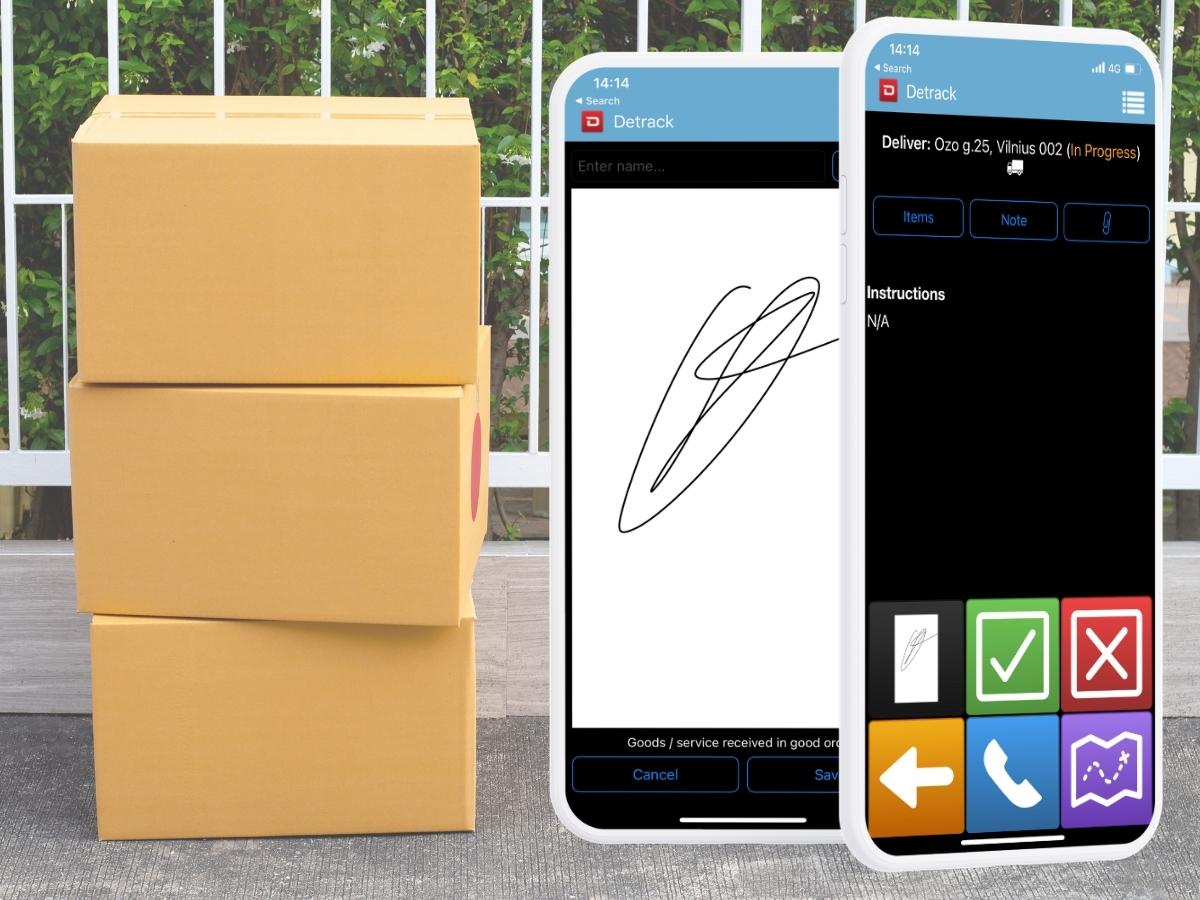 Pricing
Detrack charges per driver/vehicle and offers two pricing plans: Free and Pro.
Detrack's Pro plan costs $26/mo if paid annually and includes contactless delivery, unlimited sub-users, and other extra features.
In addition, DeTrack offers a free plan for a single vehicle, which provides access to some of the app's core features.
Keep in mind that in contrast to other apps, Detrack's web dashboard lacks the route planning feature. Instead, paid integration with ElasticRoute will let you plan your routes. You can get a monthly bundle subscription for $44/mo per vehicle, including ElasticRoute + Detrack.
Main POD tools
Here's what Detrack's Free and Pro plans support when it comes to proof of delivery tools:
GPS apps;
Offline mode;
E-signature;
Photo POD (up to 5 pictures)
Geofencing;
Reasons for rejection;
Barcode scan;
Cash on delivery (COD);
Geofencing;
Custom ePOD template;
Partial/overdelivery;
Task transfer.
Final verdict
An easy interface, streamlined navigation, and core proof of delivery features such as barcode scanning and e-signature capture are the main things to look for in ePOD apps.
We've discussed the key ePOD features that are necessary for efficient and fast deliveries. Now, it's time to give the final verdict and look at the complete list of ePOD tools that Track-POD, OptimoRoute, Routific and Detrack can offer.
We compared the maximum features plans from each of the mentioned software providers so that we could show the full range of ePOD tools.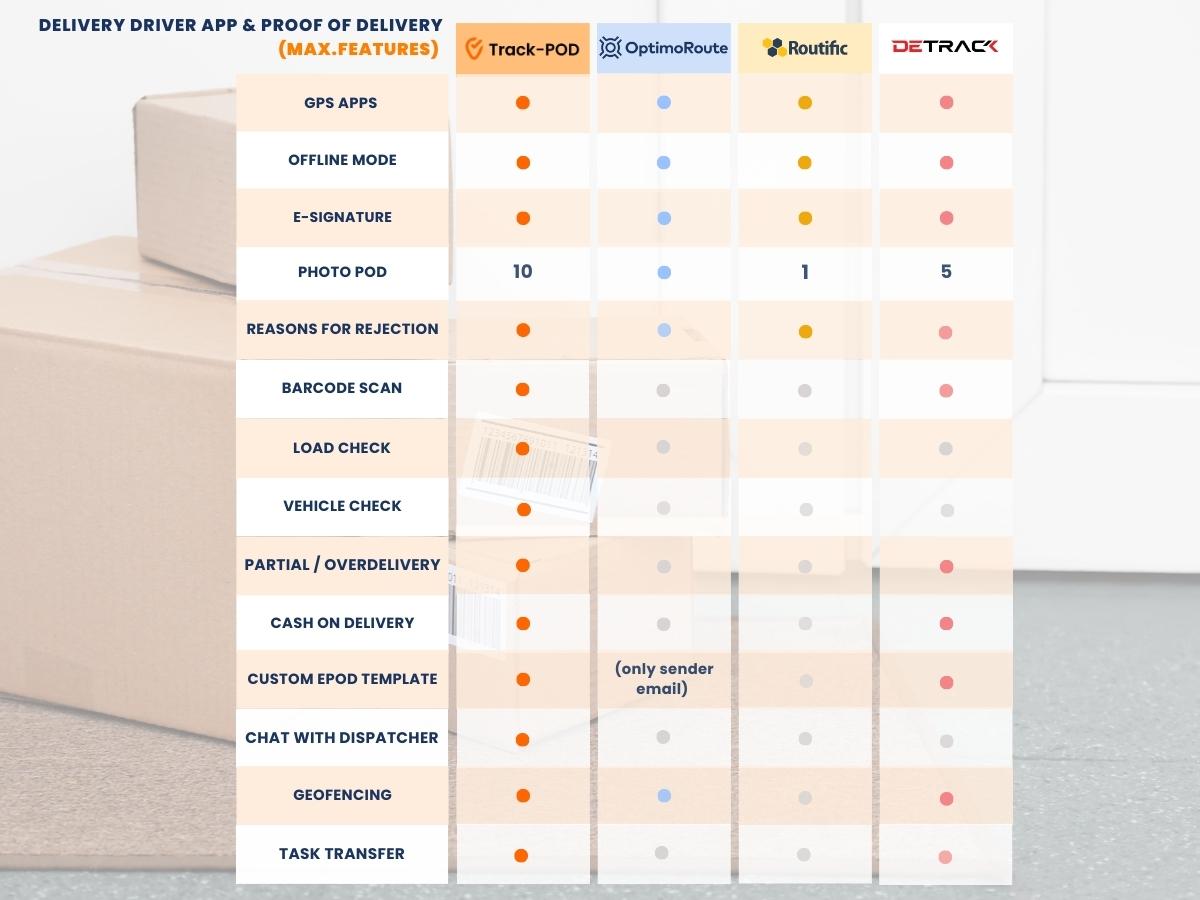 In conclusion, when it comes to proof of delivery apps for your business in 2023, Track-POD, OptimoRoute, Routific, and Detrack stand out as some of the top contenders.
These ePOD solutions offer a wide array of ePOD features to optimize delivery management and enhance customer satisfaction.
Overall, the choice of the best proof of delivery app will depend on your specific business needs, budget, and the extent of ePOD functionality required.
Good luck with finding the right software for your business!
 Author's bio
Alina Kostukova is an experienced Content Creator with a background in digital media and public relations, enthusiastic about all things technology.