The internet is full of information that hasn't been designed for kids. This type of information can be especially concerning if your child is too young to be exposed to inappropriate content such as pornography and violence. Some phones and computers come with built-in parental control settings, but they might not be enough, which is why parents have started looking for third-party parental control apps. During our review, we put several apps to the test, and the best one, based on our criteria, is the Safes parental control app. The Criteria we used for this review are: Categorical URL Blocking, Screen-time Profiling, Geofence, and Uninstall Protection.
Read the rest of this article to see what each app offers and why we think Safes offers more than others.
Parental Control Apps to Keep Your Kid Safe
Each parental control has its strong suit. Check out the list below for a short introduction to each app, and further down, we will get into more details.
Safes Parental Control app: Best overall performance
Kaspersky Safe Kids: Good for screen time management
Net Nanny: Works best for younger kids
Google Family Link: budget-friendly
Studio: Good for monitoring in real-time
Let's get into more detail on each app and how each feature affects your kid's online safety.
Safes Parental Control (Best Overall Performance)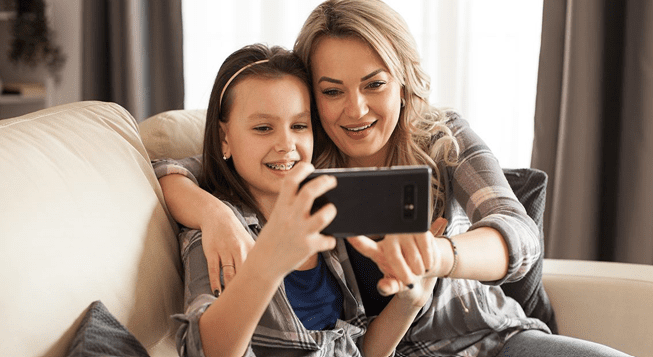 Safes Parental Control app proved to be the best app on our list, according to our criteria. There are several reasons for our choice; let's see what they are. You can use the GeoFence option to set green zones in which parental controls will automatically apply to your child's phone. You can also be notified when your child enters or leaves the green zone. The live location feature will help parents know exactly where their child is at all times if the child's phone is online. The Web Activity feature will allow parents to block certain URLs or keywords, which will ensure your child's online safety.
The Safes app will let you set a password as a means of uninstall protection. This means that your child will not be able to uninstall the app to remove parental controls. Furthermore, you can use the Screen-time Profiling feature to get accurate information on which apps take up most of your kid's time. It will also let you set screen-time restrictions to block access to your child's phone after a certain number of hours.
As for the pricing, the Safes family app comes with an annual subscription fee of 39.99$. You will also get a 14-day free trial without having to put in your credit card information. These are the reasons why we think Safes is the best parental control app for kids, at least among the options in our list.
Kaspersky Safe Kids (Good for Screen Time Management)
The Kaspersky Safe Kids app has a variety of features that help parents with monitoring their children's screen time. The YouTube search monitoring feature will keep children safe from age-inappropriate content. Furthermore, you will be able to track your child wherever they go using the GPS tracking feature. Using the Screen-time Controls feature, you can limit the number of hours when your child can use their device. You can also set time slots during which access to the device is blocked. This app is compatible with macOS, iOS, Android, and Windows.
As for the pricing, the Premium version is priced at 14.99$ per year for new customers. You can also use the free version, but you will miss out on GPS tracking and YouTube blocking.
Net Nanny (Works best for younger kids)
The Net Nanny app will help you block inappropriate content on your child's phone in real-time using Artificial Intelligence. One of the features of Net Nanny that we enjoyed was the Internet Filter. It allows for specific URL blocking and categorical content filtering. Contents are split into different categories, such as Anime, Porn, Adult Novelty, and Abortion. You can also set curfew times to limit their phone access during specific times during the day.
By using the Searches tab in the parental control settings, you can see the search history of your child. Additionally, you can activate Email notifications so that you'll be alerted when your child searches for inappropriate content. However, Geofencing and Call Logging are not available on Net Nanny. You can download the Net Nanny app on Windows, macOS, iOS, and Android. The pricing starts from 39.99$ per year to 89.99$ per year.
Google Family Link (Budget-Friendly)
The Google Family Link app offers several features you, as a parent, can use to provide further online safety for your child. Since this app was developed by Google, you will have better control over your child's searches on Chrome with this app. The Google Family Link features offer blocking content on YouTube and YouTube Kids. Parents can also see the location of their child's signed-in android devices when they're online. However, some features, such as blocking apps, are limited to Android and ChromeOS devices. Additionally, Google Family Link is free of charge and can be downloaded on Google Play Store.
Studio (Good for Monitoring in Real-Time)
The Studio app also allows real-time monitoring for parents who feel the need to keep tabs on their children whenever they want to. The studio has features such as Smart Web Filtering that allow you to block content you think is inappropriate on the internet. You can also set screen time schedules that allow you to unplug your child's phone at certain time slides.
The Monitor Activity lets you see at which hours your child is using their device the most, in real-time. The Locate Family option allows parents to see the real-time location of their child. You can even save their most visited places and get notifications when they go to those places. If your child is using an Android or iOS device, you can track their calls and SMS to prevent cyberbullying. The user-friendly UI of Qustudio has made it a popular choice for younger parents.
Keep in mind that you don't have the option of Geofence on Studio, a feature that makes parental controls more convenient. This parental control app is available on Android, iOS, macOS, Windows, and FireOS. The prices for premium accounts of Qustudio start at 54.95$ per year for 5 computers and go higher based on the number of devices.
Conclusion: What is the best parental control app for kids?
We chose several parental control apps to review and see which one is best for kids. The apps that we chose were among the most popular on the market, and a review of all of them would help parents decide better. Our key features by which we determined their effectiveness were Geofence, Uninstall Protection, Categorical URL Blocking, and Screen-time Profiling. These features were chosen because they play a crucial role in keeping parental controls convenient and effective. Most of the parental control apps had at least two of these features but the only app that had all of them, and came with a reasonable subscription fee, was the Safes parental control app. However, there are more parental control apps on the market, and every parent must do their research before deciding definitively. You can also visit each app's official website for further information on its features and policies.