With the rapid development of information technologies that allow the creation of various mobile devices, the market of software products receives a powerful stimulus for development and improvement. People use modern mobile technology always and everywhere.
Smartphones, tablets, and other devices play a significant role in everyday life, the personal life of people, and work. They make it possible to easily and quickly read a file, access mail, print a document using a network printer, etc.
With the increase in the sale of mobile devices, a separate direction of software – mobile applications – was gradually formed. Today, the development of mobile applications is relevant in many areas, such as education, transport services, restaurant and cafe chains, online stores, magazine business, organization of corporate communication, etc. It allows for the optimization of various business processes and makes services more convenient and accessible.
However, creating a high-quality mobile application is not as easy as it might seem at first glance. This requires good knowledge and skills in the field of development. Nevertheless, by visiting the official website you will be able to cope with the task. In addition, there is a wide variety of software available today that can be used effectively in mobile application development. 
List of the Top Mobile App Development Software in 2022
Read the material below, we will tell you about the best mobile app development software of 2022 in more detail.
AppMaster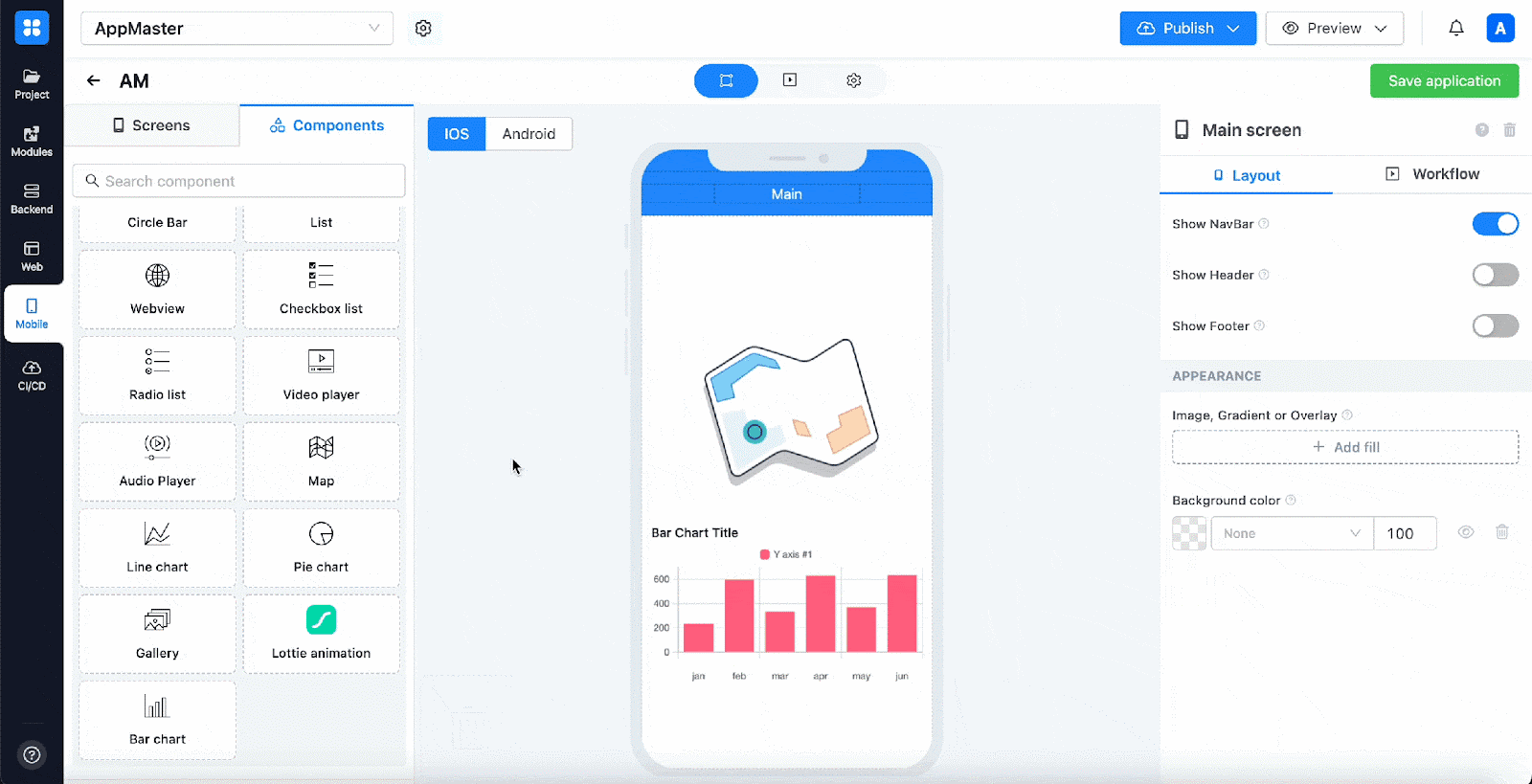 If you don't have coding skills but want to create a visually appealing and user-friendly app, you can rely on AppMaster completely. It will do all the work in a few clicks. A powerful, no-coding platform lets you build web and native mobile apps like duolingo with a visual drag-and-drop builder.
In addition, you can use AppMaster to create a real AI-generated back-end. This is a very unique feature as most other mobile app builders often focus on building the front-end, while AppMaster allows creating both the front-end and the back-end with just a few clicks.
Jamf
If you want to learn how to make a learning app, pay attention to Jamf. It is one of the most popular iOS app development tools. It does not currently support Android apps as its main function is to make it easier for users to connect, manage, and develop Apple apps. It provides various packages designed for educational and business purposes.
The functionality of Jamf shows that it is much more than an application development tool. It offers advanced features such as multiple VPN configurations, iOS device path management, fast email, and calendar integration.
A significant disadvantage of Jamf is that it is limited to iOS apps but nowadays cross-platform mobile development is essential for developers to save time and create optimized apps for both Android and iOS.
Firebase 
Firebase is another mobile app development tool that we want to tell you about. It is a platform acquired and modified by Google in 2014. Firebase allows you to accelerate application development while fully managing your backend infrastructure. In addition, you can track performance and stability due to innovative tools while boosting engagement with impressive campaigns and rich analytics.
Google's Firebase also includes a scalable infrastructure. However, Firebase stands out from other systems thanks to numerous integrations including GoogleAds, Slack, Play Store, Data Studio, and so on. Furthermore, you also get the benefits of built-in advanced security and additional file storage, all of which are backed up in the cloud in case of an error.
The main features of the Firebase platform are the following:
Popular integrations;

Built-in security;

File storage (Google drive);

High scalability.
Flutter
It is an unlimited mobile app development software that is great for hybrid apps. It is written in C, C++, and Skia Graphics Engine and is one of the newest entries in the mobile application development sector. 
This Google UI Toolkit lets you build mobile, web, and desktop apps from a single codebase. Also, when testing your project, you don't need to restart the application. It has a hot reload feature that makes the whole development process simple and efficient. Therefore, if you want to make your own language app, you should definitely use Flutter.
Key features:
Includes all the main differences of the platform, such as navigation, scrolling, icons, and fonts;

Provides fully customizable widgets for rapid development of your own applications;

Creates plugins using channels that are easy to use by any developer.
Pros:
Expressive and adaptable user interface;

Create your own interfaces in minutes.
Cons:
Limited library collections.
Appery
Appery is a modern cloud-based mobile application development platform. It allows the development of mobile applications without downloading any external tool to your system. Therefore, the process of developing applications with Appery is fast and easy.
Appery's drag-and-drop feature makes it suitable for both beginners and professional developers. The main feature of using Appery is that it is a cross-platform development tool. This way, you don't have to spend time, money, and energy creating apps for Android and iOS separately. Instead, you can use the same platform to create an application that works on all types of mobile devices.
Heroku
If you want to create your own language app, we recommend you Heroku. It is a cloud-based application development program that offers support for many different programming languages, including PHP, Python, Java, etc.
Developers use Heroku to build apps from scratch, as well as scale and manage existing builds. The platform is intuitive, easy to use, and very accessible – it's a great tool for many developers. Heroku has many advantages, such as support for many coding languages, impressive scalability, and built-in security.
Easy to use, it's a great platform to streamline your app creation and approval process on the app store or Google Play. In terms of pricing, there is a free version of Heroku, but it offers limited features. On the other hand, a production package meant for commercial use starts at $25, with additional options available at significantly higher prices.
Main functions:
Support for multiple coding languages;

Easy scalability;

SSO and built-in security;

Available corporate accounts.
Ionic
Those who want to create a language app should pay attention to Ionic. It is an excellent free and open-source mobile application development software that is mainly used to create hybrid applications. The best part is that you can use a single codebase to build apps for multiple platforms, including Android, iOS, and the web.
In addition, Ionic has user-friendly UI components that help speed up the application development process. In addition, it can be used almost anywhere. The platform has over 120 built-in device features, pre-configured items, and a large developer community.
Ionic features:
An application written in JavaScript and subjected to the MIT license;

Wide range of integration options;

Popular technologies and ease of learning.
Conclusion
Each of the mobile application development tools has its own advantages and disadvantages. However, by choosing the right platform, you can greatly simplify your work and create user-friendly mobile applications. Through the use of tools, the development of Duolingo leaderboards down becomes not only efficient but also faster. So, use the mobile app development software and get benefits!