Cryptocurrencies are highly volatile digital assets. The daily highs and lows are far greater in intensity than any other tradable asset. This creates an opportunity for people to capitalize on the gains and mitigate their losses on value shedding.
One of the most notable products is Copy trade. It involves mimicking the trading strategy or moves of another trader. However, in the past, when an investor wants to copy the strategies from other traders, they have to find a signal provider from different trading communities, and then go on a trading platform to trade.
Nowadays, many trading platforms have integrated the copy trade function into their products and services, which allows most investors copy other traders in a more convenient way. Currently, the trading platforms in the market, eToro, ZuluTrade, and Bityard all have launched copy trade system.
eToro
eToro is a well-known trading platform which provides Forex trading, Stocks trading, Commodities trading, Indices trading, Cryptocurrency trading, CFDs reading, Index Based Funds trading, and Exchange Traded Funds (ETF) trading services. It is also a famous platform with distinguished social trading service, and is compliant with regulations under the supervisions of the Financial Conduct Authority (FCA), Cyprus Securities and Exchange Commission (CySEC), Markets in Financial Instruments Directive (MiFID), Australian Securities and Investments Commission (ASIC).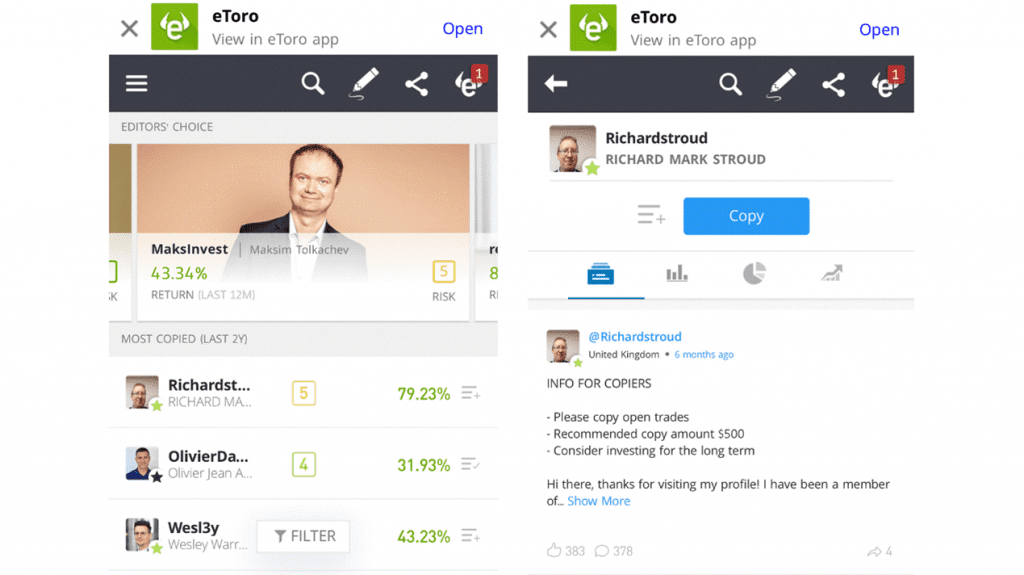 eToro developed its copy trade system with great social features. Finding a trader to copy on eToro is similar to finding a friend on Facebook. eToro users have personal pages, and can post content and react to other users' content. On the personal page of a trader, eToro users can find the strategy style and trading history data of the trader, which helps the users decide to copy or not.
On eToro, the user discussion focuses on a wide range of asset investment types, and most of the users enjoy the well-designed social environment. For any investor who is seeking a place for social communications and free discussions, eToro is probably a great option.
ZuluTrade
ZuluTrade focuses mainly on Forex trading services, but also offers Indices, Stocks, Cryptocurrencies and Commodities trading services. Unlike other trading service providers, ZuluTrade provides a platform tied up with many brokers. The minimum deposit and financial regulations are based on different brokers.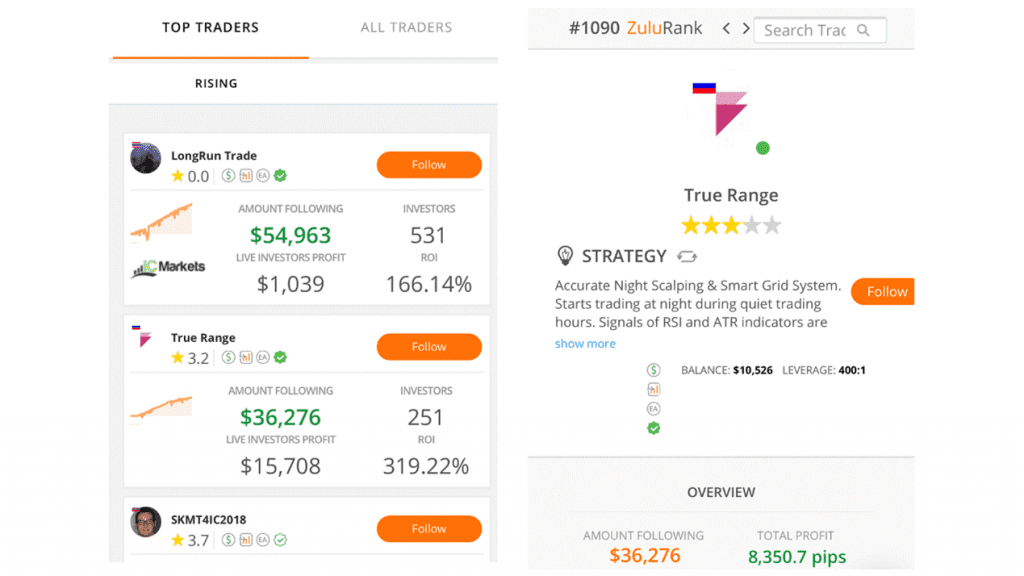 Compared with eToro, ZuluTrade has very prominent Forex trading services, and the copy trade system of ZuluTrade is also tailor-made for Forex trading. On eToro, traders followed by other users are more diverse, and the user discussion and communication on eToro are more active than most trading platforms. On the contrary, on ZuluTrade, the user discussion is mainly about Forex trading, with higher professionalism, which may be too complicated for beginners.
On ZuluTrade, detailed data about the traders will be displayed in order to help other users to find an appropriate trader to copy. On the personal page of a trader on ZuluTrade, trading-related data such as profit, performance, drawdown, and sharpe ratio will be shown. When a ZuluTrade user wants to copy a trader, the personal pages of traders also provide data of estimated ROI and net P&L for reference. ZuluTrade is a great platform for the investors who are into Forex trading for a long term.
Bityard
Bityard, a relatively young exchange, focuses mainly on crypto asset trading, and also offers Commodities and Indices services. Furthermore, it will launch US stock trading services shortly. Bityard has obtained legal financial licenses issued by the Business Administration of Singapore (ACRA), the United States Financial Supervisory Authority (MSB), the Australian Transaction Reporting and Analysis Center (AUSTRAC) and the Estonian Financial Regulatory Authority (MTR).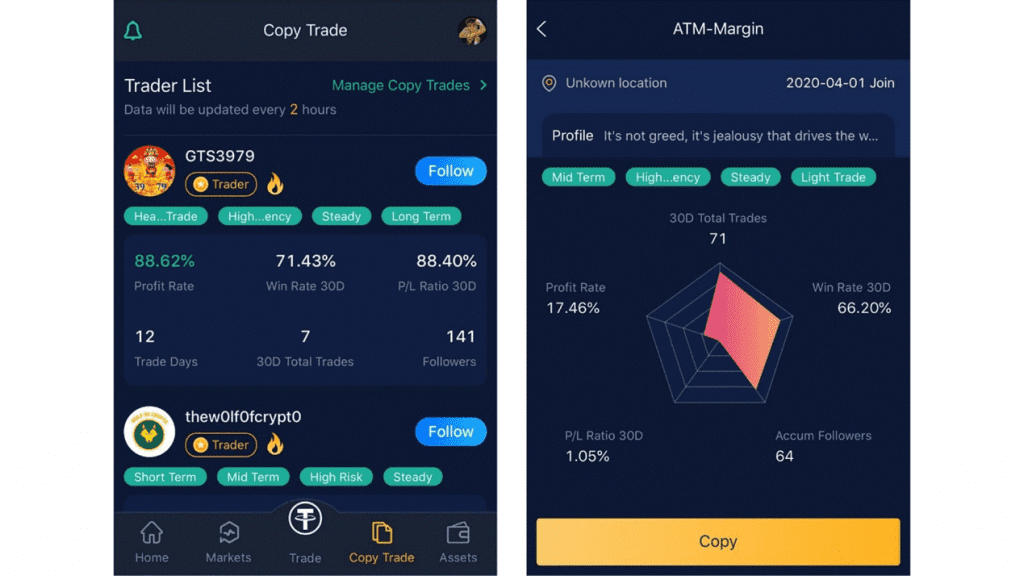 Compared with eToro and ZuluTrade, Bityard is quite young. However, it provides professional and rich cryptocurrency trading services, including more than 30 types of crypto spot and more than 15 contract trading options. Popular currencies related to DeFi (decentralized finance) are also available on Bityard, which is a pretty good platform for crypto traders.
Another great feature of Bityard is the highly user-friendly UI and trading progress design. Anyone can complete the registration within one minute and start trading in DEMO mode. To open a position in real mode, only five US dollars as margin entry is needed, which is much lower than the minimum requirement of many other platforms. In addition, Bityard copy trade system is quite easy to understand. Any Bityard user can quickly find a trader with a great trading performance and finish the position margin setting to start copying. On Bityard, most people with no financial background can become familiar with crypto investment in a short time.
Comparison of three exchanges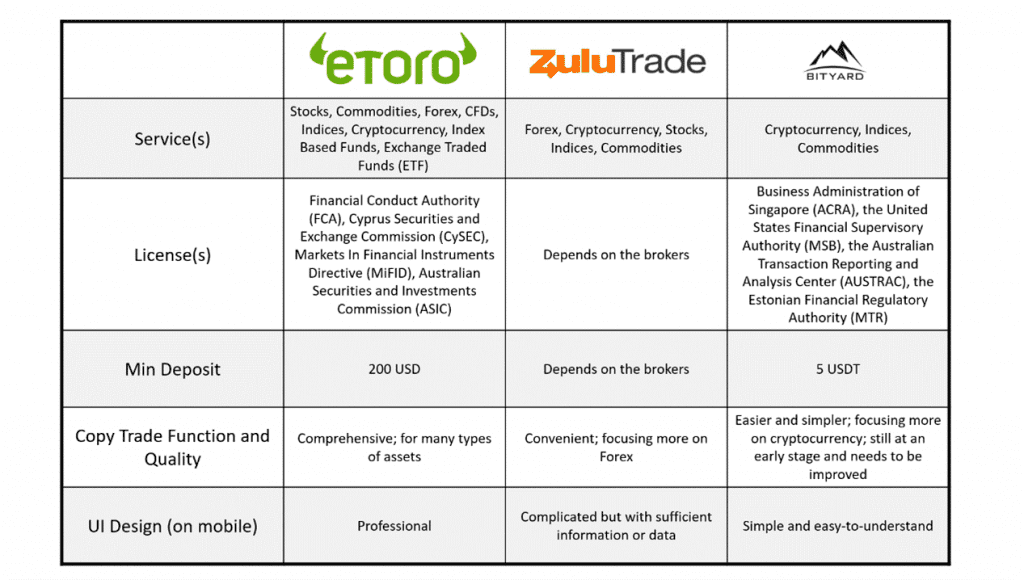 Conclusion
To sum up, each of the three platforms has its own features: eToro is distinguished with its great social features, which create a large-scale trader communication environment; ZuluTrade is a professional platform for Forex trading; Bityard has diverse cryptocurrency trading services such as Contract, Derivatives, and Spot Trading, and it's one of the best platforms for beginners. However, traders should choose the right platform according to their own need.
Note: This article is for informational purposes only and should not be construed as investment advice. All investments come with some degree of risk.